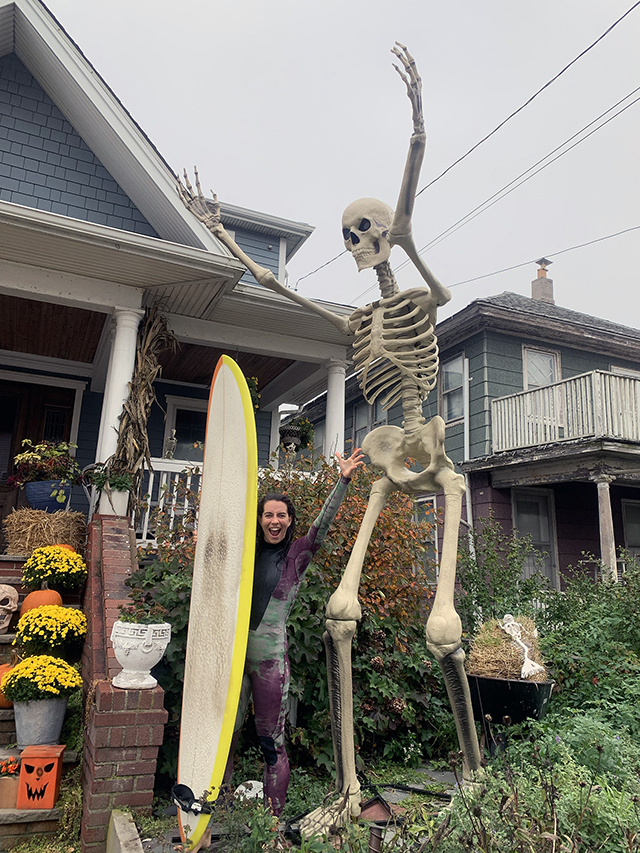 Mckenzie Dowler gets a photo with Skelly after a surf sesh.
It was late at night. I was in bed looking on craigslist in hopes of finding the elusive 12 foot Home Depot Skeleton on the black market. No luck. But then, like a magic rabbit popping out of a velvet hat, there he was, back in stock on homedepot.com. Clicking "purchase" gave me a sensational rush of power. I hit the freedom button.
It's not often that a big box store gives society a big communal gift. There is something culturally significant about the 12 ft skeleton (dubbed Skelly). Maybe it resonates with us because it's a ridiculous statement of our consumer culture; or it echoes the thin sadness on our faces that we try so hard to bury inside of ourselves; or perhaps its massive presence gives us strength; or maybe it simply brings a smile to your child's face. The larger-than-life, high-density polyethylene yard decoration was first issued in 2020. It was enormously popular but then disappeared during Covid. This year, Skelly reemerged and it has been fervently sought after.
I kept checking my order status. I had very little time before the big day. And then I thought, "How the hell am I putting this thing together?" I finally got a notification the Tuesday before Halloween, "Your order is ready for pick up."  I drive to Home Depot in a frenzy of excitement. Four construction dudes notice my alarm as I'm looking at the gigantic box. I had know clue how I was getting it in the car. One of the guys said it would never fit in my Chrysler Pacifica and I should hire one of those vans in the parking lot. As the men debated, an older gentleman, a Home Depot employee named Bruno said, "Let me help you to the car, we'll figure it out."
The construction guys were right though. The box didn't fit but Bruno had an idea. We took the skeleton out of the box and shoved the body parts in my car. I drive home smiling ear to ear with the bones in the back seat.
My friend Tom was happy (I think) to help me assemble the skeleton. If you know the basics of anatomy, the Skelly  isn't complicated to set up. You just need one strong, willing person to assist. My friend Kaori, who doesn't like Halloween (for various reasons I will not disclose), recognized the importance of the moment and documented the process with video.
What I thought would be a silly, temporary "happy fix" for me, turned into something genuinely special. My friends and neighbors freaked out with excitement! They embraced Skelly. The whole town was on my side. The towering bones connected us in community. Everyone wanted a picture with him. My instagram blew up! The kids' eyes lit up with wonder, almost as bright as Skelly's artificial, animated LCD eyeballs. I'd see people I didn't know outside in the garden getting their photo ops too. I'm thrilled everyone embraced my impulse purchase. Thank you for making this Halloween so special for me. I wholeheartedly appreciate all of you.
To see dozens of photos of your neighbors with Skelly, visit my Instagram page  – @theglorifiedtomato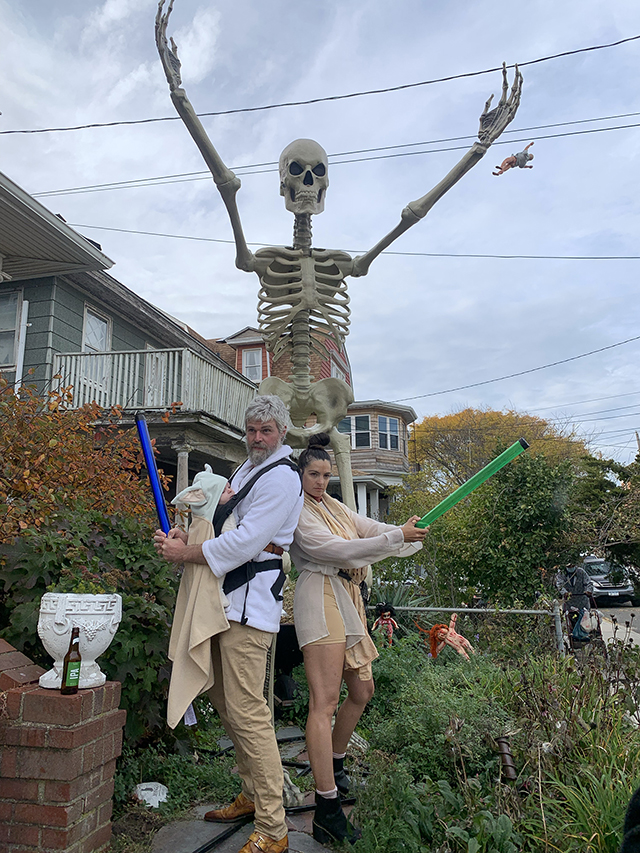 Baby Arthur Yoda, Patsy and Laura Nesci Carroll get thier family photo in!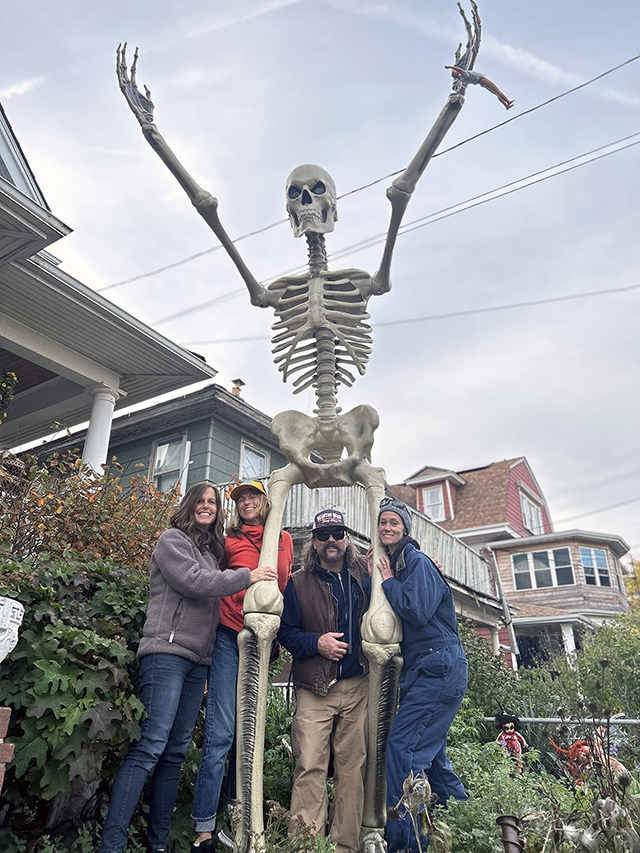 Susannah Ray, Kristi Dickerson, Collin Ackers, Bridget Klapinski.