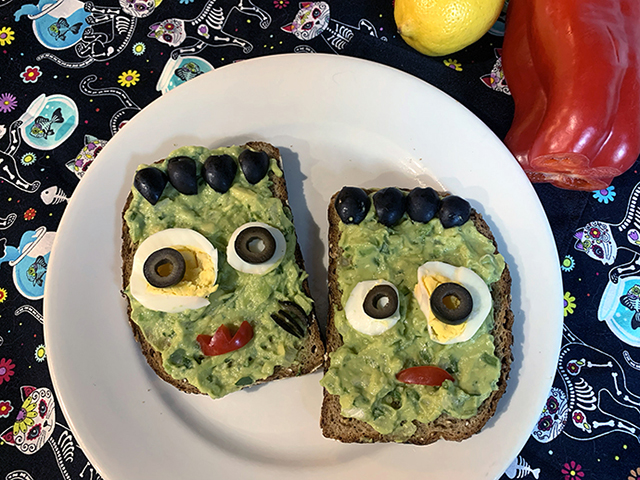 I just returned from a family vacation to Colorado with my sisters and two nieces. The landscape of the valleys and mountains, rock formations and waterfalls was stunning. Exploring a new city is awesome and this trip gave me an opportunity to spend quality time with my nieces. The girls are 10 and 12 years old. Kids are refreshing and have a wonderful perspective that adults need to be reminded of from time to time. They see and approach the world so differently!
We ate a lot! At each meal I began to notice the relationship the girls had with their food. I observed how they interacted with the waiters and made their meal choices. What intrigued me most was their food play. It reminded me of my childhood because I recalled doing similar things. Viola organizes her food. She'd put the butter squares in a row and make shapes with them. She'd also make designs with the utensils. Tula Belle at almost every meal would use her staw to capture liquid, holding the end with her index finger. She then lifted it high above her head and let the juice run into her mouth (or threatened to pour it on me!). I did that one too as a kid! One night they made tents with their napkins over glasses – very creative. What was so nice is that at every meal the girls always offered each other (and their cool Aunt) a taste of their meal.
Food is a creative tool for children and it's important for kids to build positive, healthy relationships with what they put into their body. Children learn by looking, touching, smelling, and squishing. Food is sensory! Food play can help children that are picky eaters by providing a fun, confident association with different types of food. There is so much food can teach all of us.
Try this healthy, creative recipe with the whole family. I had a blast making mine!  Creamy avocado with a burst of  lemon on thick multigrain or whole wheat toast – it's delicious. Use olives, eggs and red pepper to create your scary, silly or friendly Frankenstein.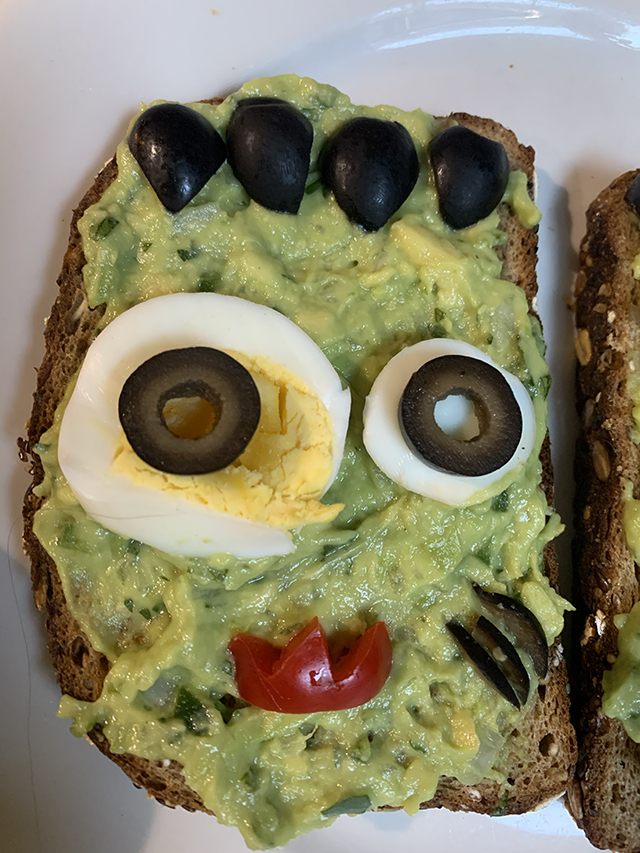 Frankenstein Avocado Toast
Ingredients:
2 Slices of whole-wheat or whole grain bread
1 Avocado
1 Tablespoon lemon
Salt, pepper, red pepper flakes to taste
6 pitted black olives
1 red pepper
1 hard-boiled egg
Olive oil
Directions:
Mash up the avocado with lemon juice in a bowl. Add salt, pepper, and red pepper flakes to taste.

Half the olives lengthwise to make the "hair" and cut the ends into points. Cut one olive in half slices to make round "eyes." Slice the hard-boiled egg thinly to make the whites of the "eyes."

 Cut a small red pepper shape to make "mouths."

Toast the bread and cover with the avocado. Design your Frankenstein face, drizzle with olive oil, eat and enjoy!
Toaster the bread. Remove the toast from the toaster. Spread the avocado mixture onto the toast.

 Step 6 Use the red pepper pieces to form the mouth of your toast.

Have fun and get creative!
Follow me on Instagram for the day-to-day in the kitchen – @theglorifiedtomato