The soil is the canvas. The hues of flowers are the paint. The texture of leaves and branches are the brushes. A garden is a painting. Some paintings are completed in a day, some in a year or many years. A garden is ever-changing and its picture is never finished.
Each garden I pass on the street speaks to the individuality of the gardener and their personal creative expression. These living canvases, small or large, are intended to be seen by passersby, to call forth reaction or to showcase beauty.
This past spring I introduced my friend Teresa to my passion for gardening. She wanted in! And so, I've been teaching her about annuals vs. perennials, weeds, soil types, compost, insects, watering, sun, shade… you name it. Sharing what I know with her has been a great joy for me. She's dedicated so much time to transforming her large overgrown front yard into a productive garden. Organically as an artist, Teresa began to create sculptural pieces within her garden. Unbeknownst to me, she knew exactly where this was headed.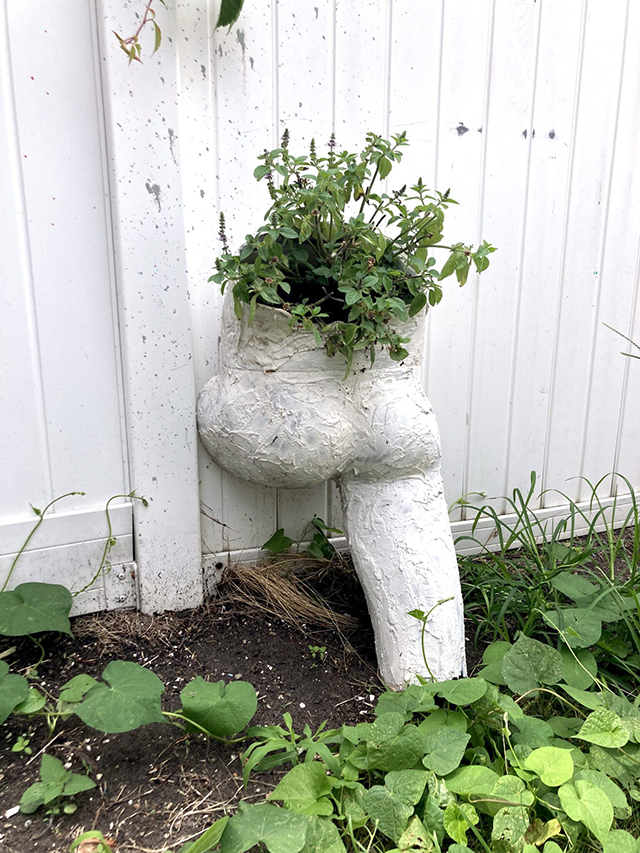 Long Distance Winner by Teresa Farrell
Tomorrow, Saturday, September 3rd, you're invited to enter a three-dimensional garden painting pervaded with sculptural works by Teresa Farrell. This event is a free experience. All artworks are for sale. Electronic music performances by Aua de Gio and Magic Sandwich.  The art show will be held from 3:11 p.m. to 7 p.m.,  located at Beach 97th Street and Rockaway Beach Blvd.
What to expect: The sculptures presented in this show are strategically integrated into the garden canvas. Living plants are meshed with found objects, paint, plaster, and other mediums. Original drawings, paintings, and wearable underwear will also be on display and for purchase.
For this exhibit, I've had the unique opportunity to witness Teresa's art grow throughout the summer. My subjective feeling of the work is as such: The sculptures are reflective of physical and conscious changes in oneself. The art is unleashing bold. The sculptures peel away pretty and provoke the viewer to contemplate rawness. Truth is hard to look at. Perhaps that's why Teresa's work is soaked with comedy. The observer can dig as far as they're mentally capable of – keep the perspective prudently comedic or allow yourself to shovel to the roots.
Teresa Farrell's work has been showcased in galleries throughout the United States, London, and Switzerland. Closer to home, here in Rockaway, you may recall The Lot shows – a joint gallery/studio walkthrough space where music jams were held throughout the summer of 2021. Farrell is a Brooklyn native with Rockaway ties since childhood. She now lives on the peninsula full time pulling inspiration from your trash can and the temper of the sea.
Follow Teresa Farrell on Instagram – @tuh_nesta for a preview of what to expect tomorrow in the garden.