by Paula D.
on
June 21, 2022 1:43 pm
in
Food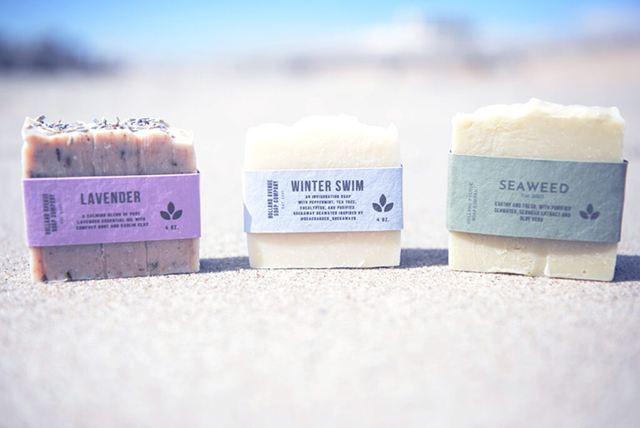 Nature inspires creativity they say and the peninsula is one of the most diverse ecosystems in New York City. Besides nature's visual beauty, being outside we enjoy an aromatic sensory experience that is truly calming.
Holland Avenue Soap Co. captures the scent and essence of Rockaway's natural world. I learned about this new small business a few months ago when my friend and fellow Beach 91st Street Community Garden member Mike Benigno mentioned he and his wife Ellen Colwell started making soap as a hobby during the lockdown.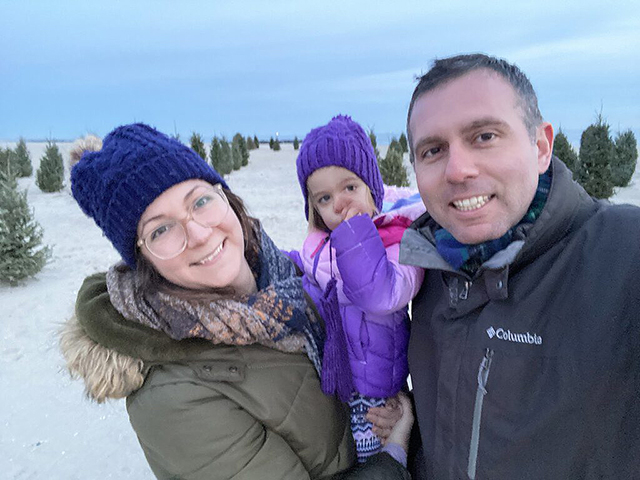 Meet Ellen, Leah, and Mike at their pop-up tomorrow at Rockstock!
Being the garden nerd that I am, I needed to know more. I asked Mike about their choices in local ingredients, and he explained, "Our goal is to provide a modern, hyper-local take on the traditional soap-making process using ingredients grown or harvested in Rockaway, or otherwise inspired by life on the peninsula. This winter we launched our first soleseife (saltwater soap) which included eucalyptus and tea tree essential oils and had a Rockaway seawater base. The wintry blend was inspired by Riitta Ikonen and the @SeaChanges cold water swim sessions that she led on Sundays. We also foraged for seaweed along the shore to dry into a powder, for use in our seaweed soap.
Many of our soaps have a saltwater base, which has benefits for skin. We time our saltwater collection with the local chapter of the Surfrider Foundation, which tests the water weekly on B. 92 St.
We make soaps from rosemary grown at home and around the corner at the Beach 91st. Street Community Garden. We also obtain herbs through places like Edgemere Farms and are even open to working with our customers to create custom batches made from their own gardens."
Like so many of us, the pandemic changed the way we view the world and our lives. Holland Avenue Soap Co. emerged from the time Mike and Ellen had to reflect throughout this period. Mike shares, "During the pandemic we all found ourselves thinking in new ways about things like soap, cleaners, and products around the home – there was also a brief time early on in 2020 when soap was actually hard to find. At the same time, Ellen was looking for a craft to do at home, so I bought her an initial set of soap-making gear. Life with a one-year-old delayed us a bit, but by summer 2021, we made our first batch. We found a way to make it our own during the process by using olive oil we infused with rosemary grown on our balcony. It felt so good to create from something we took the time to grow."
Holland Avenue Soap Co. products are all-natural using only high-quality oils, rich clay, and plant-based ingredients with no artificial colors. Mike and Ellen test each combination because there are many variables that go into the soap-making process. All soaps are mindfully packaged in plastic-free, recycled/recyclable materials, that won't end up in our oceans. In fact, even their packing tape is fiberglass free! A core value of Mike and Ellens' vision for their company as it expands is to make decisions that reduce harm to our environment locally and beyond.
What I found most notable is Holland Avenue Soap Co. has a commitment to giving back to our community by donating 10% of their proceeds to Laru Beya Collective, an organization that teaches safety water courses and empowers our youth. As a new small business, this is a difficult obligation but embedding a form of social good into their company was non-negotiable for Mike and Ellen. Mike elaborates, "Water safety is so important for people, especially those who didn't learn how to swim growing up. We've personally witnessed more than our share of tragedies on nearby beaches and we wanted to partner with a group doing something tangible to help."
Find Holland Avenue Soap Co. products at Fat Cardinal, Station RBNY, and Sovereign Surf & Coffee. Make sure to visit Mike and Ellen at their pop-up tomorrow at  Rockstock NYC on the boardwalk at Beach 90th!  Connect through their website: hollandavenuesoapco.com and for the latest soaps and scents follow @hollandave_soapco on instagram.