by Paula D.
on
May 11, 2022 9:02 am
in
Community
So many of us are mourning the loss of Jesse Lyons. He suddenly passed away on April 18, 2022. At first, I felt  my column wouldn't be the appropriate forum to share about this. But then I thought, one of my main topics in this column is community. And Jesse was the embodiment of our Rockaway community. He was a local activist, a uniter, a force, a friend, a giver, a dancer, a skater, a beach lover. He was so much to so many in Rockaway and beyond.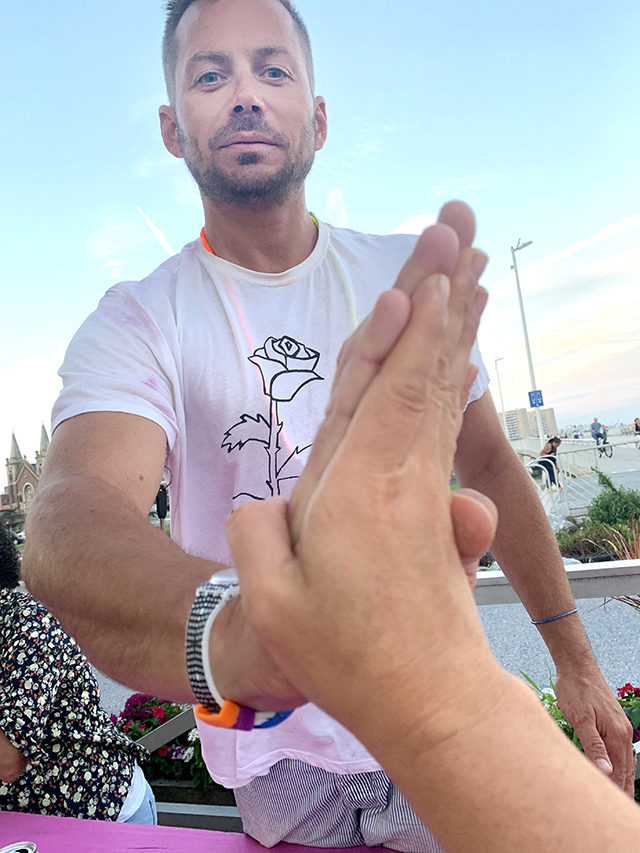 Jesse invented "the hand hug". He came up with the idea the first summer after the pandemic. He's hugging my hand in this picture.
Last Sunday night a vigil on Beach 89th was organized by his close friends. Many people shared their feelings and memories of Jesse under the stars. It was a beautiful tribute to his life.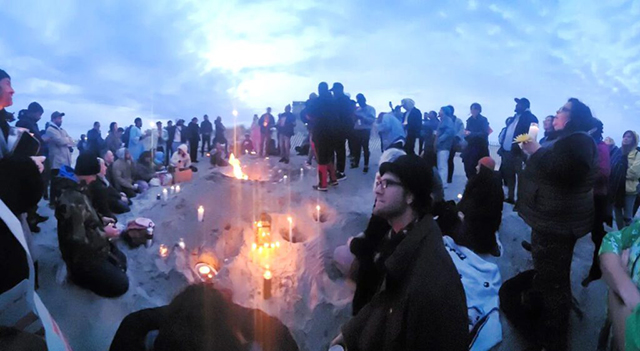 Beach vigil. Photo by Evan Wagner
My friend Will Lowe got up in front of the bonfire and shared his poem, spoken with conviction and love. I've been having a hard time putting my own thoughts into words about this great loss. So I wanted to publish Will's poem, because it says so much of what I also feel.
To Jesse with Love
A Poem By Will Lowe
There were little times that you let us in.
Like the water's edge.
Creeping before you.
But wide and shiny and ostentatious.
There were times that you let me in.
Into your world, your galaxy, your peace.
Into the shine of your blue eyes.
There were times.
Times when I got annoyed.
Times that I didn't understand that you were teaching me that we were from the same soul tribe, that we had arrived on this earth many moons ago, and that we were walking out this scripted life.
Whether your vehicle was your roller skates or your skateboard or your surfboard or your bike or your feet, your vehicle was in motion.
It moved, transcended, doubled back, made sure that you were okay.
There were times that you let us in like the jetties that they're building in replacement of you, meaning the physical.
For I saw you in the birds, I saw you in a lit candle, I saw you in the way that someone laughed.
You're still here. Roaming these shores, making sure the surf is right.
There were times that you let us in and this time that you let out, let out of your earth suit, the thing that held you bound to this plain.
Thank you.
For the times that you let me, we and us into your Jupiter Planet.
Jesse Michael Lyons, March 17, 2021-April 18, 2022