I haven't had a proper haircut since before the pandemic. I desperately needed a spring refresh and knew exactly where I wanted to go – Rock Rock Salon (88-08 Rockaway Beach Blvd.). I have several friends who had exceptional experiences there and they recommended I go for my new cut.
I booked my appointment through Rock Rock's Instagram page – @rockrocksalon. Did you know that was even a feature?! I didn't and it was super easy. I also received a reminder via email which, for me, is hugely helpful.
I entered the suite. Owner Patricia Silva greeted me with an animated smile. The salon is chic with an inviting twist. The walls are painted a soothing deep blue and there's a pop of lively pink foliage wallpaper. I complimented Patricia on her oversized vintage, gold standing mirror… so my style. Honestly, I couldn't believe I was in Rockaway five minutes from my home. The vibe felt like a trendy Brooklyn salon.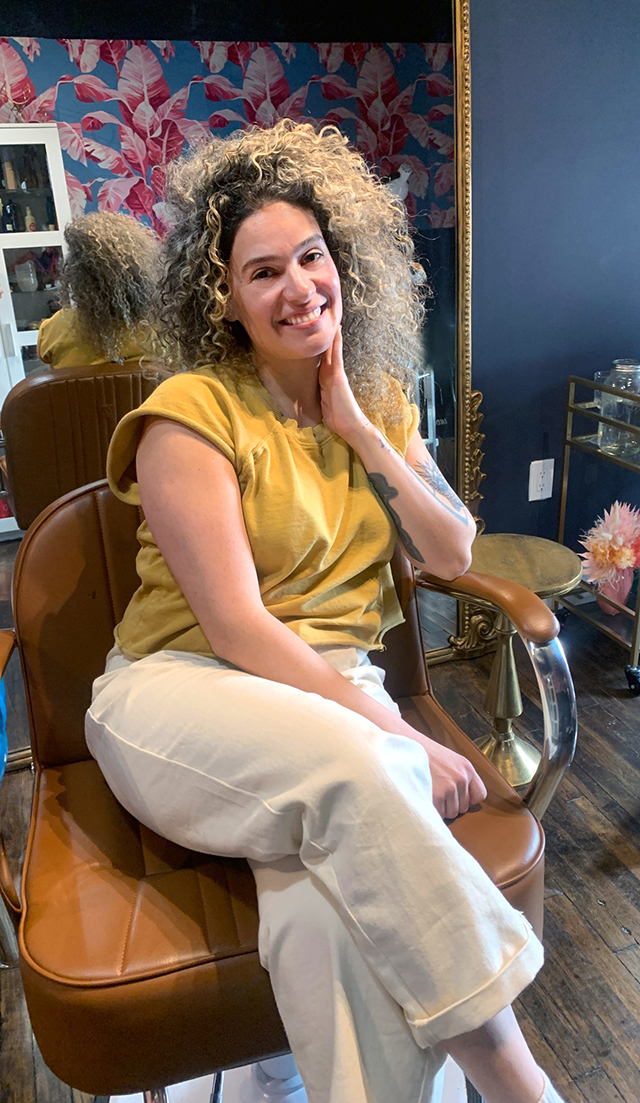 I had a picture reference to show Patricia what style I was leaning towards. What struck me is through our conversation, she mostly listened, noting my concerns and acknowledging my thoughts on the hairstyle. Also, I made her aware of the "problem area." I'm growing out my 40th birthday midlife crisis undercut. She didn't seem phased by it and simply said, "I will make this work." I hopped in the chair and she explained exactly what was going to happen and how some nuanced shaping would add texture and accentuate my face.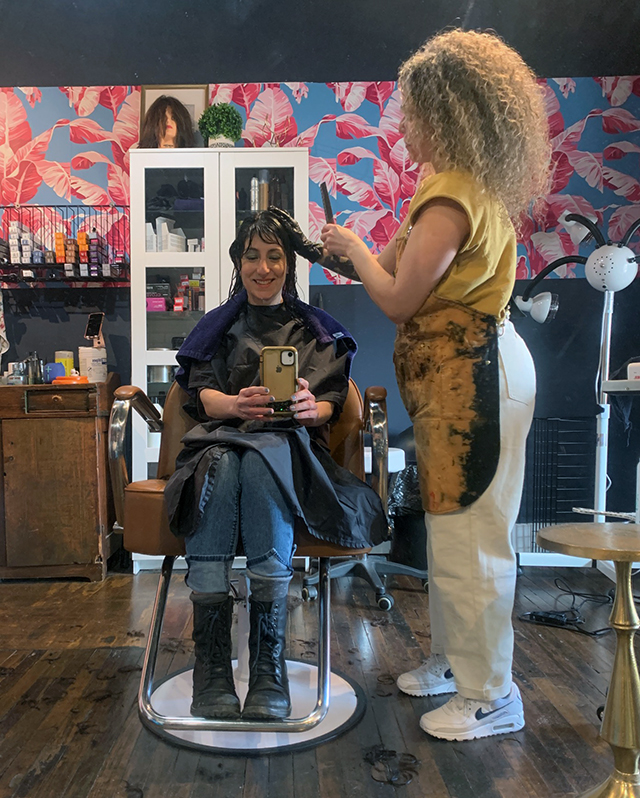 What I didn't expect was an educational component to my experience – tailored to my specific hair type. Patricia gave me a product recommendation and step-by-step instructions on how to apply products correctly. I mentioned how dry my hair has become and she suggested I come back for a glossing treatment, which would add smoothness and shine. I didn't even know such a thing existed!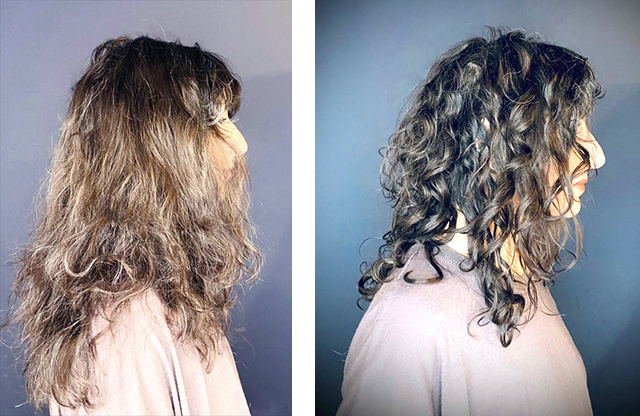 I can't get over this transformation!
It's not often you meet people that are wholeheartedly immersed in their artistry, but that is for certain Patricia Silva.
Silva earned her merits at Vidal Sassoon. She continually attends classes and workshops around the country, studying with the industry's finest salons and top stylists. In doing so, she nurtures her creative ambitions, learning the most current techniques and trends.
Like many of us, Patricia was drawn to Rockaway to be near the ocean. She's been surfing the waves for 7 years. Patricia moved to the peninsula four years ago. During the pandemic she had an opportunity to reflect on the structure of her life. She desired to further commit to Rockaway, sharing her talents with the community she lives in. Patricia found a great location in The Wave Building and opened the salon this past October. And as it turned out, everyone after lockdown was in need of haircuts!
Get ready for summer and book your new look at Rock Rock Salon. Schedule an appointment online easily via Instagram or through rockrocknyc.com. Other haircare services offered include: blowouts and style, deep conditioning, root touchup, gloss treatment, barber haircuts, coloring, kids cuts, and more.
For the scoop around town, follow me on IG @theglorifiedtomato.