I've been to the Rockaway Hotel many times for rooftop cocktails, seasonal markets and for dinner and luncheons. The food is top-notch and the cocktails are 5-star. Whenever I walk in the door, I feel like I'm in Manhattan for the evening, yet I'm only 10 minutes from home!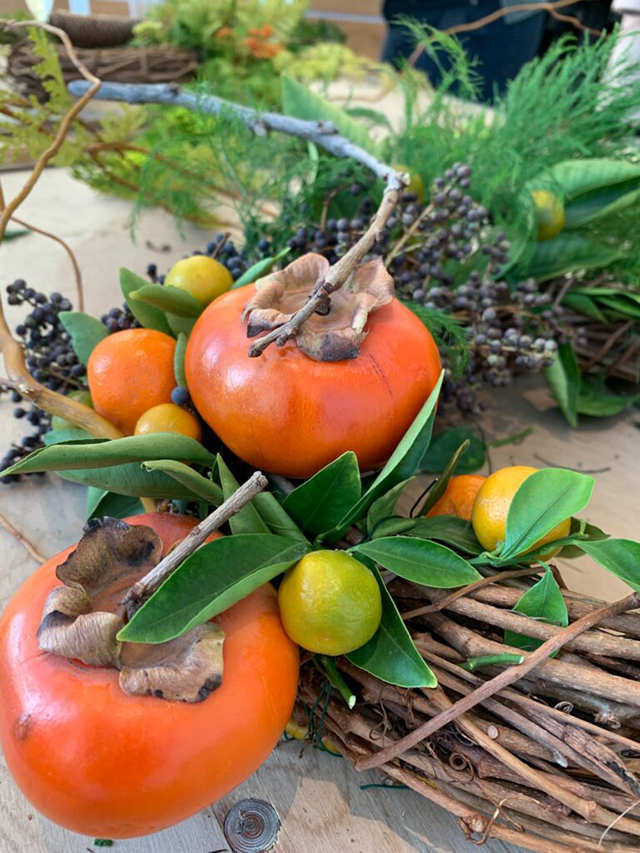 Last week I signed up for my first experience at the hotel – a wreath-making class hosted by Amy Febinger. Amy is a floral designer living and working in Rockaway. She creates beautiful sculptural arrangements for all occasions including weddings, corporate events, dinner parties, and other community or family events. Amy is known for her modern, romantic aesthetic but her installations are always curated for her clients' specific needs or celebration.
I walked up the stairs and was greeted by a server offering champagne. The room was set up beautifully with flowers and greens atop large wooden tables. Unexpectedly, Amy began the event by letting all the participants introduce themselves. We were asked to say a little bit about why we were interested in the class and what we were grateful for. It set the tone for an intimate workshop where we felt relaxed and inspired.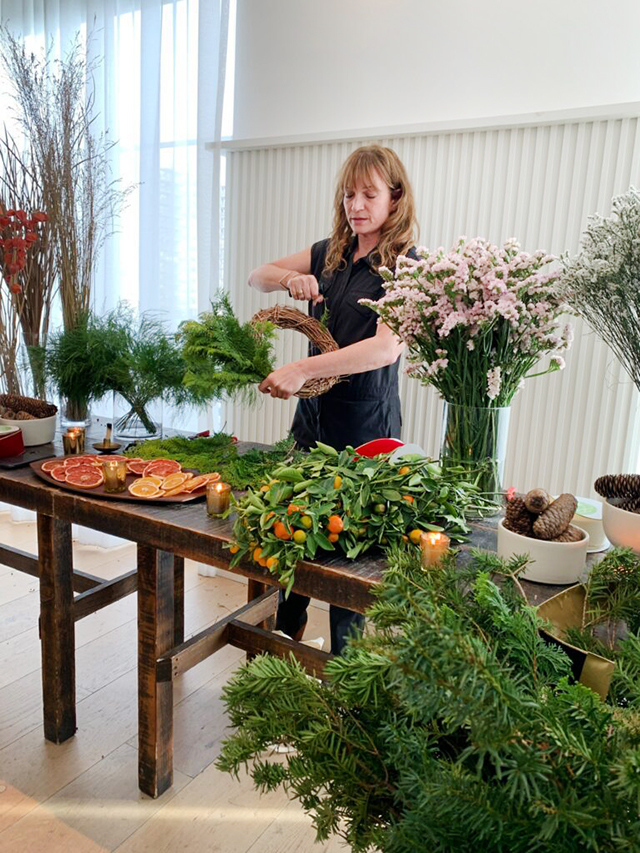 Amy gave us a demonstration, showing us the technique. She spoke about the different flowers and greens we can choose from and how they may work well together, based on color and texture.
Everyone chose their materials and we got to work. It's interesting, my vision for the wreath turned out completely different than what I expected. It was a wonderful little surprise. I gravitated towards bright colors and fruits rather than heavier, classic Christmas greens.
Midway through the class, crafters started walking around admiring people's work and asking for advice or providing feedback. It was interactive and fun to meet new people with like-minded interests. My friend Jacquie, who I signed up with, went big, bold, and organic. She was inspired by some of the creations Amy featured on her IG account. I must say, everyone was commenting on how lovely and unique Jacquie's wreath was!
I asked Amy if she planned on another wreath-making class. She said a workshop in the spring and mid-summer was very likely.
I had such a wonderful day, the most fun I've had in months actually. The holiday season can be difficult or stressful for many. Taking the time to do something for yourself is so important. I'm grateful for people like Amy Febinger who follow their passion and in turn, give that light and enthusiasm back to our community.
Support local businesses this holiday season and visit bourgeonflowers.com for floral arrangement gifts. Follow @bourgeonflowers on Instagram to view Amy's breathtaking designs. And make sure to check out The Rockaway Hotel's happenings page (herockawayhotel.com/happenings) to find out about upcoming events!