I turn around. I'm standing on the picnic table bench and I look back. There's at least 500 people at Rippers . So many that they've stretched out the width of the boardwalk, from the building to the sand and a secondary crowd hanging out on the ramp near Dayton. I knew so many of them. Last Saturday night everyone was there to see the Wild Yaks record release show. Band members Jose Aybar, Rob Bryn, Martin Cartagena, Gio Kincade, Patsy Carroll, and Matt Walsh recorded Live at Rippers on Saint Ripper's Day on October 6, 2019. With the pandemic, the band wasn't sure the record would ever come out. But it did and fittingly, the show two years later commenced at Rippers.
Sky Creature, my husband's band – Matt Walsh and Majel Connery opened. Their set felt like an extraordinarily "floating in the ocean" type dream. The music is like nothing Rockaway or the world has ever heard before. That sounds like a strong statement, but it's true. The best way I can describe it is, electronic pop with African-inspired beats. And add a professionally trained opera singer (Majel) on lead vocals. It's special.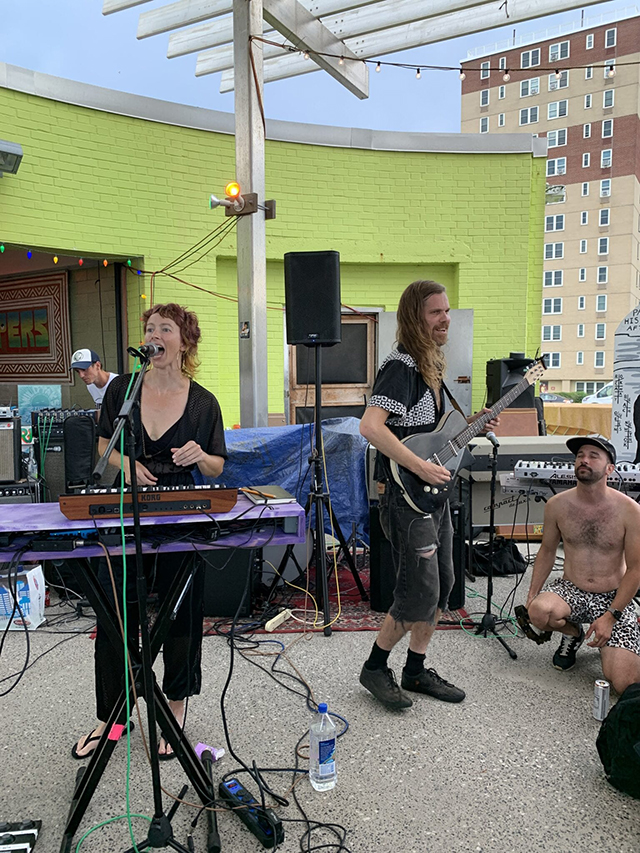 Champagne Superchillin'  is a beach rock band with a French twist. They've been on the Rockaway scene for years now but I only discovered them in depth this past year, seeing their gigs at the Rockaway Brewing Co. The members rotate at times, but the core from my understanding is Juliette Buchs, Ben Trimble, Charlie Garmendia, Jose Aybar, and Spicy. Their uptempo, all-smiles vibe got the crowd going in preparation for the Yaks.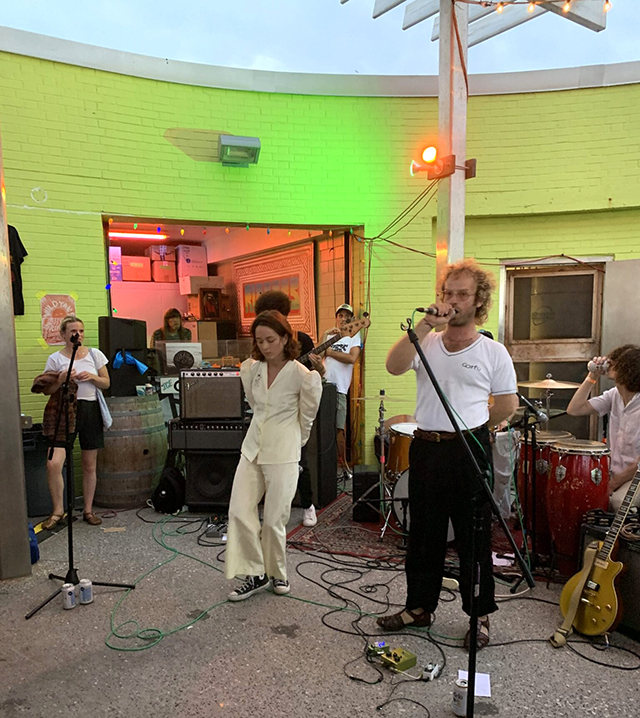 It's hard to put into words the feeling of the show that night. People were actually crying; people were screaming and dancing; there was a mosh pit and crowd surfing. Everyone was dripping in sweat but no one cared. It never rained but there was lighting all around us. The Wild Yaks played with 100 percent passion and true joy. The songs sounded great. But It was more than the music and the record. It was a release of energy and love that needed to happen after we all went through the emotionally trying year of lock-down. It was a gift. The community was back together again.
If you would like a Live at Rippers record, visit openocean.nyc,  a donation-based nonprofit music label in Rockaway Beach.  A little background from the website: "We believe that recorded music is public art, to be enjoyed together. It is for listening. It is essential for our well-being. We want our records to be available to our community without the barrier of cost. In the spirit of sharing, we give them to you as a gift. We truly believe these records can transform you, the Rockaway community, and the world. A record is a document of communal magic and genuine expression. How can we put a price on that?"
P.S Thank you to The Wave and Cara Cannella for writing about the record release show a few weeks back and sharing about Open Ocean