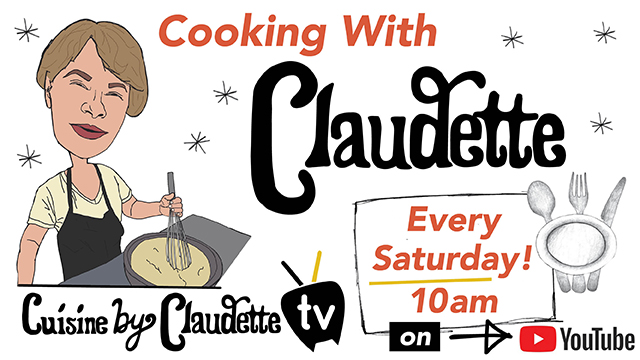 Did you know that Claudette Flatow of Cuisine by Claudette (CBC) has a cooking show on Youtube? It premiered three weeks ago. It's called Cooking With Claudette. The episodes teach you how to create delicious recipes like a pro — vegan ones too! Claudette is happy to share her cooking secrets and tips on the show, and one of the first things you learn is that it's all about prep, technique and practice. Besides being instructive, the episodes are downright hilarious.
In Episode 1: Moroccan Roasted Stuffed Peppers, Claudette is wearing an apron that reads "Droppin' new recipes on your ass."  Whose mom would wear that?! The editing is on point. Claudette is in thought, there's a long pause … you think it's the beginning of an awkward silence, then you hear cricket chirps spliced in! What also adds to the humor of the show is Clauddette's no-frills, "I mean business," bold attitude. If you ever met Mrs. Flatow, you know what I mean. Casually grabbing flame-roasted peppers off an open fire on camera is just one of Claudette's "dang" moments in the first episode.
It seems Claudette wearing "words of wisdom" aprons is going to be a thing. In Episode 2: Spinach Shepherds Filo Pie, She's wearing an apron that says "Your opinion is not in the recipe." Spoken like a true chef. You won't spot a measuring cup on the counter, but Claudette knows what a quarter cup of milk looks like. "Use spinach, you can also use kale …  make it vegan, make it with beef." It's this "a little bit of this, a little bit of that" approachable style that Claudette offers in her videos. It gives the viewer at home options, making the recipe feel like your own creation. That type of flexibility is appealing especially for newbie cooks.
The local eatery, Cuisine by Claudette has a lot on their plate. The team operates several locations – their flagship at 143 Beach 116th Street, their location in Arverne – 190 Beach 69th St., the juice bar at Burn Fitness, 103-32 Rockaway Beach Blvd., and seasonally they have digs at Riis Park. In addition, CBC caters and hosts community events.
So, how the heck do they have time to produce a weekly Youtube series? I reached out to John Efrati, Manager of CBC and got the behind the scenes intel.
As everything at Claudette's, it's a family affair. Tatiana Osoria– John's wife– created the fun, spot-on illustration of Claudette that is the opening image on the Youtube video. Tati also films, edits and directs the videos. More help comes along from employee Rianna Salzaon who writes up the recipes. The attention to detail is apparent in these videos, one example, Claudette has her very own catchy theme song. It's written and sung by Syndey Willams, produced by Sebastian Sheppard – all employees of CBC! They are a talented bunch in the kitchen and out!
Tune in every Saturday morning at 10am for a new Cooking With Claudette episode and a new recipe to try! Follow @cuisinebyclaudette on IG for updates and subscribe to the Youtube channel here.