by Paula D.
on
October 12, 2020 11:41 am
in
Recipes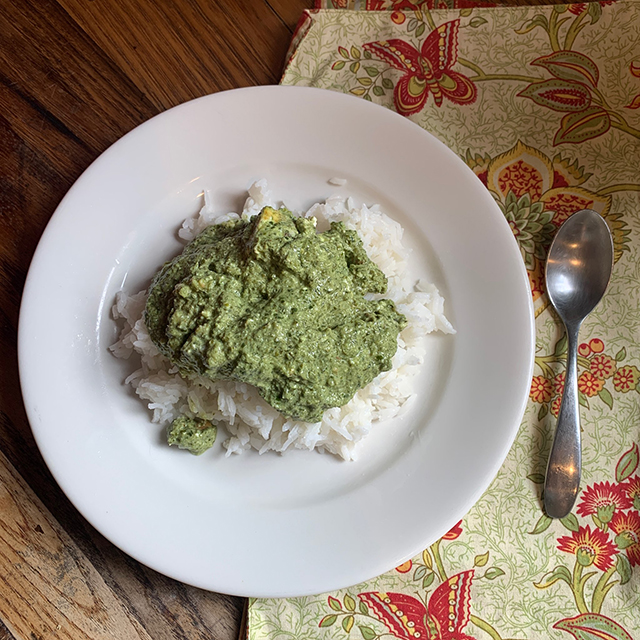 I love Indian food. And until someone in Rockaway opens an Indian Restaurant (hint, hint), I will continue my quest to learn how to cook spicy, savory currys, masala, lentils and dahls.
Each region of India is famed for their individual styles. One of my favorite dishes is from northern India – saag paneer. In Hindi, Saag means greens, referring to spinach, collards, fenugreek and other leafy greens. Paneer is a mild, unaged soft cheese which makes it simple to make at home! Be aware, paneer does not melt.
I found this saag paneer recipe on www.saveur.com. I attempted to follow it as closely as possible but I always find myself struggling to do so. I question things like.. is a half teaspoon of garam masala really going to make a difference in the flavor of such a large batch?
Below is my modified recipe. I've also included helpful information based on my experience with this recipe. Indian food isn't the easiest cuisine to master. My husband said he thought my preparation was delicious, rating it 7 out of 10 – which is good for my first try!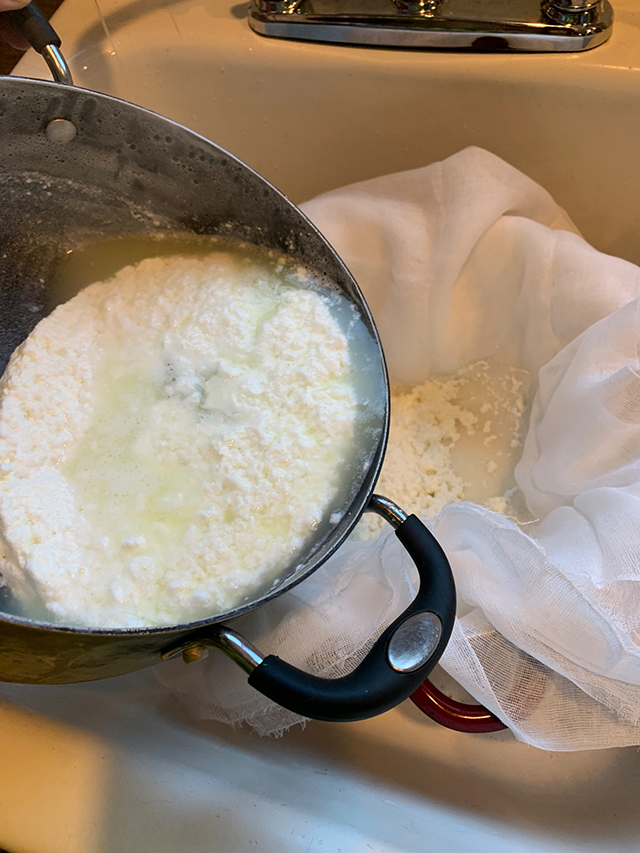 For the homemade paneer cheese
(Serves 2, takes 45 minutes, plus draining time)
8 cups milk
¼ cup fresh lemon juice
6 Tbsp. ghee or butter
Note: Ghee is a clarified butter which originated in ancient India. If you can't make a trip to Bellerose Queens, to the many Indian supermarkets there, use regular butter. Next time I will double the cheese recipe. Believe it or not, 8 cups of milk didn't produce much cheese.
For the spinach
4 cloves garlic, chopped
1-inch piece ginger, peeled
½ to 1 serrano chile, (any chille will do, amount based on spicy preference)
6 cups finely chopped spinach
Kosher salt
6 Tbsp. yogurt
½ tsp. garam masala
¼ tsp. Cayenne
Indian flatbread or rice, for serving
Notes: Be careful with the Kosher salt as each grain is more like a pebble, Out of everything, I ended up adding too much salt. Taste the mixture before serving and add more spices if you feel it needs it.
Instructions
Make the cheese: Line a colander with four layers of cheesecloth, draping it over the sides and set in the sink. In a large skillet, over medium-high heat, bring the milk to a boil, stirring often. Stir in the lemon juice, then lower the heat to medium-low and cook without stirring just until large curds form, about 30 seconds.
Remove from the heat and set aside without disturbing for two minutes, then pour the milk mixture into the colander. Gather the corners of cheesecloth and gently squeeze out some of the excess liquid. Tie the opposite corners of the cheesecloth together to make a sack and hang it from the faucet. Set aside at room temperature until the excess liquid has thoroughly drained, about 1½ hours. Transfer the sack to a plate. Glatten with your palm and place a  heavy pot on top of the cheese. Set aside to compress for 30 minutes. Remove the pot and unwrap the cheese. Cut into 1-inch cubes. You can make the cheese in advance and store it in the fridge.
In a skillet, heat the ghee or butter over medium-low. Add the cheese and fry until golden brown, about 6 minutes. Set aside.
Make the spinach: In a blender, combine all the ingredients and ¼ cup water till it's loosely chopped, or to puree (whatever your preference is). Butter the skillet and heat to medium-low. Add in the spinach mixture, cheese and yogurt. Cook on low for 15 minutes.
North Indian saag paneer is a soft and creamy spinach mixed with chunks of mild fried cheese. You can serve it with warm naan or rice. This is Indian comfort food at its best!