I made English Muffin pizzas the other day and they were so so good. I remember as a kid making them with my sisters on our small kitchen table at home. We'd each have 4 or 5 of our very own to "work on", with whatever toppings my mother had on hand. We'd pile on so much cheese, pepperoni and black olives (my fav), that when the muffins came out of the oven, the cheese was sizzling over on the hot pan. It was so much fun for us. Do kids still do this?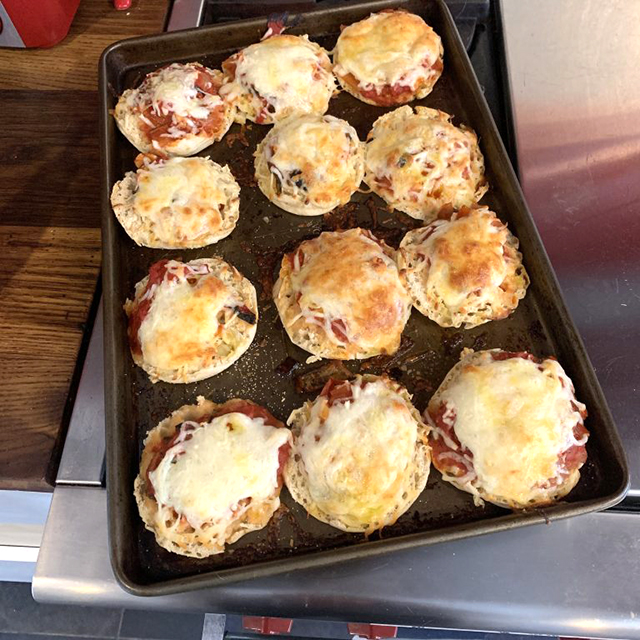 I think some of you know, Thomas' English Muffins originated in America, not England. Samuel Bath Thomas, a British expat, emigrated to New York in 1874 and had a bakery in Chelsea. His "toaster crumpet" was popular in the hotel and restaurant scene. The term English Muffin was coined in 1894.
It's said by the New York Times that only 7 people know the recipe for the famed English Muffin. Many professionals in the baking industry tried to crack the cranny code but all have failed. So, don't try to find it online or experiment in the hopes of posting your homemade quarantine English Muffins on Instagram. It's not happening.
My friend who I mentioned a few weeks back, Mr. Ed, put out another remote learning video for his students. This series is about popular jingles and what makes them so catchy. He asked his friends, students, and co-workers to submit entries. The one that resonated with me most, was the jingle my friend Katie Honan sang – the Bagel Bites jingle, from the wildly popular commercial from 1996.
Pizza in the morning,
Pizza in the evening,
Pizza at suppertime!
When pizza's on a bagel,
You can eat pizza anytime!
Katie explained the deeper meaning of this jingle in her cameo, "It advertised an item from Ore-Ida that you might see in your freezer aisle. This item combines two very popular foods: a popular lunch and dinner food, pizza, with a very popular breakfast food, a bagel. And the idea behind this ad and jingle was that when you combine these two, you can eat them anytime you want. Now, I believe you can eat pizza and a bagel whenever you want, but this was the world we lived in, in the '90s. I've always really liked the jingle, it was crazy and phonetic but I wanted to strip it down to get the core message of this liberating food."
Katie's rendition is great, check it out on Ed's Youtube channel page here.
Interestingly, the jingle lyrics were altered from The McGuire Sisters' 1957 single Sugartime, written by Charlie "Sugartime" Phillips. The original song is pretty sweet, listen here.
All this has me thinking … did inventors Stanley Garkzynski and Bob Mosher of Bagel Bites get the clever idea for their product from English Muffin pizzas? What came first? Bagel Bites came to market in 1991. That means I would've been 10 years old. I feel there's a good chance we made English Muffin Pizzas before then. I'll have to do more research on this.
Do others contemplate the origins of frozen snacks randomly or is it just me with a lot of time on my hands in quarantine?
Follow me for the day-to-day on Instagram, @theglorifiedtomato.