by Paula D.
on
January 22, 2020 9:43 am
in
Gardening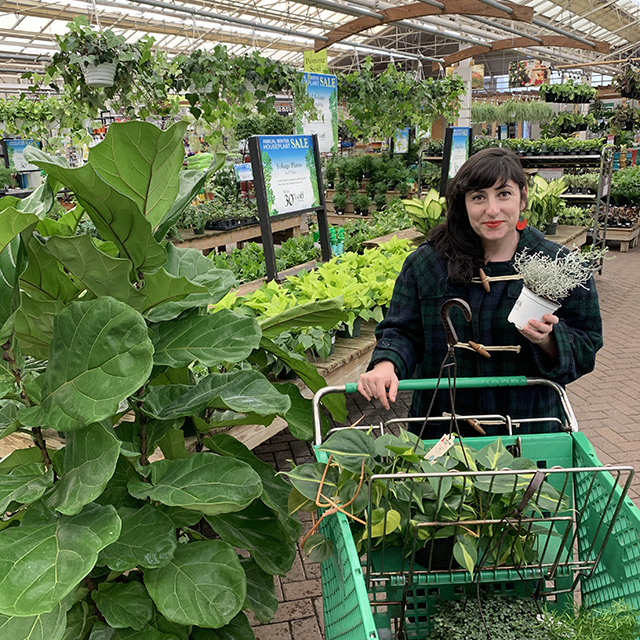 I really start to miss gardening in January. The holiday distraction is over; I'm indoors more than half the day; and I realize there are three long, cold months before the start of the gardening season begins in April.
This will not stand! So for my birthday last week, my husband took me to Hicks Nursery (100 Jericho Turnpike, Westbury, NY 11590) to check out the sales on their large selection of indoor plants, which are timed to coincide with the mid-winter horticultural doldrums.
I've been visiting the Long Island plant mecca for as long as I can remember. We'd see Otto The Ghost and pick pumpkins in October. During Christmas time, my family would visit to admire their decoration displays and get hot chocolate. And in the spring, I'd tag along with my father, as he bought plants and veggies for his garden.
Another reason I've been wanting to plant shop and expand on my indoor collection is a new obsession of mine – this Youtube channel, "Plant One On Me", hosted by Summer Rayne Oakes Ugh! Yes, that is her real name.  According to Summer's nicely designed website, homesteadbrooklyn.com, she graduated from Cornell University cum laude with degrees in Environmental Science and Entomology. Oh and she's also an environmental activist, writer, entrepreneur, eco-model, and she's four years younger than me. What might annoy me the most though, is she's verified on twitter. Little known fact: I'm a very jealous person.
Having said that, I can't deny that her Youtube series is amazing. The 3-5 minute videos focus solely on one houseplant at a time. The short clips are rich with information and it's put forth in an easy-to-understand way. And she does seem… nice. Other videos are special houseplant tours, or visits to excotic nurseries. Another that caught my attention was a video about "expectations of houseplants". It explained to examine your living space before going to the garden store and buying plants. Make sure you buy plants that are suitable for your light conditions and overall environment. Another great tip she shares, if you travel a lot, consider cactus and/or succulents.
As I headed to Hicks planning on spending a lot of money, I had Summer's plant shopping tips in the back of my mind. I was overwhelmed with 8 rows of all different species and cultivars to choose from. Matt was patient with me as I went down the isles (twice), reading the plant description and inspecting for imperfections and pests. It was difficult to choose, but I picked up six new plants – asparagus fern (Asparagus aethiopicus), a gorgeous hanging Brazil philodendron (Philodendron hederaceum), the very trendy money plant (Pilea peperomioides), a unique silver stone (Calocephalus brownii), a variegated triostar prayer plant (Triostar sanguinea) and last but not least, a delicate glauca (Pilea glauca).
I'll elaborate on these lovely plants in the upcoming weeks. In the meantime, if you're a plant person, I'll swallow my pride and suggest you check out Summer Rayne Oakes youtube channel here.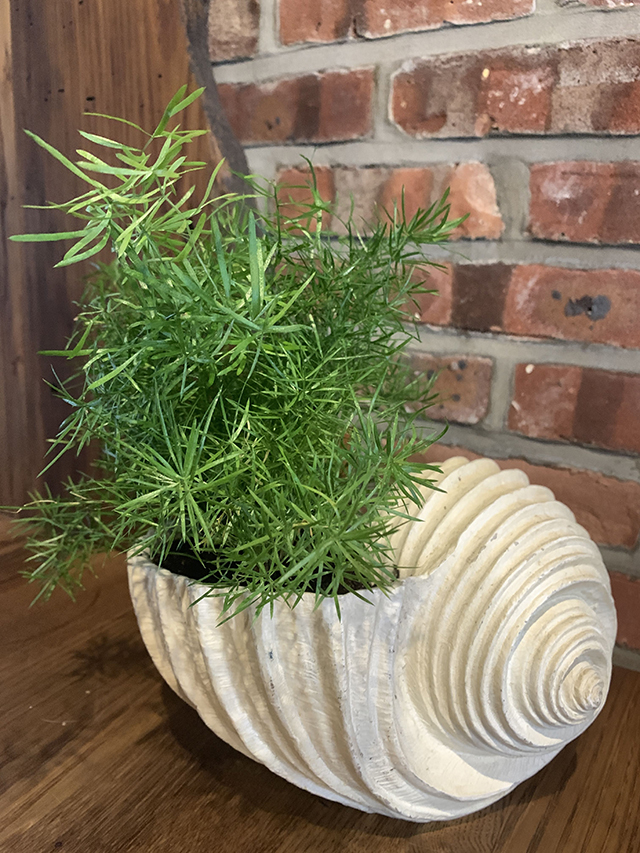 I bought this shell over two months ago at a thrift shop with the intention of turning it into planter. The asparagus fern is the perfect fit.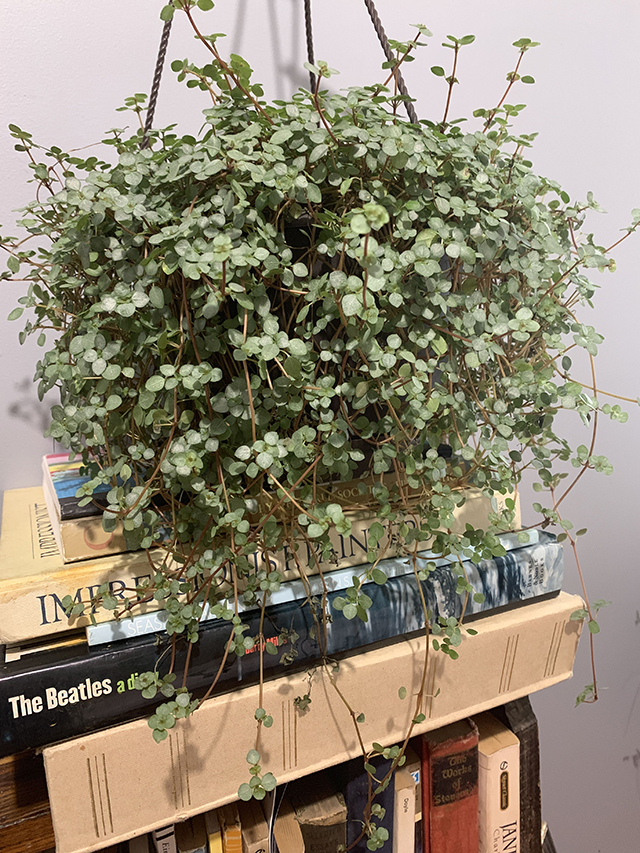 The delicate, organic, small vines of the glauca are ideal for an indoor hanging basket display, in a room with filtered light.