My plan for this week was to write about a tasty, healthy chickpea salad recipe, but two notable experiences happened last Sunday at St. Francis De Sales (129-16 Rockaway Beach Blvd, Belle Harbor) as my church-hopping journey continues. So here's both!
I almost didn't make it to Saint Francis last week. I got the time wrong. I had the thought,  "Well, I tried." but I did end up back in the car 45 minutes later. And I'm glad I did because I was reminded by a flyer in the back of the church about their Holy Happy Hour fundraiser, this Saturday January 11th at the Bell Harbor Yacht Club (533 Beach 126th St, Belle Harbor). "Come thirsty, leave spiritually fulfilled!" Fr. Bill and Fr. Jim will be guest bartenders and all tips are donated to St. Francis Parish. I feel this was a sign from God, I have to go!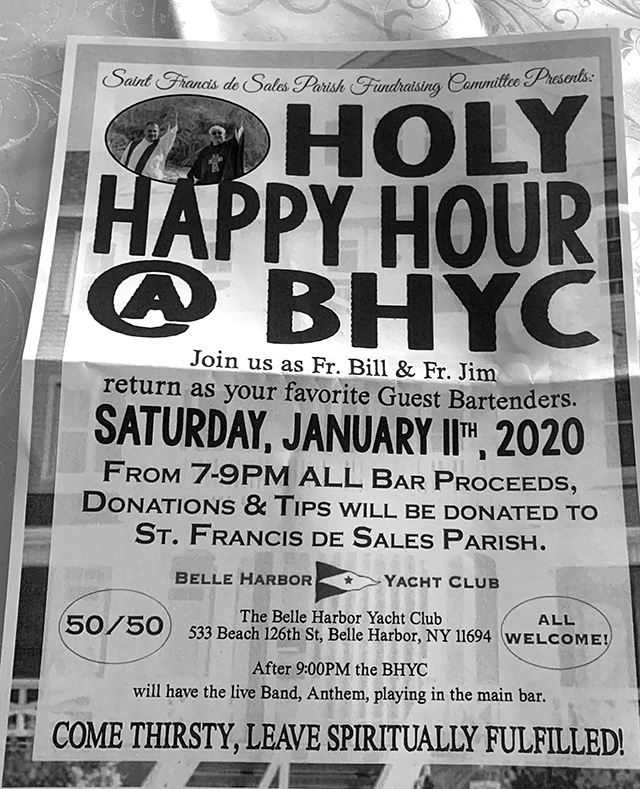 Focused on happy hour, my mind wandered in Mass, "What do you wear to an event like this? Nothing too tight, or low-cut, no leopard print… Keep it simple fashion-wise." Then, the next obvious question, "I wonder if I can get the priests to bless my wine?!" I feel like they've got years of experience at it, no? Different context, but all the same.
As I was meditating on this important question, a small child a few pews up from me came into view. He was wearing some kind of Power Rangers outfit. He was adorable! "Does he wear his costume to church every week," I questioned. Or was it one of these situations – Mom: CHANGE FOR CHURCH NOW!", Son: "NOOOOO!!!!" A total meltdown occurs and his frustrated mother brings him to church, costume and all! I had posted a blurry picture of him on Instagram and I was corrected, he was in fact Buzz Lightyear. When did Toy Story come out? In the 90s? I feel so out of touch.
Other observations of Mass at St. Francis: there were so many tall Irish congregants. I must remember to sit closer to the front next time. The acoustics are great and the music sounded lovely. Our Digital Editor here at The Wave, Allison Kase, commented on my Instagram post, mentioning that their folk choir at 5:30pm on Sunday is not to be missed. Matt used to play this Mass with Don Renda, whom he says is the greatest church singer of all time*. He's been called "the holy Johnny Cash" by locals. 
Finally my mind came into focus and I paid attention to the rest of the Mass, thank God.
After church I made my go-to chickpea salad. It's quick and easy. It's healthy and hearty too. Sometimes I switch up the recipe based on the vegetables I have in the fridge but primary it's the same base.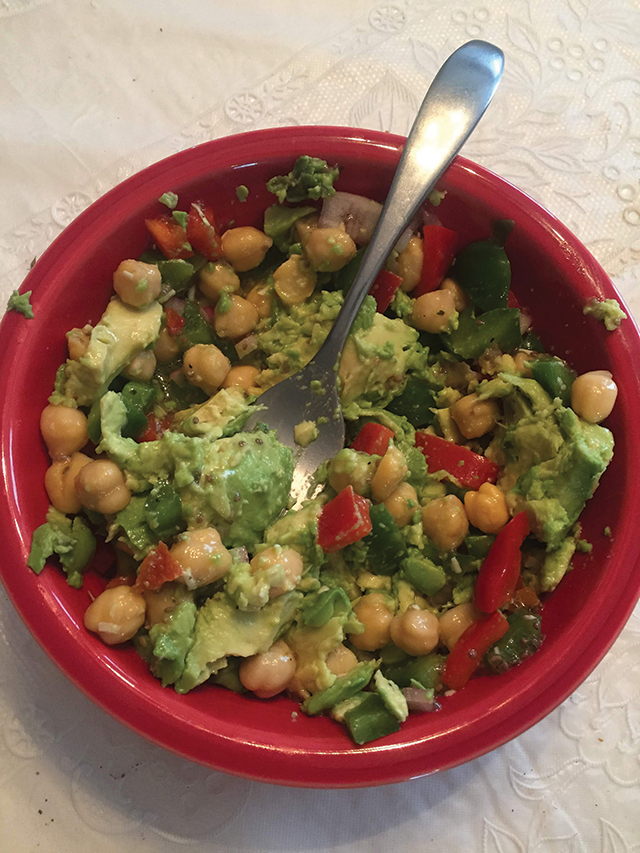 Paula's Chickpea Salad with Avocado
Ingredients:
(Serves two hungry people)
1 – 8 oz can of chickpeas, drained
1  avocado (sometimes instead of avocado I use feta cheese, both options are delicious)
1 – 2 red peppers
¼ cup chopped carrots
¼ cup romano cheese (omit if you're using feta)
2 tablespoons shaved red onion
Salt / Pepper / Garlic Powder / Oregano to taste
Colavita olive oil
Red Vinegar
Directions: Shave the onions thinly. Dice the peppers and carrots. Often I'll buy pre-chopped carrots, it's a time-saver. Add those ingredients into a large bowl with the chickpeas. Mix in the spices and romano cheese. Add the oil and vinegar liberally. Let the mixture sit for a half hour before serving. Then add in the Avocado. For best freshness, If you're making this in advance, wait to include the avocado until right before you serve. 
* Here's a recording Don Renda and The Forms (Matt Walsh and Alex Tween) did around 2001, including Don's original Christmas song "Child Of Peace" : https://soundcloud.com/oceanus-nyc/holy-is-his-name
For more musings visit theglorifiedtomato.com and follow Paula on instagram for the day to day – @theglorifiedtomato