by Paula D.
on
April 1, 2019 11:16 am
in
Food
We peninsula and Broad Channel folk share the shoreline with the natural world. I believe most of us try our best to reduce, reuse and recycle because of that.  The other day taking out my organic trash, I couldn't believe how much waste my husband and I produce and it's just two of us. Thankfully, NYC now composts. Speaking of which, my friend Yarden Flatow of Cuisine by Claudette recently started a unique, inspiring composting project.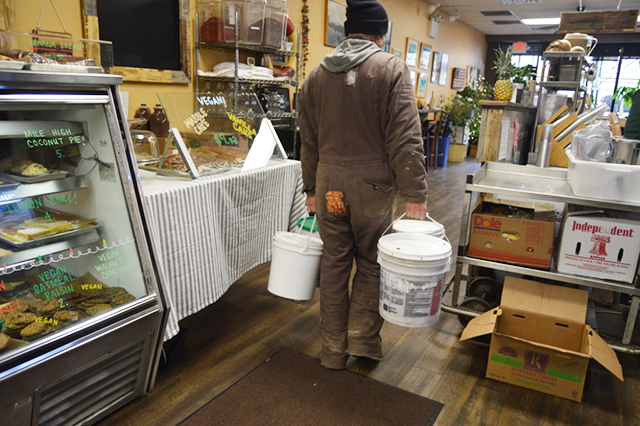 About 6 months ago Cuisine by Claudette began a compost partnership with Edgemere Farm. The team at Cuisine by Claudette separates all food waste into 5 gallon buckets which are then picked up every day or so by a member of the farm. The food scraps go into the compost pile where it's processed and eventually used to enriched the soil which the farm needs to grow their delicious produce. But not all goes in the heap, some scraps are used as feed for the chickens!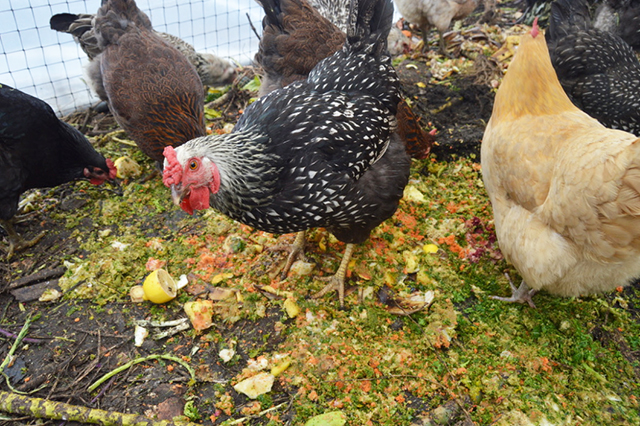 Best fed chickens in NYC I dare say!
"It's an amazing life cycle because it lends itself to demonstrating how we can all find ways to reduce our waste simply and easily. Something that is seen to us as garbage, that our waste disposal company actually charges to pick up – is a valuable commodity to another community operation. Not only that, but there are times were farms like Edgemere have to pay for chicken feed. It's really great that we have such a symbiotic relationship." Yarden tells me.
The idea came about from a friend at the farm, who was a restaurateur and composted at Edgemere. Yarden explains, "After a little research, we came to a quick conclusion that partnering with the farm fits perfectly with our company values. It's an environmentally responsible decision, it's economical, and it helps support our favorite local urban farm."
What better way to work within our own community to find solutions that are beneficial for both parties and has a positive impact on the peninsula. If that wasn't enough, Cuisine by Claudette purchases produce and herbs for their healthy menu items from Edgemere Farm during the spring through the fall – talk about coming full circle!
Cuisine by Claudette is located at 143 Beach 116th Street Rockaway Park NY, 11694. Know that when your eating your lunch or slurping your smoothy, the byproducts are not going to waste, thanks to the eateries sustainable practices and collaboration with Edgemere Farm. Follow Cuisine by Claudette on facebook and on instagram to learn of new menu items and to drool over food photos – @cuisinebyclaudette.
Spring just began and Edgemere Farm is gearing up for their busy season. Look for opening day announcements on their Facebook page and instagram – @edgemerefarm. In the meantime, every weekend you can shop their pop-up location at 323 beach 74th Street, Sat/Sun 9am – 2pm for produce and more.
Previously published in The Wave.