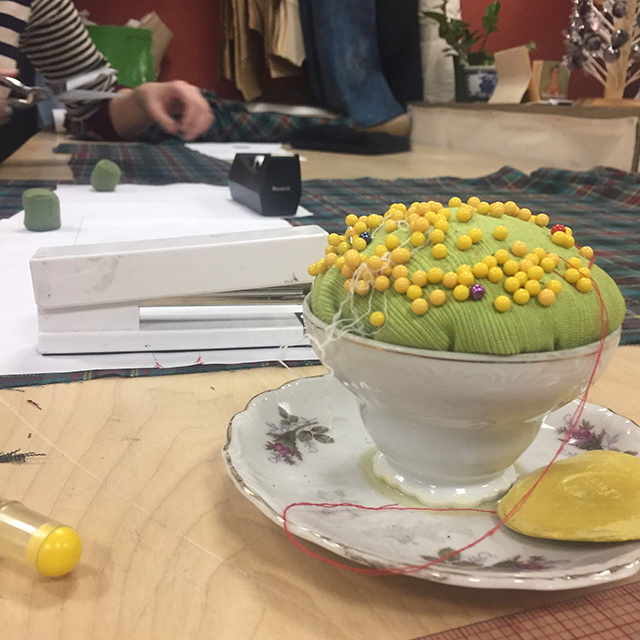 The first sewing class I attended at  The Studio Phantasmagoria was not what I expected. I walked in and studio co-owner Jackii Ramis told the students to take a seat and relax. "Do you want some tea?"  "Yes!" We all practically said in unison. Already my concern about having know clue how to sew dissipated. Jackii passed out booklets and we  flipped through as the tea steeped. We reviewed the basics, discussed our pencil skirt pattern design and outlined what we would accomplish in each class. After taking our measurements we started cutting out the patterns. So far, so easy!
The atmosphere was casual and relaxed. I know sewing takes a lot of patience. Being engaged in one aspect of the project allowed me to focus on the task at hand and not worry about the big picture. This microstructure was intentional. It's a philosophy Jackii  follows as a designer and is a fundamental of her brand. "INDIGO APPAREL is a social brand created with the simple idea of taking things slow. We believe in the power of taking a slow journey through life, and are inspired by appreciation for the little things."
The following Wednesday Jackii taught us to wind bobbins. She suggested making many at one time, so we'd  always have one ready to go with the color needed. Next, we threaded our machines which was difficult for all of us beginner students. But we got the hang of it eventually, after a few "uh-ohs"!  We learned to change tensions, and begin sewing on scraps, experimenting with different stitch types. The Studio Phantasmagoria has a zero waste initiative. They seek out designers and work with them, passing along unused fabric scraps, giving the textiles a second life. From 2017 to now, they have trashed less than 1 lb of material!
Class three was the most challenging yet! We starting sewing our skirt. To prevent the material from fraying, we contoured each piece with a zig zag stitch. After a few minutes, I was at ease with this procedure. The  next step was to mark the darts on our pattern. This was the hard part where much patience was needed. Darts are folds (tucks coming to a point) and sewn into fabric to take in ease and provide shape to a garment. They are used frequently in all sorts of clothing to tailor the garment to the wearer's shape. There are a few methods to mark darts. We used the fold and flip method. The pattern needs to be aligned with the material. You then fold on the pattern line so you can trace the shape with a wax pen. I tried my best. It was definitely not perfect but I was generally satisfied after many botched attempts.
Somehow, magically, I'm hoping I'll have a finished holiday plaid pencil skirt with a zipper and all  by the end of next class. Wish me luck!
If you missed the prelude to this column read about The Studio Phantasmagoria  (92-10 Rockaway Beach Blvd) here.