by Paula D.
on
October 29, 2018 5:55 pm
in
Recipes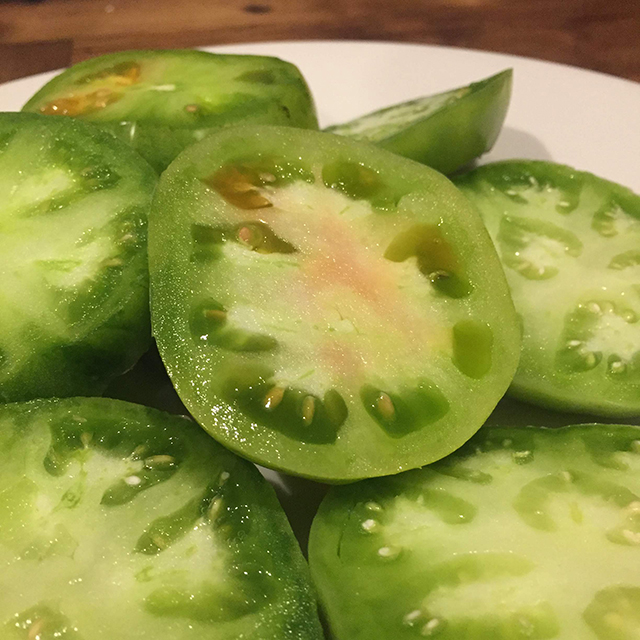 It's mid October and I still have tomatoes on the vine but they're not turning red. I've noticed a few critters getting to some so I decided to take 'em as is and make fried green tomatoes!
It was my first time frying up green tomatoes. The combination of soft, tart tomato with the fried crunchy cornmeal coating was delicious. And when you add in a creamy creole dipping sauce you end up with the perfect comfort food. And the perfect snack to eat while watched the classic… Fried Green Tomatoes movie, which is exactly what I did. In fact, up until the movie came out in the 90s, I'd never heard of this southern staple. While looking for a traditional recipe online, I came across an article that mentioned this classic southern dish may not be originally southern at all:
According to Robert F. Moss, author of The Fried Green Tomato Swindle and Other Southern Culinary Adventures, fried green tomatoes first appear in 19th century Northeastern and Midwestern cookbooks such as the 1877 Buckeye Cookbook and the 1873 Presbyterian Cookbook. Recipes can also be found in Jewish cookbooks from the early 20th century: The 1919 International Jewish Cookbook by Florence Kreisler Greenbaum.  The only Southern mention of the recipe that Moss could dig up was from a 1944 Alabama newspaper, which printed a recipe as part of an article mocking the USDA's dietary recommendations during wartime.*
So fried green tomatoes were actually a Dutch or a Jewish dish?! I love discovering new tidbits on food history. Up north they made them a bit differently. 365 Luncheon Dishes, published in 1902 in Philadelphia describe dish #15 – Slice green tomatoes in thin slices, roll in flour. Heat and butter the griddle, fry the slices on it and when cooked sprinkle with powdered sugar. Serve with fish. I'll have to try that one next time.
And this makes total sense actually. Up north, tomatoes would produce late season unripe fruit, where in the south you'd have no problem producing the juicy reds late into the season. But the south fries everything, so its no wonder the recipe spread throughout the United States finding a perfect home in southern cuisine.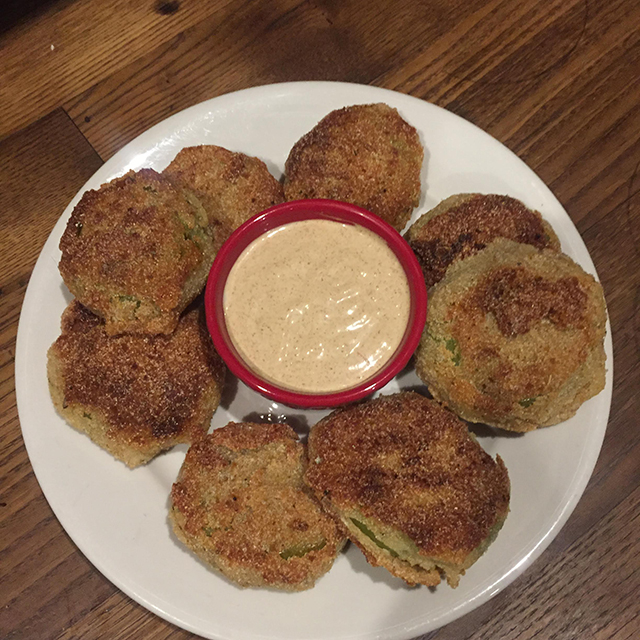 Fried Green Tomatoes
INGREDIENTS
3 medium, firm green tomatoes
Salt
3/4 cup all-purpose flour
2 Tbsp Cajun seasoning
1/2 cup milk or buttermilk
1 egg
1/2 cup cornmeal
1/2 cup fine dry bread crumbs
1/4 cup vegetable oil
DIRECTIONS:
1. Cut tomatoes into 1/2 inch slices. Sprinkle with salt. Let the tomato slices stand for 5 minutes.
2 Place in separate bowls mix: the flour and Cajun seasoning, buttermilk and egg, and breadcrumbs and cornmeal.
3. Dip the green tomato slices in the flour-seasoning mixture, then the buttermilk-egg mixture, then the cornmeal-breadcrumb mix.
4. Heat the oil in a skillet on medium. Fry the green tomatoes for 3-5 minutes on each side or until brown. Set on a paper towels to on drain. Server immediately, freshly fried is always best.
I found a classic french remoulade recipe simplyrecipes.com.
DIRECTIONS:
1 1/4 cups mayonnaise
1/4 cup mustard (Creole mustard if possible)
1 Tbsp sweet paprika
1-2 teaspoons Cajun or Creole seasoning
2 teaspoons prepared horseradish
1 teaspoon pickle juice
1 teaspoon hot sauce (preferably Tabasco)
1 large clove garlic, minced and smashed
DIRECTIONS: Mix all ingredients together in a bowl. Let it sit for at least an hour so the flavors fuse.