Previously published in The Wave.
We've had a handful of exotic visitors this year in Rockaway. Over the winter, the Snowy Owl spent a couple of months relaxing in Breezy Point. Several seals hit the beach recently, beating the summer crowds no doubt. In April, two dolphins joined a group of surfers at the line-up for a swim. Rockaway attracts the extraordinary and seemingly is a landing pad for the kooky and creative – humans and animals alike. So when my friend Matt Johnson posted a picture of a peacock at Rockaway Roasters, I thought "There's a peacock down for the day (DFD). The summer season is upon us."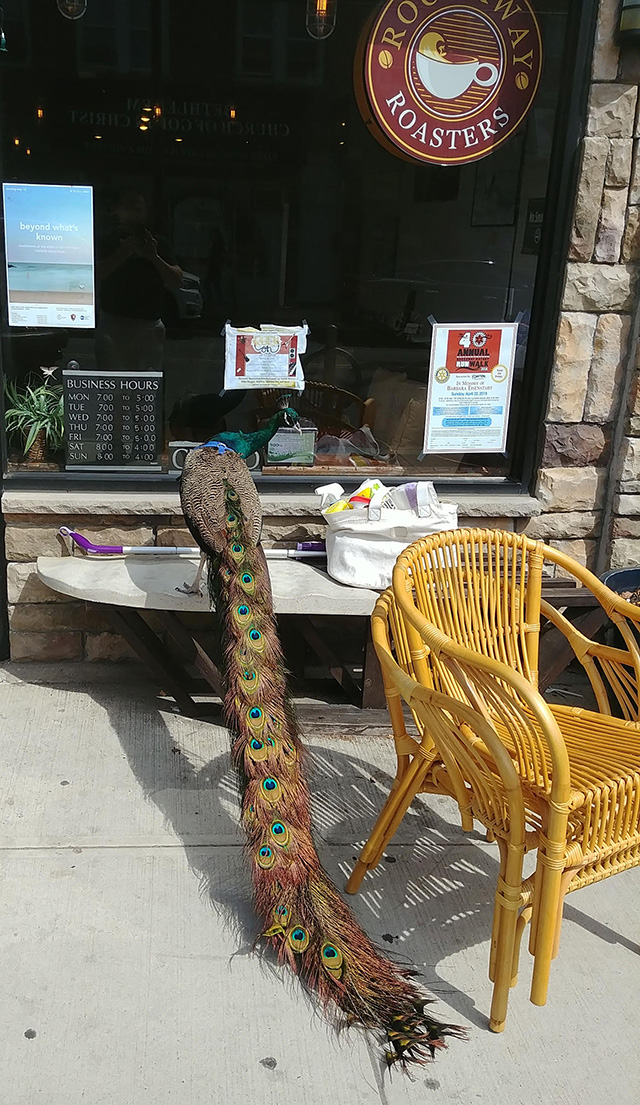 @dexerthepeacok visits the beach and Rockaway goes-wild." Matt's instagram photo is humorously captioned.
I asked Matt about his reaction when he spotted the colorful, 5 ft long fowl. Birds of a feather, his reaction was similar to mine. "I was having a lazy morning after a late night out, watching the parade of people and pets through the coffee shop window. At one point I looked up from my phone and saw a peacock staring back at me from the other side of the glass. Weirdly, I wasn't even that startled – I immediately assumed it must be Dexter, since I'd read about him getting kicked off a flight on social media over the winter and have friends who have seen him strolling around Bushwick."
Matt was right. This was the same peacock that was denied a seat (paid for and all) on a United Airlines flight out of Newark bound for LA in late January. Dexter's caretaker, artist Ventiko told the airlines the fowl was an emotional support animal but that didn't fly with authorities. Forced to take the long road, Dexter and friends drove cross country to LA. Ventiko documented the journey gaining over 16k instagram followers (@dexterthepeacock).
The incident struck up a heated debate on social media about what constitutes an emotional support animal.
I wanted to know if Matt had a chance to speak with artist Ventiko.  "I didn't really get to have a conversation with Ventiko – Dexter's entourage was hustling into an Uber [I wonder how that went?!] for the next leg of their journey – but I did compliment Dexter and said to her that it's always nice to meet a celebrity. She replied, 'Of course *he's* the celebrity. *I'm* not the celebrity.'"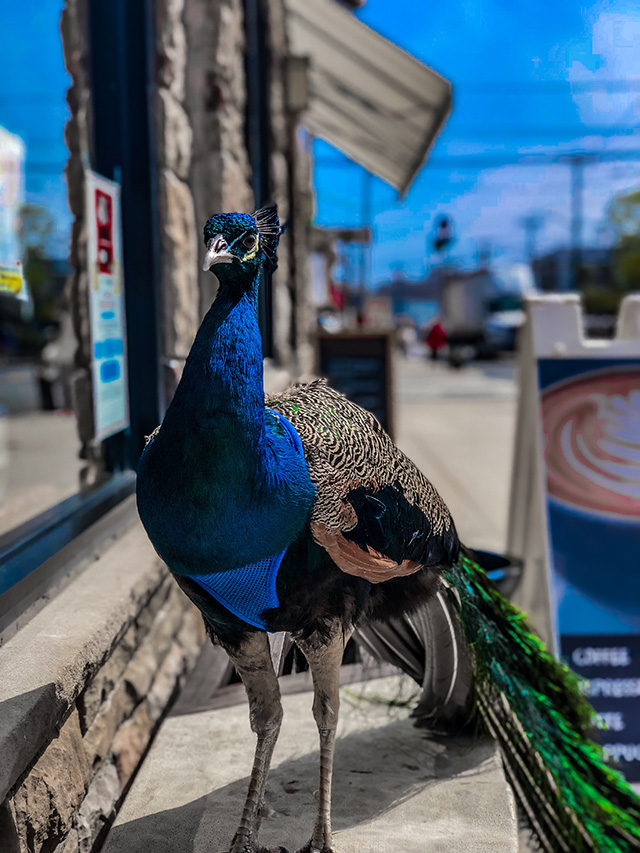 Photo courtesy of Rockaway Rosters employee Hector-Tabora
I contacted Ventiko, eager to hear more about  Dexter's Rockaway adventure. I learned he was just down for the day but Ventiko responded "…We would love to! …we will be back soon to create magic with @anyaferring. Perhaps we can coordinate a get together?" Next time Dexter hitches a ride to Rockaway Beach, we're going to meet, for an official interview. Stay tuned!