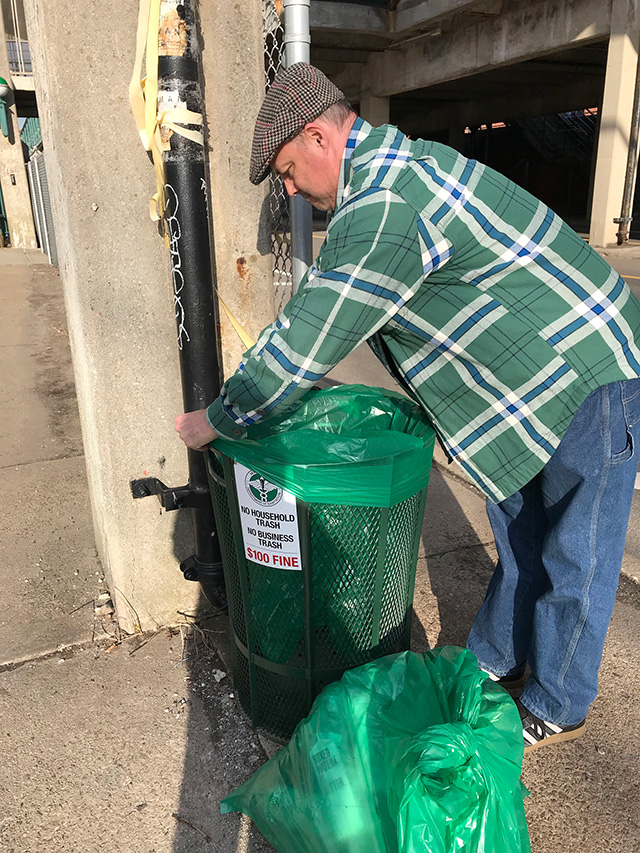 Anne's husband, Dan Payne getting involved.
I "met" Ann Kirby-Payne (@narrowbackslacker) on twitter some years ago – #rockawaybeach. Last week I saw a photo she posted captioned "I just want to give a shout out to @NYCSanitation and especially our #Rockaway team at the QE14, Stephen Dixon Garage for their quick response to my request to adopt a trash bin around the corner from my house!"
Adopting a garbage can? Intriguing. I wanted to learn more about the NYC Adopt-A-Basket Program and what is required of its volunteers. I sat down with Ann over a cup of coffee at the Rockaway Beach Bakery, just a few blocks from where she maintains her trash bin on 90th St. under the el.
Ann explained to me that The NYC Dept. of Sanitation's Adopt-A-Basket Program allows for businesses, organizations and individuals to participate in keeping their community litter-free and in turn, healthier and safer. When you volunteer for the Adopt-A-Basket Program, you choose the location in which you feel a receptacle is needed. Most often, the location is near the participant's residence or business. The NYC Sanitation Dept. provides and delivers the trash bins and liner bags. The volunteer is then responsible for monitoring and changing the liner bag when the basket is full.  The full trash bag is placed right beside the basket and New York's Strongest collects the garbage on scheduled collection days.
I asked Ann how she found out about the program. "Since I moved to 89th St. 10 years ago, my neighbor Federico "Junior" Salinas has been keeping our street tidy," Ann told me. "And not only by adopting a basket on our corner, but he also trims the overgrown weeds near the train station. His work is contagious. I've helped him over the years with his trash bin but for months now, I've been meaning to adopt my own basket. Now I finally have. Garbage has always been an issue and I feel it's gotten worse. I get very frustrated when I see people complaining about our trash problem on social media, instead of doing something about it!"
And it's not an overwhelming amount of work. "I oversee the trash bin on my own time which makes it convenient," Ann explained. "For some, It's hard to meet on a Saturday morning for the community clean-up events and some people are shy, meet-ups aren't their thing. This public service is perfect for introverts! In one week I average 4 full trash bags. Summertime, I'm guessing it will be much more."
That's a significant amount of debris that would have otherwise been on the street, or worse, in the ocean! Ann also mentioned that Elegante Pizzeria has adopted 4 trash bins near their storefront. That got me thinking, how many businesses and/or individuals participate in the program here on the peninsula. I contacted The DSNY press dept. Belinda Mager, Director of Digital Media and Communications for the DSNY promptly replied."We currently have 19 enrolled in the Adopt-A-Basket program in this area."
Imagine if one person on every other block in Rockaway adopted a basket. Our streets would be pristine! Thank you to those who have enrolled in our community so far. But I bet we can do more. If eco-conservation and making our neighborhood a beautiful place to live, work and play is important to you, consider enrolling in the Adopt-A-Basket Program. The application can be found here: tinyurl.com/NYC-Adopt-A-Basket. If you're one of the 19 awesome folks that have adopted a basket or if you've signed up for a basket after reading this, please contact me. I would like to write a follow up article about this important program.