by Paula D.
on
December 31, 2017 11:45 am
in
Holiday
I dropped a barrage of obscenities hanging up my outside Christmas lights. Every year I have fuses blow, bulbs that break and bows that blow off my porch, never to be seen again. How come my decorating experience isn't like the ones I see on the Hallmark Christmas movies that I love and binge-watch? Getting frustrated and cursing at inanimate objects is not what Christmas is about. I took a few minutes (and a glass of wine) to calm myself before I finished the last string of lights. Since then, I've been trying to stay light-hearted and embrace the true meaning of Christmas.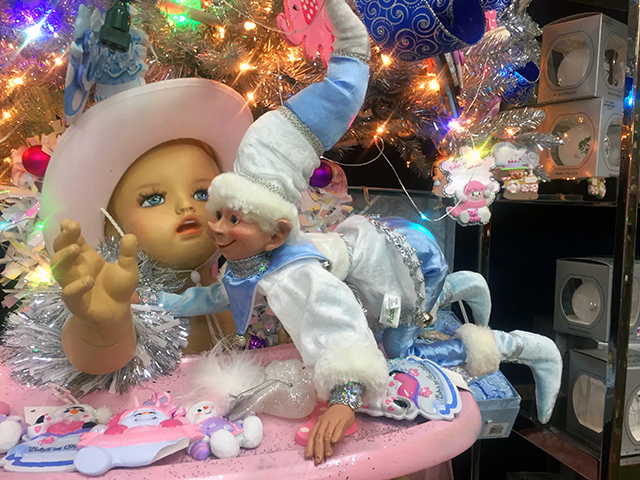 But another "keep calm" Christmas challenge arose when I went to buy my Christmas tree. I was with my friends Keith and Anna, and after slices at Aldo's II on Crossbay, we took Duke, my 1996 Ford 150XL over to House Of Holiday, the magical two story Christmas store on Atlantic Avenue in Ozone Park – amazing and overwhelming and super Christmas-y! After purchasing some gifts and decorations we went back to the parking lot to get our trees. But Duke's engine wouldn't turn over.   Keith tried several times to git her going, but Duke merely faltered haltingly.
I didn't know what to do. The jumper cables weren't in the back, not that I know how to use them. My husband was in the middle of a recording session so I couldn't ask him to come get us.  Do I even have Triple A? And what about the Christmas Trees??  We were supposed to drink wine and decorate and listen to the Mariah Carey Christmas album when we got back. The day was ruined!
Keith flagged someone down in the parking lot. The guy had cables, but still, the truck didn't start up. At this point we had to call our friend Dave (Big D) to come get us. He was home and willing to come to the rescue — thank goodness!  Big D gave the cables one more shot. Four Good Samaritans rolled the truck near Dave's car. It was a true Christmas miracle, the truck started up!!!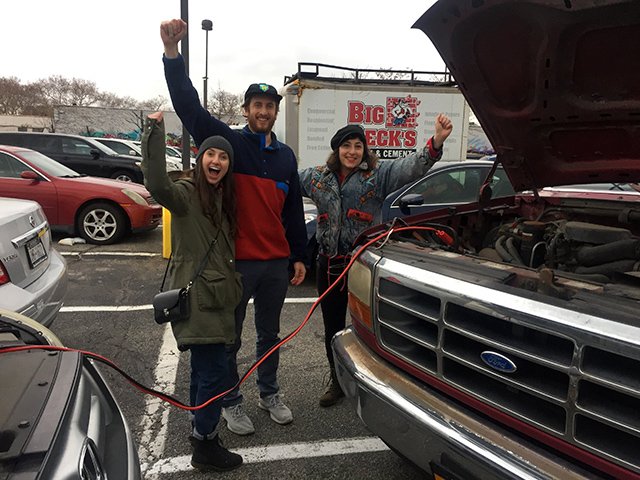 We decided to tie the trees to the top of Big D's car just in case my truck died again on the way home. Keith and I were laughing that this was a crazy Christmas tree excursion and it couldn't get any more bonkers… when all of a sudden, we see a Christmas tree flying off of Big D's car on the Cross Bay Bridge!! I screamed (obviously) and Keith pulled over abruptly on the bridge. Thank God know one was hurt, because that seriously could've caused a terrible accident. I was freaking out and wasn't sure if Keith should attempt to rescue the tree on the bridge but he did it anyway and the tree was saved! A second miracle!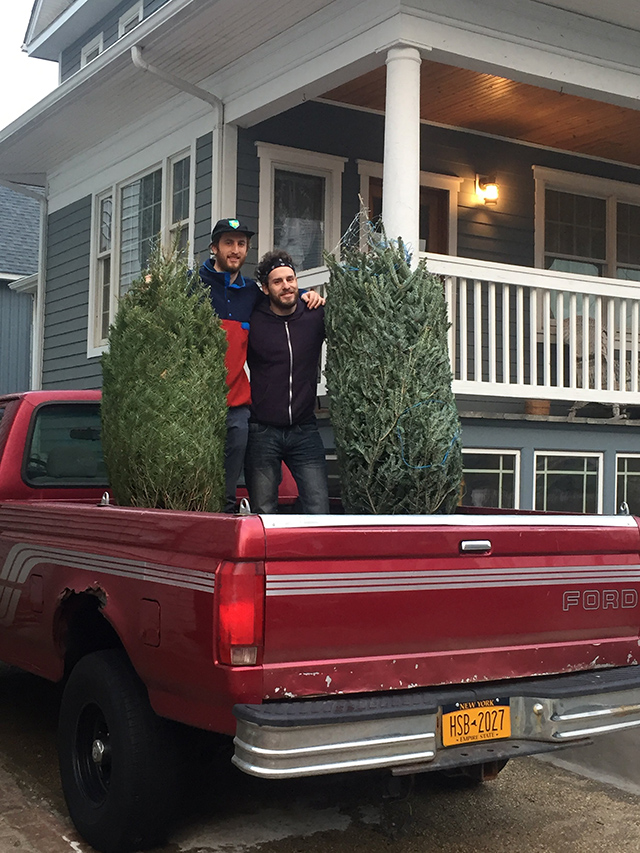 I'm hoping that was the last of my wild Christmas experiences but there are still a few  weeks till the big day. Until then, I'm going to continue to remind myself the Christmas season is supposed to be fun and filled with joy and happiness, not stress and aggravation. Merry Merry!