by Paula D.
on
November 28, 2017 8:50 am
in
Recipes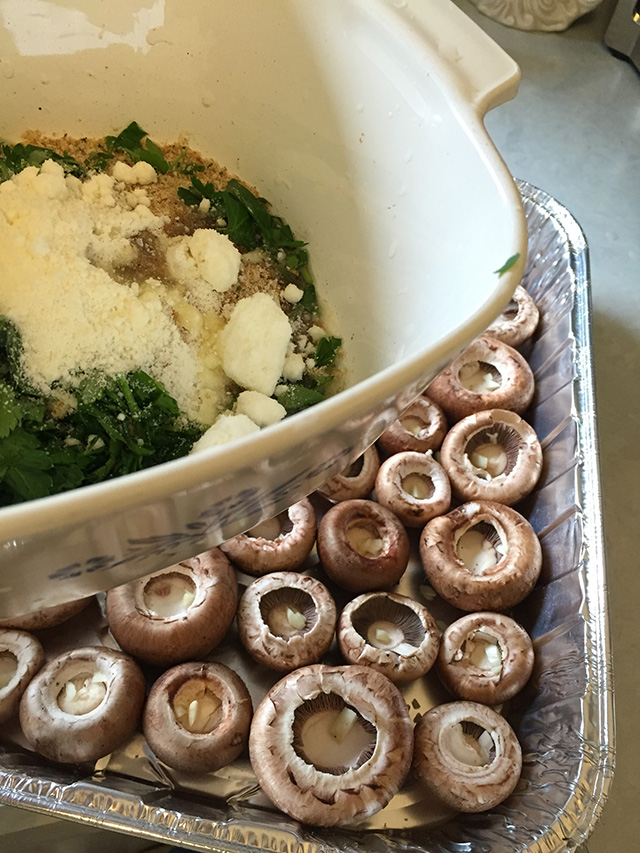 Shortly after my sister Natalie got married she hosted her first family party. "Bryon, can you go to the food store and get the pickies?" she said to her husband. Bryon was happy to help and went to the store. An hour passed. Bryon came home frustrated and empty-handed. "I asked everyone in the supermarket where the pickies were and know one knew what the hell I was talking about??!" Natalie realized he was clueless about what she meant, and rightfully so.
"Pickies" is a DiGioia-ism, a word used by the family, and those in the know. My family is notorious for botching language, but basically, it's our word for what the rest of the world calls appetizers, and is a synonym for its Jewish cousin "noshies". I asked my mother how the word came about. "It's what I said my whole life,  I don't' know where it came from." I believe it stems from when my great grandparents emigrated to the states from Italy and spoke broken english. The word "pickies" gives us a clue at least, meaning "to pick something up".  It's similar to "finger foods"- you use your fingers instead of a fork. Traditional pickies in our family are: stuffed mushrooms*, celery and cream cheese, deviled eggs, salami wrapped breadsticks and bruschetta, stuff like that. A pickie is not to be confused with antipasto which is strictly Italian cheeses and meats served with a variety of olives, roasted red peppers and artichoke hearts. I know. It's confusing.
One of my favorite pickies is stuffed mushrooms. Here's the family recipe!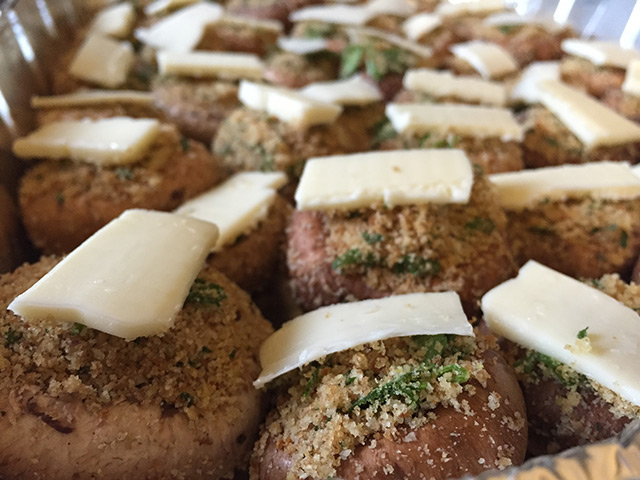 Flo's Stuffed Mushrooms
Ingredients for 25 mushrooms:
3 packages of white mushrooms (don't use the very small ones.)
2 cups Italian spiced bread crumb
½ cup extra virgin olive oil
½ cup canola oil
¼ cup romano grating cheese
¼ cup mozzarella
1 cup water (Flo uses chicken broth)*
7 cloves chopped garlic
A handful of finely chopped parsley
About 4 tablespoons butter
Salt to taste
Directions: Clean the mushrooms: Break the stems off as deep into the cap as possible. Save them for another use. Put the mushrooms in a large bowl and fill with cold water. Stir around to loosen up the dirt. Don't let the mushroom sit for long in the water (a minute max).  Drain and pat dry with  paper towels.
For the stuffing: chop 4 cloves of garlic. Thinly slice the other two. In a large bowl, mix in the breadcrumb, oil, parsley, mozzarella, romano and chopped garlic. Slowly add in the water until the whole mixture is crumbly, damp but not too moist. Add in the salt. Taste the mixture and make sure you're happy with the flavor. Add more cheese or parsley, etc if needed.
Preheat the oven to 350. Assemble in a 9×12 cooking tray with at least a one inch lipped edge. One by one, with a spoon, stuff each mushroom. Really jam it in there! Then place the mushroom on the tray. Repeat until all mushrooms are filled. Take the thinly sliced garlic and put a piece on each mushroom, pressng it in a little. This is to ensure maximum garlic flavor. Then, slice thin pieces of butter and place each slice on top of each mushroom. Before you put the tray in the oven, pour in water so it's about ¼ inches high and touching all mushrooms. Cook uncovered for about 20min. Serve warm with the rest of your pickies!
*Speaking of mushrooms, I watched this fascinating documentary called The Magic of Mushrooms. If you're into science relating to foods, this is a must watch.
**Flo is  my mother!