by Paula D.
on
March 22, 2017 9:04 am
in
Holiday
Previously published in The Wave.
It's Lent, the season of fasting, sin-repenting, and worldly-pleasure-abstaining. For forty days beginning on Ash Wednesday, Christians around the globe participate in this abstinence in preparation of Holy Week. The Greek Orthodox call this time  "The Season of Bright Sadness." Heavy. Our Jewish neighbors call it "March".
So what type of sacrifices do we engage in? The question came up at a post-parade gathering last week. Turns out there are many different abstaining categories.
The first, and most common, is what I call the "Self-Serve Sacrifice", also known as the  "Two Birds / One Stone":
"Hey Jeremy, you want some cake?"
"Ugh, no, I can't. I gave it up for Lent."
I'm pretty skeptical of this kind of sacrifice. True, you're giving up something you enjoy — cookies, bread, cheese, ice cream, meat, etc. — but you're doing it for the wrong reason!  Does God care about cake? I don't remember hearing about that in CCD. Either way, Jeremy insisted this was a difficult task for him. "I may not make it through, but I'm giving it a shot."
My friend Sarah overheard us and said, "I'm not doing the food thing; I'm going to stop talking shit about people." I call this the "Pretty Legit Sacrifice." Sarah is a shit-talking aficionado and I applaud her noble undertaking. Cousin Sam, interrupting the flow, announced  "I'm giving up religion!". I call this the "Comedic Pseudo-Sacrifice"?
Then there is the crown jewel, the "Truly Pious Sacrifice". Examples: Aunt Joanie is attending mass at St. Camillus daily. Aunt Brenda, is performing a work of charity every day until Easter. I like Aunt B's idea, and my Lenten commitment aspires to such piety. Every week, I've been separating out bottles and cans from my regular recycling. I'm doing this so my can lady doesn't have to. I'm hoping it will make her day a little easier and her route go faster.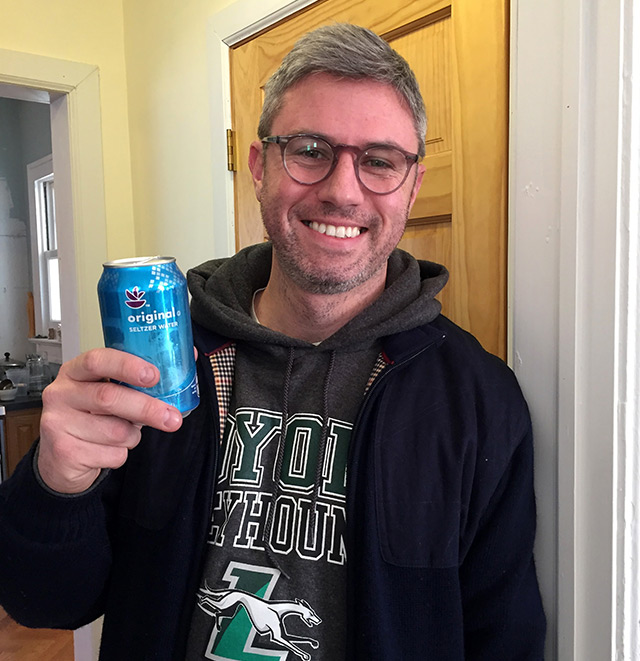 Matt Gorton is the Republican District Leader in 38 Assembly District, covering Woodhaven, Ridgewood, Richmond Hill, Ozone Park and Glendale. Above – drinking  seltzer on Rockaway St. Patricks Day in place of beer.
I wandered into the other room and saw my friend Matt Gorton,
"Need a beer, Matt?"
I saw the bright sadness in his eye. "I gave up drinking for Lent."  What?? My mind was and remains blown. "It's a test of strength, similar to how Jesus was tested by the devil when he fasted for forty days and nights in the Judaean Desert," he very dramatically explained.  "It's been  a challenge in every aspect — not just hanging out with friends either.  I was supposed to meet a co-worker for a drink to talk business, I had to explain it was poor planning on my part, I gave up drinking for Lent.". His co-worker replied "I understand, I gave up Tate's chocolate chip cookies."
I call this most difficult of sacrifices the "Judean Desert", due to it's Biblical adherence and extreme thirst.