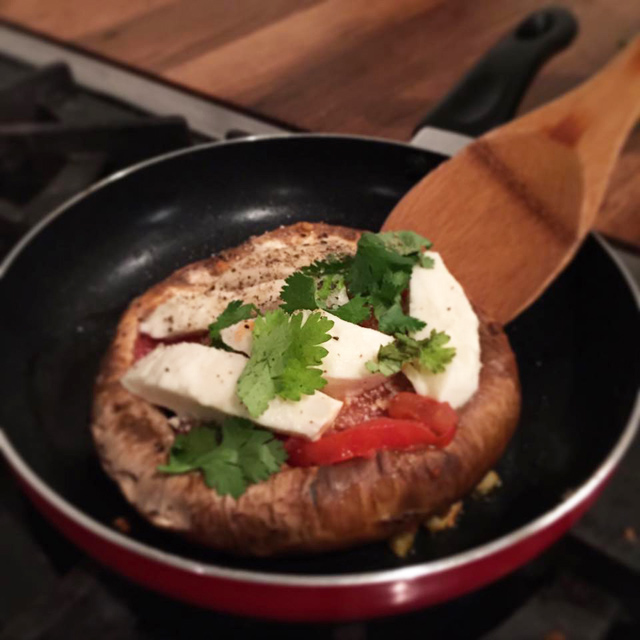 Here's a great one for a weeknight meal. Cook time – only 10 minutes!  The stuffed portobello is healthy, savory and also vegetarian.
Directions
(of course double, triple, etc. if you want to make several)
1 large portobello mushroom
Extra virgin olive oil
Parmesan cheese
Fresh Mozzarella
1 clove garlic
1 small tomato
Parsley
Salt, freshly ground pepper
Directions
1. Thinly slice tomato, mozzarella, and garlic – set aside
2. Heat up 2 tablespoons of oil on the stovetop, set the flame to high
3. Lightly coat the mushroom with oil
4. Place tomatoes and garlic in the oil for about 60 seconds – remove from pan
5. Place the mushroom underside down for 2 min. until brown, then flip the mushroom over and put the tomato and garlic in the center
6. Add parmesan cheese, salt, pepper and lastly the fresh mozzarella.
7. Bring the temperate down to low and cover the pan. Cook until the cheese melts, about 6 minutes.
8. Add parsley and drizzle a little more oil on top before you serve, then eat!
9. You may want to experiment with different cheeses, I think I'll add some ricotta next time (yum) and I'm sure a feta version would be delicious too.