We're back from our summer hiatus and have we got an episode for you! I visited my very talented and beautiful cousin Sarah in Park Slope to learn how to make Paella. Not only did we get the high end paella but we got to cook it on the roof with views of the city. If I didn't love her so much, I'd hate her for how jealous I am of her setup and skills! The recipe looks intimidating, but trust me, its worth it. Check out episode 8 here:
NewlyFED: Making Paella on the Grill from Glorified Tomato on Vimeo.
Pantry:
At least 1 cup of Good "EVOO" Extra Virgin Olive Oil (preferably from Spain)
8 cups (2 quarts) of homemade or store-bought chicken stock
1/4 cup white wine
2 1/2 cups imported Spanish Bomba Rice or other short-grain rice Short Grain Bomba rice (I brand I use is Arroz Cebolla from De Espana)
1 tablespoon/ large pinch of Saffron
2 tablespoons of pimentón (smoked paprika)
Sea salt, to taste
Butcher/ Charcuterie:
8 oz Spanish chorizo, sliced (splurge at Murrays!)
1 lb Boneless, skinless chicken thighs
Fish market: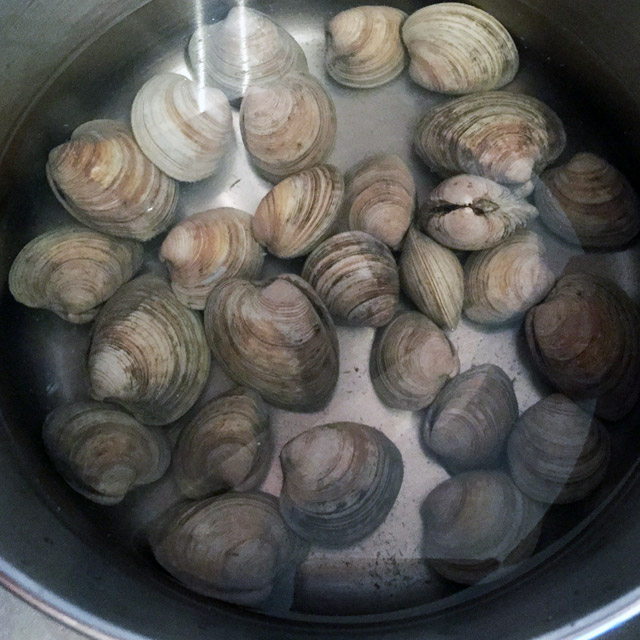 12 mussels
12 clams
6 shrimp, pealed and de-veined
2 lobster tails, split
Produce: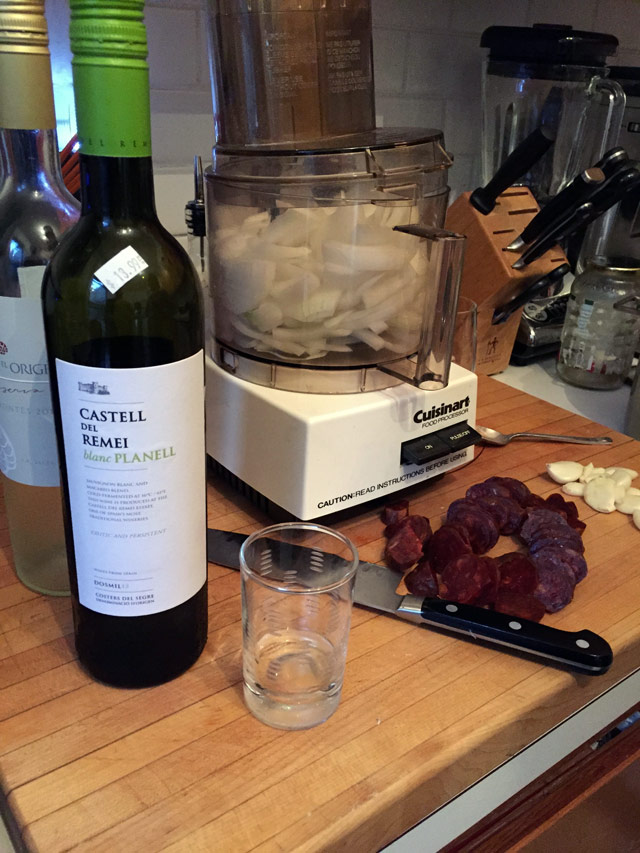 4 cloves garlic, minced
2 Spanish onions, finely chopped
4 medium tomatoes, grated
Lemons, for serving
SET UP / Mise en place
Preparation:
Prep the stock and rice
Bring 2 quarts chicken stock to a simmer in a stockpot over low heat.
Add crushed saffron and 1/4 white wine. Salt to taste.
Meanwhile, measure 2 1/2 cups of Spanish Bomba rice, set aside.
Prepare Meat
Rinse and dry chicken thighs. In a large bowl combine chicken thighs and season with 2 tablespoons of pimentón (smoked paprika). Cover chicken and let marinate for at least one hour. This can be made up to 24 hours in advance.
Slice Spanish chorizo, set aside.
Prepare seafood
Soak clams and mussels in separate bowls of fresh cold water. After 20 minutes, drain water, then take a look through the shells, de beard as needed. Discard of any broken shells. Place aside.
Peel and devein shrimp. If this step is done in advance, reserve shrimp shells and use for fish stock. Place aside.
Split lobster tails. With culinary sheers or a chef's knife, place the tails on their backs and cut down the center. Rinse with cool water and pat dry. Place aside
Chop the vegetables
Finely chop 2 Spanish onions, set aside.
Mince 4 cloves of garlic, set aside.
Using a box grater, puree 4 ripe tomatoes, discarding the skin. Set aside.
Cut lemons in wedges, set aside.

THE FUN PART
Render and sauté meats
Place a 20-inch paella pan with 3-inch sides over desired heat source. Add 3 tablespoons of EVOO.
Once the oil is hot sear the chorizo.
Place chicken thighs onto pan sear, approximately 4 minutes per side.
Remove the chicken and chorizo from paellera, leaving as much oil as possible in the pan.
Create the flavor base (Sofrito)
Add another 2 tablespoons of EVOO to the pan; add onions and sauté until translucent.
Add the tomato puree and cook down for 15 minutes, stirring occasionally.
Create the Paella
Add the four cloves of minced garlic and 2 1/2 cups Bomba rice. Fold these ingredients into the sofrito and cook for 3 minutes.
Using a ladle, add the hot stock mixture until the stock is about 1 inch over the rice.
Turn up the heat to high. Once the stock is boiling, add the clams, chicken and chorizo and continue to boil for 8 minutes.
Add mussels and continue cooking, rotating the pan often, as the rice swells and absorbs the stock. Do not stir the rice.
Once the mussels open, give the Paella a good shake and turn the heat down to medium. Add shrimp and lobster tails. If the liquid evaporates before the rice is tender, add more hot stock. Cook without stirring, allowing rice to absorb all of the liquid, 8-10 minutes.
Create Soccarat
Remove pan from fire and let it sit. Cover with aluminum foil and let rest for 5 minutes.
Serve!
Garnish with parsley and lemon wedges
Serve with garlic aioli if desired.