Paula and I were invited to attend a tasting at Ornella Trattoria in Astoria, Queens. As we walked in the door, you could smell the garlic wafting from the kitchen, this was my first indication we were in for a treat.
Owner Giuseppe Viterale recognized us immediately, "the bloggers!". As I would soon learn, Giuseppe recognized all this patrons. His trattoria has a feeling of warmth and it's because of Mr. Viterale's charismatic presence in the dinning room, night after night.
We sat down, the vino was poured and the flood gates of food started to pour from the swinging kitchen doors. To start, Giuseppe served us Bruschetta di Nduja. This spiced meat spread originated in Calabria, the "toe" of Italy. It was considered a peasant food because the spread is made from the "poor cuts"  of meat. But this sausage spread is rising in popularity for it's savory flavor and spice. Giuseppe's version was indeed spicy and rich. Served on warm bread, it was the perfect starter to our non-traditional Italian eating experience at Ornella.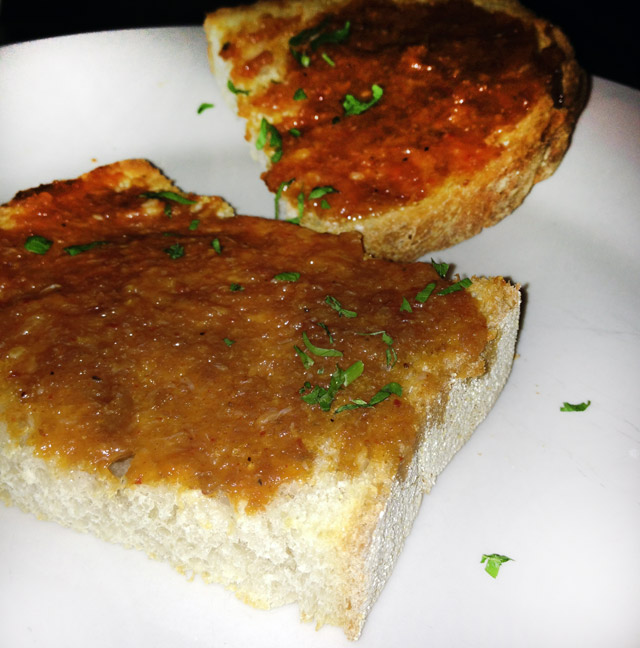 Mr. Viterale cures his own meats on his farm in the Catskills – his salt-cured prosciutto and salami were brought out next.
In between courses, Guiseppe sat with us explaining his past history in New York running restaurants, about his philosophy on taking traditional Italian food and re-imagining the recipes he learned as a child in Sicily, and of course about food. Like Italians before him, he is taking advantage of locally sourced ingredients and improving on familiar dishes to create new flavor combinations.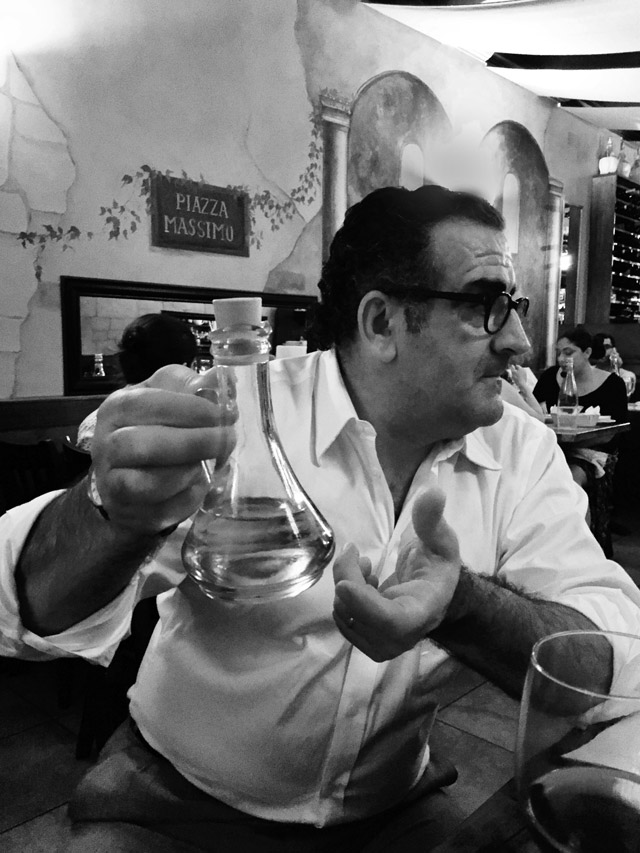 The next course was the pastas, the later two being handmade. A summer orecchiette pasta with melon and prosciutto. The  famous,  chestnut pasta in a cream pistachio sauce with truffle oil and a buckwheat pasta with potatoes, cabbage and whole cloves of garlic (below).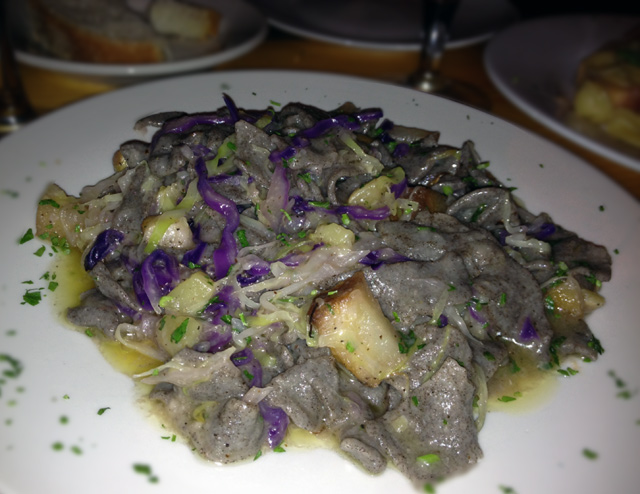 All three dishes are tasteful in distinctive ways; the orecchiette is light, sweet and salty, a true summer pasta. Pizzoccheri, the buckwheat pasta with cabbage, potatoes, fontina cheese was unique in that it didn't taste like pasta! If you're a "meat and potatoes" person this is the perfect pasta for you. Lastly, we tried the Pasta di Castagna, Ornella's famous chestnut pasta in cream and pistachio sauce with truffle oil. It's rich, creamy and earthy, an indulgence you must try. These dishes are perfect examples of Giuseppe's unorthodox recipes. Don't expect traditional American Italian pasta's like spaghetti and meatball or fettuccine alfredo at Ornella!
After we gorged ourselves on the pasta, the main dish arrives, mushroom, prosciutto fontina cheese stuffed pork marinated in wine sauce. We were so full, we tasted and the rest of the suculant main we took home.
An offer of desert was made, but we refrain and Giuseppe brings us a lemon sorbet wine cocktail – it was like a lemon ice with just the right amount of alcohol. Paula struggled with her nose in champagne glass issue, but enjoyed thoroughly.
We finish the meal off with an espresso, table side.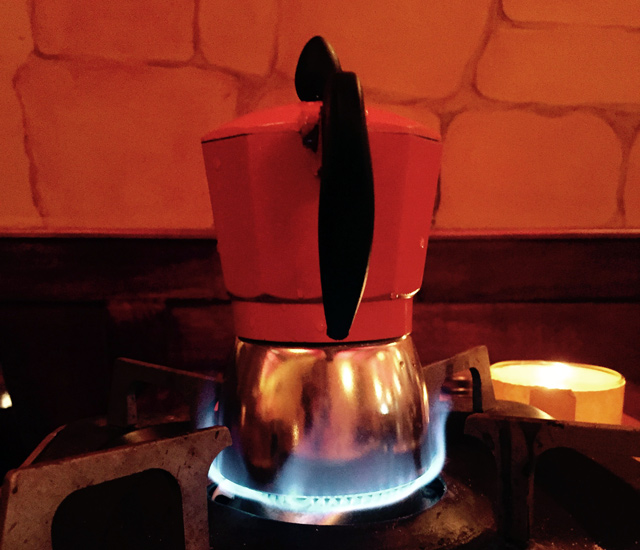 Giuseppe takes the first percolated espresso and hand whips it with sugar. Giuseppe proudly procures the sweetener and cream – it's like a magic trick! He dollops some of the "whipped sugar" into each espresso glass and when the espresso has fully percolated, pours it over the cream. The espresso had a strong, well balanced flavor and the perparation was so impressive!
Ornella gets a top billing review, an over-stuffed 4 tomatoes!
[rating:5]
Ornella Trattoria Italiana
29-17 23rd Ave, Astoria, NY 11105
718.777.9477
Facebook / Twitter