After reading Klaus Biesenbach's Becoming a Local article in the Rockaway Times Summer Guide, I began to reminisce about my own passageway to the peninsula. I thought I should write about it, so when I'm old and gray sitting on my porch 40 years from now, I'll remember how I ended up on the Irish Riviera.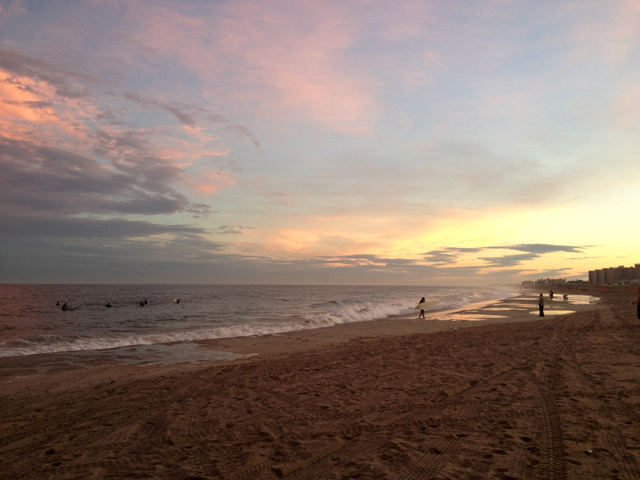 My introduction to Rockaway was in the fall of 2001. It was my sophomore year of college at Pratt. My roommate, now dearest friend Susanne, invited me to stay over at her house in Breezy Point. It was her birthday weekend and the plan was to go to Patrick's on 113th (now King of Tacos) to see her friend's band play, A Hundred Thousand.
I recall getting ready in my dorm room.  I was wearing a jean mini-skirt, black high boots, they were platform and suede. Very 90's goth. I didn't like my shirt – it was a black stretchy material with a small collar and sleeveless. We were running late and I didn't have time to change (again), we rushed in the car and headed to Rockaway. It was my first time crossing the bridge.
We spent the night partying, I thought the drummer in the band was HOT and I got his number. We hung out till the early morning, ending the night at Pickles & Pies. I was told to get the Godfather (ham, salami, pepperoni and provolone cheese with lettuce, tomato, sweet peppers, oil and vinegar) and I did. I hazily recall an incident outside Pickles & Pies involving other friends from Pratt, a cab and a crazy commotion with numerous f-bombs dropped with a dash of semi-overt racism. Somehow we found our way back to Breezy. I drunkly ate my Godfather on the floor in Susanne's sisters bedroom. It was so delicious.
I started dating the drummer in the band… and now he's my husband! Between then and now, I spent many many days in Rockaway during our courtship –  4th of July parties, all the summer holidays for that matter, random nights, Christmas, you name it. We had some times alright!
I could go on and on about the great memories I've made in those years but I want to share one  remembrance that sticks out in my mind. It was a turning point for me, the beginning of my assimilation into the Rockaway Borg collective. It was a summer night and we were all waiting on the sidewalk getting ready to go out to the bar– I can't recall who's house we where in front of or what bar we ended up at – but I remember what everyone was wearing.
I noticed my outfit – a skirt, a yellow v-neck shirt with sparkles around the "v" and yellow matching glitter sprinkled high heels. The other girls had on jean shorts, flip flops and a causal t-shirt or tank. Some had hoodies tied around their waste. I remember feeling out of place. It was obvious I wasn't from these parts, I still had my Long Islandness front and center. The next time I was one the peninsula, I toned it down a few notches*.
I suppose at this point I started to recognize Rockaway's distinctiveness, not just in what people wore but in the culture. I learned of Rockaway's eccentricities, its relaxed beach vibe blended with its city grit attitude with a twist of Irish  pride to top it off.  It's a small town with a big voice surround by a city like no other.
Now I'm here.  Sitting on my porch, looking at the water, wearing flip flops and an old t-shirt covered in paint, typing way. Looking back, I know I wasn't 100% accepted in the early years, you have to earn your way into the collective. Marrying in, is essentially like getting your Rockaway Green Card. Throw a house purchase in the mix, and no one will challenge your status. But I think I was accepted way before then. If you can't marry in, the assimilation process can be a long one, either they like you or "you're a herb"!
*Don't get me wrong I still where glitzy outfits, but there's a time and a place, Rogers is not one of them!