Ok, so we're obsessed with wood. It's natural, beautiful and resistant to damage. Seven months ago we started hoarding unwanted material from a barn in Massachusetts, dumpsters in Far Rockaway and a gutted house in Ridgewood. It's astonishing the stuff people throw out. We've put our collection to use, repairing floor boards, making paneling and adding features throughout the house. Our style inspiration is American Craftsman with a touch of "farmhouse".
We've seen exposed beams many times on our trips to Lake George and I'm always charmed by the Adirondack aesthetic. We salvaged the oak beams from an old barn in Massachusetts.
Installing the beams was difficult. We consulted Nick, our architect who pointed us in the right direction.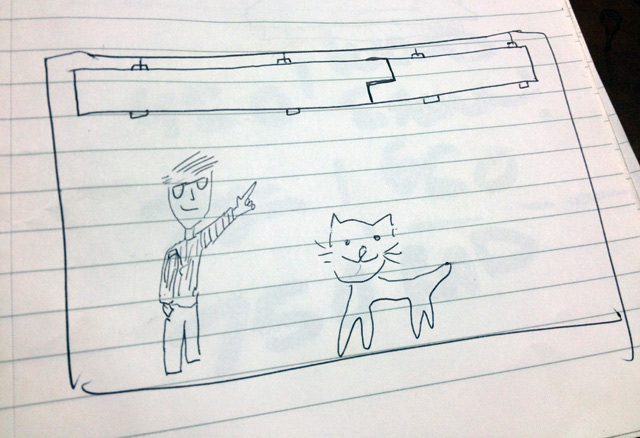 Nick suggested letting the beams hang a half inch or so lower than the sheetrock to avoid the ceiling from potentially cracking as the house settles over time. It would be easier to install this way too. We determined threaded rods would be best to secure the beams to the ceiling joists. Will installed the rods every foot – keeping the positioning level. It was a tremendous challenge since everything in our house is kattywompus! It was a trial and error process. I'm thrilled with the outcome.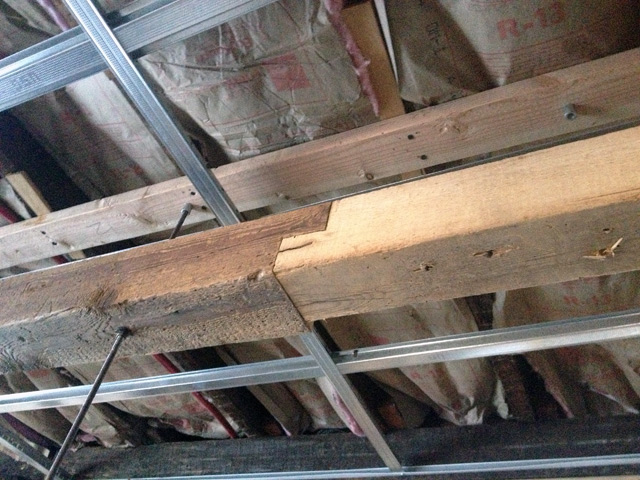 We're not sure how to finish the beams. I like the rustic look and it would be less work to keep them as is. However, a sleeker finish would blend with our kitchen counter tops – which will be made from the same oak. I keep flip-flopping on what to do. If you have an opinion on this, leave it in the comments section. What do you think?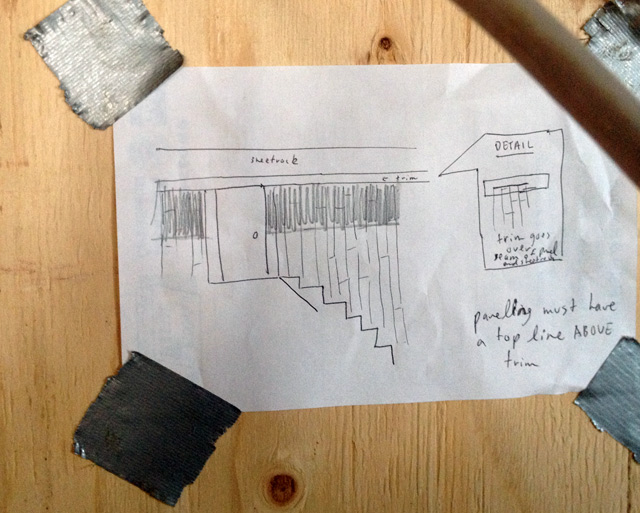 This is the first of our two wood wall projects – the plan is pictured above. The thought here is utilitarian – we feared if we used sheetrock it would get dinged-up from moving furniture through this high-traffic narrow staircase. Wood paneling is forgiving.
We made some layout modifications to your house and with the surplus wood (100 year old fir) we created this paneling. John milled the wood into 4 inch strips at 3/8 inch thickness on the table saw. A labor intensive process but cheaper than purchasing new wood. I'm happy we were able to reuse wood from the original building dated around 1890.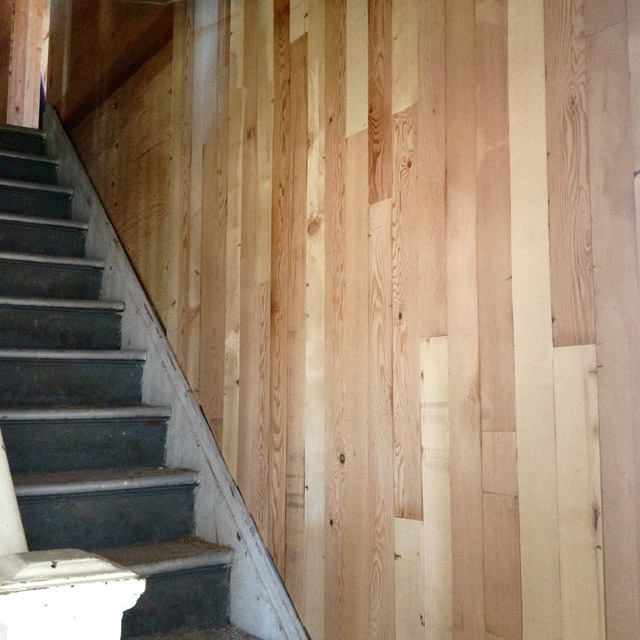 Will went to work staggering the wood up the wall. Of course nothing is level in our house so even getting the wood to appear straight on the wall was difficult. We'll put a clear polyurethane on since the wood is so beautiful as is.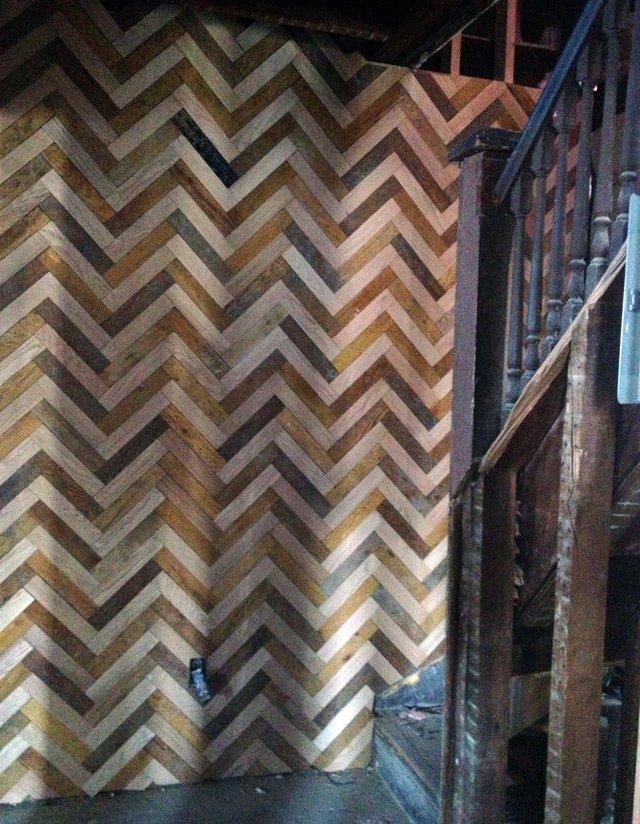 This wall is in the duplex apartment. We used flooring Matt found on a dumpster dive in Ridgewood along with new spare floor boards from his Mother's house to create a chevron pattern
The original plan was to sand it, making the color uniform but everyone liked the way it looks multi-colored. The more I look at it, the more it looks incredibly beautiful to me. If you think the first wood wall was hard to install this one took even more precision. John started the work off and Will took it home – Thanks guys!
Do you RESPECT wood?