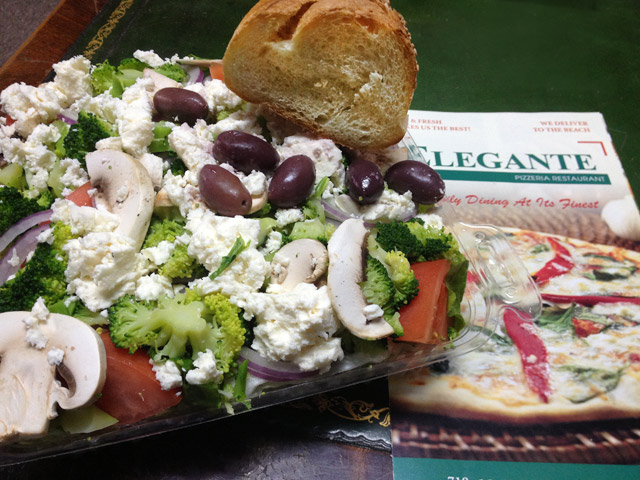 I recently discovered Elegante's salads. I was waiting for a slice and decided to flip through their menu. With the house renovation (no stove or kitchen for that matter) it's been difficult to eat healthy. I decided next time I would get some greens instead of pizza.
A few days later, I resisted the carb temptation and ordered the Greek salad from Elegante. I was surprised when I sat down to eat. Along with the traditional Greek salad staples – feta, red onion, iceburg lettuce, kalamata olives and tomatoes (sans grape leaves and cucumbers), Elegante Pizzeria adds broccoli and white mushrooms. It's such an Italian thing to do – "What the hell, add a little bita this, a little bita that". Incorporating more Italian flare, the salad is served with warm semolina bread, an alternative for the traditional Greek pita. The ingredients are fresh and crisp. The dressing is a standard greek of olive oil, red wine vinegar, oregano, salt and pepper. You get more than you need, dipping the semolina is a must. I also have to mention the fist full of feta that covers the greens like a fresh winter snow.
Why is this salad first-rate?  The broccoli florets absorb dressing,  and when it's full of zest, you have a winning combination.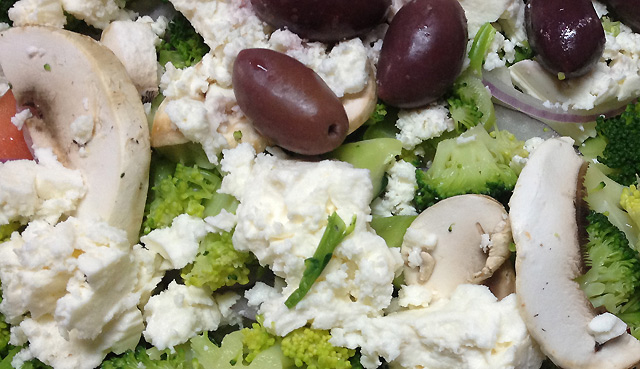 I've established my feeling on how delish Elegante's Greek Salad is but it's also important to note the nutritional value. White mushroom is packed with Vitamin D which fights infections, including colds and the flu. Broccoli is loaded with essential nutrients – fiber, vitamins C and A and can lower the risk of developing diabetes, heart disease and certain cancers (according to the USDA's Agricultural Research Service). I was looking for healthy and I found it!
The gamble pays off for Elegante, their Greek salad is delicious, nourishing, and most important… still a Greek salad. The small, reasonably priced at $5.75 is more than enough for an individual meal, the large (8.75) is perfect for two or as a starter for a few.
[rating:4]
Elegante Restaurant & Pizzeria
92-01 Rockaway Beach Blvd, Rockaway Beach, NY 11693
718. 634.3914  (Delivery)
Facebook
Monday – Thursday, Sunday: 11am – 11pm
Friday – Saturday: 11am – 12am