The Christmas songs always start right after Thanksgiving. The car radio would remain on the station playing the festive songs, and as my girls were growing up they would get so excited because they knew what was just around the corner.
The weeks up to Christmas were a constant reminder of that special day. We had our annual trip to visit Santa at Macy`s for photos. We would stop and look at the tree at Rockefeller Center, and stop in St. Patrick's to light candles.
Then we would walk along Fifth Ave. to view the window displays at some of the department stores.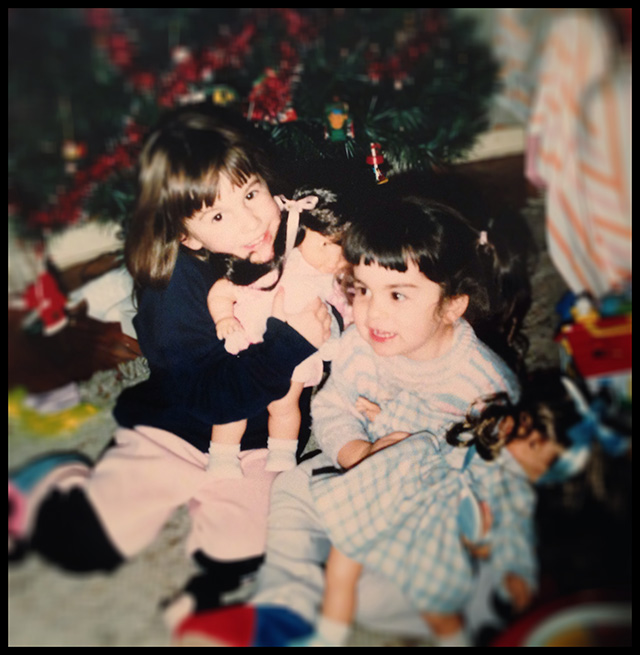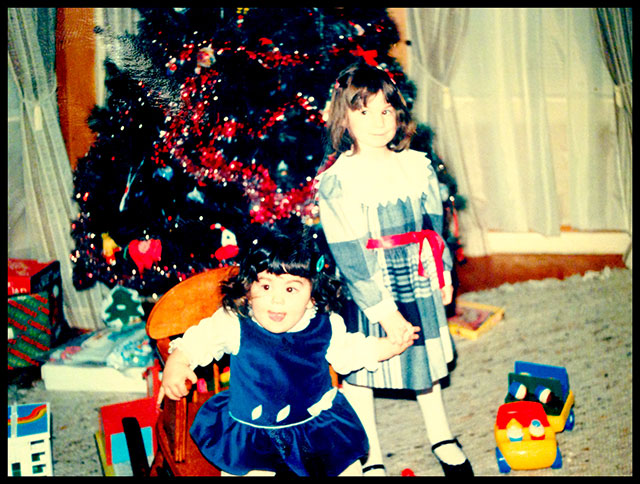 My girls when they were little, in front of our Christmas tree.
No matter how cold it was, we would walk and look and drink in the spirit of the season.
We would watch endless Christmas shows on TV from "It`s a Wonderful LIfe" to a "Charlie Brown Christmas" to Disney`s "The Christmas Toy," many of these movies taped right off TV. I also had VHS copies of Roseanne and Katie's favorite festive episodes of Sesame Street.
In between all of this we would create wonderful Christmas cookies. We baked and decorated them in our small kitchen, and I would prepare the dough and have the girls "make the magic" using cookie cutters and sprinkles.
We'd bake our angels, snowmen and wreaths — all with too much sprinkles and colored sugar, which somehow wound up all over the kitchen floor.
Even though it took a long time to clean up, I would enjoy it knowing we had created beautiful memories together. The cookies tasted great, too. Enjoy my simple sugar cookie recipe and create you own remembrances for special Christmas moments.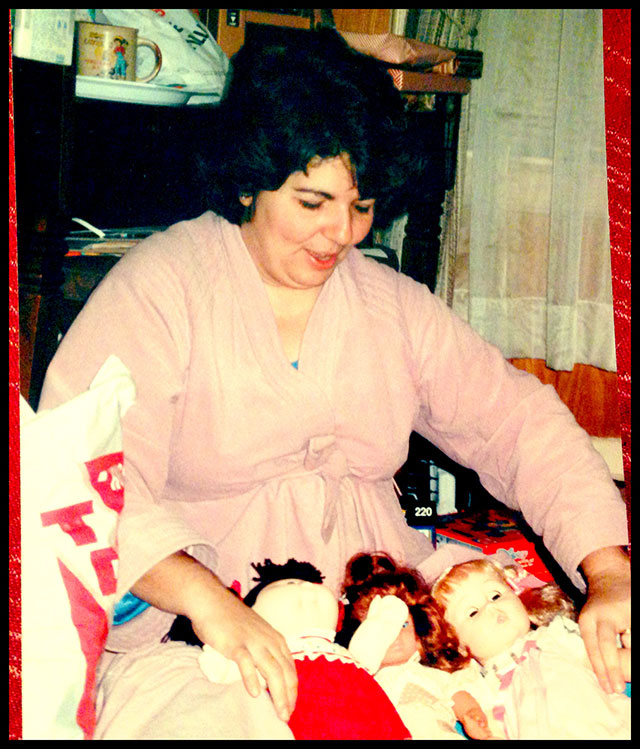 Even I got in on the fun. This was me, a few gray hairs ago…
SIMPLE SUGAR COOKIE RECIPE
INGREDIENTS
1 1/2 cups powdered sugar
1 cup butter, softened
1 teaspoon vanilla
1/2 teaspoon almond extract
1 egg
2 1/2 cups all-purpose flour
1 teaspoon baking soda
In a large bowl, beat 1 1/2 cups powered sugar and the butter with an electric mixer on medium speed, or beat on your own with a spoon
Stir in the vanilla, 1/2 teaspoon of almond extract and the egg. Stir in flour and baking soda. Cover and refrigerate about 2 hours or until firm.
Heat oven to 375F. On lightly floured surface, roll half of the dought at a time, 1/8 inch thick. Use fun cookie cutters to cut into shapes, and decorate cookies with sugar, sprinkles, chocolate chips, cut up nuts or fruit. Have fun!
Place the cookies 2 inches apart on ungreased cookie sheets.
Bake 7 to 8 minutes or until light brown. Remove from cookie sheet to cooling rack. Cool. Eat!