by Paula D.
on
July 2, 2013 9:41 am
in
Food
They say "you can take the girl outta Long Island but you can't take the Long Island outta the girl". In my case, this seems to be true. Summer is in full swing and my trips to Long Island have become more frequent. My skin color is like three shades darker, I'm saying the word "like" more, and my hot pink pedicured toes permanently live in my jewel-encrusted flip flops.
My husband thinks I was spoiled growing up on Long Island. I guess the red flag went up when I told him I got my license when I was 16 but never pumped my own gas until I was 26.
On the matter, I would first like to say I'm not spoiled because "all people from Long Island are rich." (Ugh, that drives me nuts.) My Dad was one of New York's Strongest for over 30 years and once my sisters and I were at high school age, my Mom worked as a secretary at the Sewanhaka Central School District (known as "Fast Fingers Flo", typing over 120 words per minute).
My parents are undeniably generous people. I never wanted for anything growing up and now that I'm older I realize the sacrifices my parents made to give us so much, to make things a little easier.
Some recent acts of generosity from my parents I would like to share…
My last visit home my mom gave me some cash, for the plants I bought for the garden. "I give it to your sisters, so you have to take it. EVERYONE gets the same!!"  I also received a care package, this time including pre-sliced and cleaned chicken cutlets ready for frying, an oversized jar of pickles and a beautiful dress my father picked up on a recent trip to Atlantic City.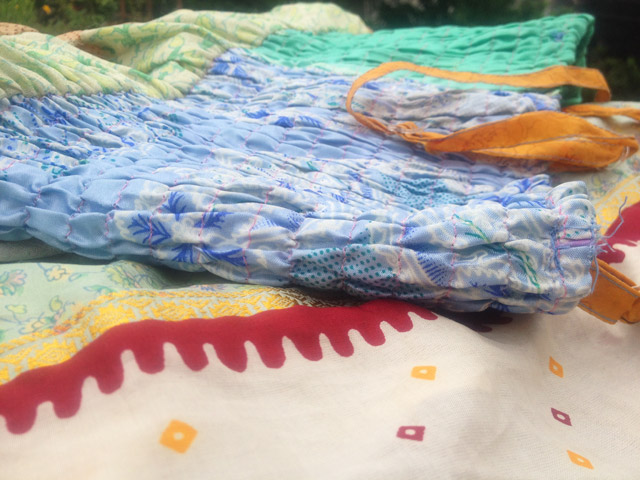 This past weekend, my father dropped my Mom off in Ridgewood (she can't drive lately as her carpal tunnel is acting up). My Dad stayed for a while to review the garden. In conversation he asked about our missing table umbrella. "It was destroyed during Hurricane Sandy," I mentioned. He nodded while evaluating my tomato plants.
Later, around 6pm, I hear someone clomping up the stairs. Dad is lugging a huge umbrella up the stairs and a bag of stuff. "It was on sale!!" He said. I'm smiling super excited. I should have known.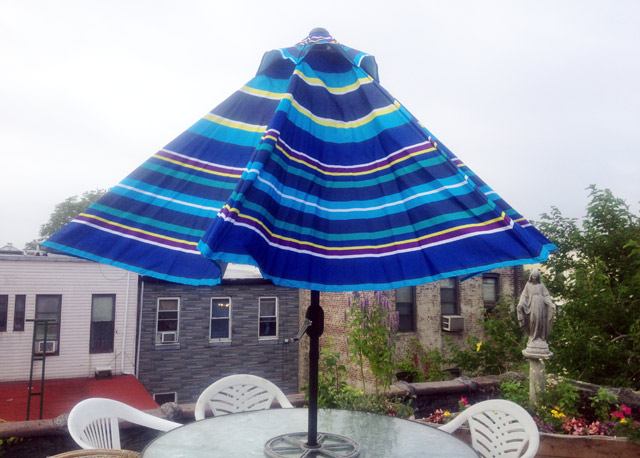 I love this color blue.
I also received a  large bottle of wine. "So you have it for the week," Dad said.
Last, but certainly not least, Dad had stopped at a flea market on Union Turnpike and Parsons Blvd. He bought me this porcelain serving set, made in Germany. Dad is familiar with collectibles and such – before his retirement, he would find items on the job and sell them to antique dealers, making some extra money for his girls. This serving set was priced at 20 bucks but he haggled the price down – sold for  $5 bucks. "I know the game," he said, proud of his bargaining skills.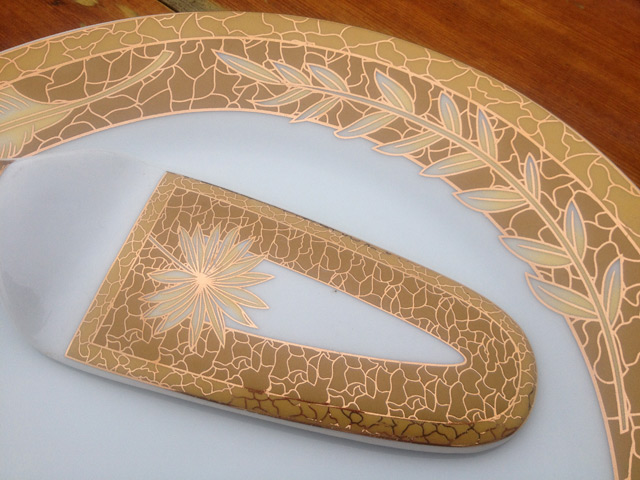 So, I think next time my husband tells me how spoiled I am, I'll say "I'm not spoiled; everyone around me is just extremely generous."