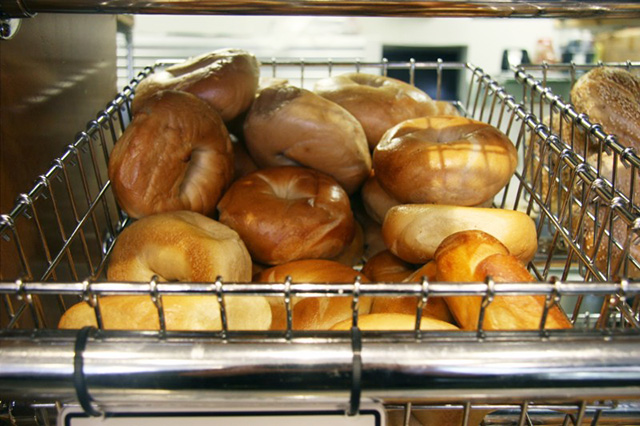 We recently caught up with Scott Edwards and Tim Keenan, owners of Surfside Bagels in Rockaway Beach. We chatted about Hurricane Sandy, their grand re-opening, and of course, bagels.
The guys were stretched  thin the weeks after the storm.  As host to his displaced family and working at his firehouse, Tim was running in circles. Scott and his firehouse, Engine 234 were sent to Sandy-ravaged neighborhoods including the Rockaways and Brooklyn neighborhoods like Brighton Beach, leaving little time to focus on the bagel shop.
But thanks to the overwhelming generosity of FrontStreet Facility Solutions, Scott and Tim were able to rebuild their business after the floodwaters and devastation of Sandy completely destroyed their business. The initiative to help was spearheaded by FrontStreet's Chief Development Officer Joseph Scaretta, who gave financial assistance and labor to the co-owners.
"I received an email from FrontStreet and ignored it at first  – we thought it was a scam," Scott tells us.
"We still would have been waiting for our FEMA loan, if FrontStreet didn't step in,"  Tim adds. "Our doors most likely would still be closed."
MSNBC's "Your Business"  got wind of the kind acts of FrontStreet Facility and wanted to pitch in as well. The "Your Business" makeover team put full gears in motion – Scott and Tim learned how to streamline their business by managing inventory,  implementing brand re-fresh initiatives and gained perspective on the importance of customer loyalty.
The two NYC firefighters were back in business on February 11, with a beautiful new interior renovation, menu changes and a grateful appreciation for all who had a hand in the reconstruction of their dream – Surfside Bagels.
"Business is good,"  Tim tells us. "All things considered, we are not fully up to our pre-Sandy sales, but we're getting close."
After our bagel breakfast, 

Tim and Scott were kind enough to give us a complete bagel-making demonstration. These guys are passionate about their craft, adhering to the old-fashioned hand rolling technique, making the bagels from scratch on a daily basis. Here's the play by play: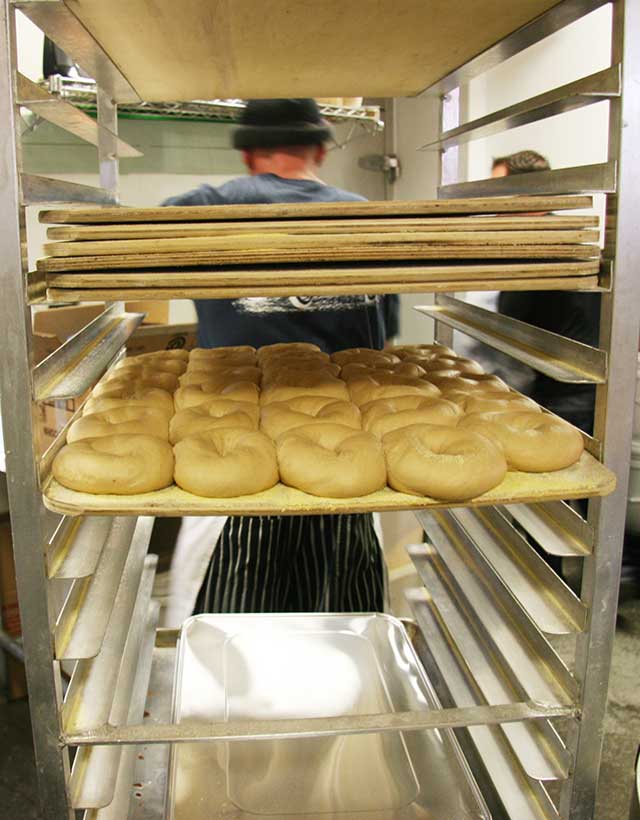 First, the dough is mixed and the shops roller starts hand rolling the bagels. These are then placed in a large walk-in refrigerator in order to stop the fermentation process that occurs when the yeast is added to the dough. After being cooled, the bagels are then taken out and dropped in a vat of boiling water.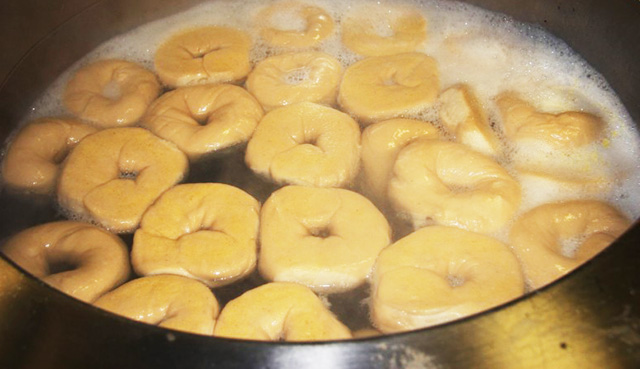 The boiling of the bagels is what gives them their classic shiny finish. The bagels are then scooped out of the water and placed onto wet burlap bagel boards. Scott explains…
The bagels are seeded and ready for the 500+ degree oven.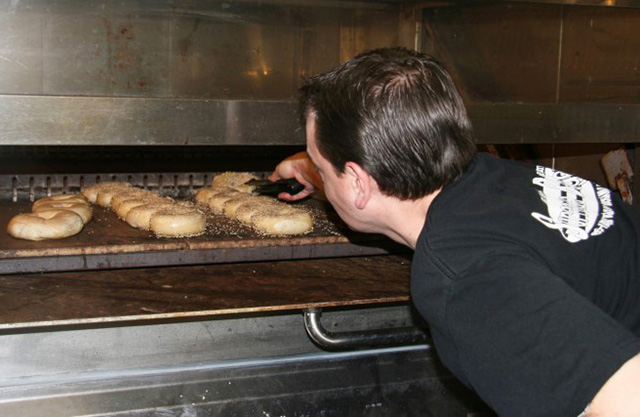 Midway, they're flipped…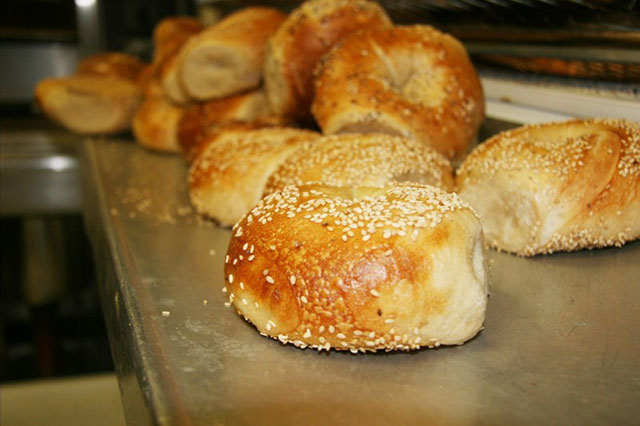 Voila!  A few minutes later you have hot, fresh bagels.
Can you tell the difference? "Oh heck yeah," Paula declares as she takes a bite. "I don't think I've ever had a bagel this fresh before — I can't even!"  Paula rates Surfside Bagels – 5 tomatoes.
[rating:5]
Scott and Tim go out of their way to sacrifice convenience for the special touches of  handmade quality.
We fully enjoyed our morning with two of New York's bravest, and in our opinion, two of New York's best bagel makers.
Scott and Tim are planning some new menu items and are ready for the summer. 

Tim tells us "I think this will be a big summer for Rockaway. There's a lot of interest in the community, so we hope to see lots of visitors at the shop."
The Q53 stops right outside of Surfside Bagels (95-11 Rockaway Beach Boulevard), so make sure  you pick up their famous cheese bagel, a classic SPF95 chicken sandwich or whatever you want to eat before you head down to the beach!
Co-Owner Scott Edwards gives Paula a huge bag of bagels to take home – so generous!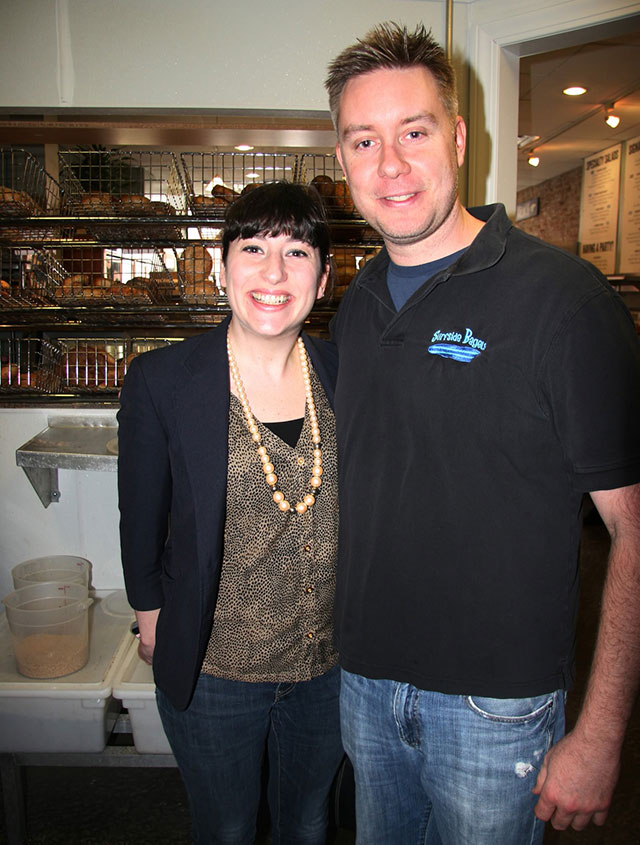 Co-Owner Tim Keenan and Paula hanging out in the kitchen!