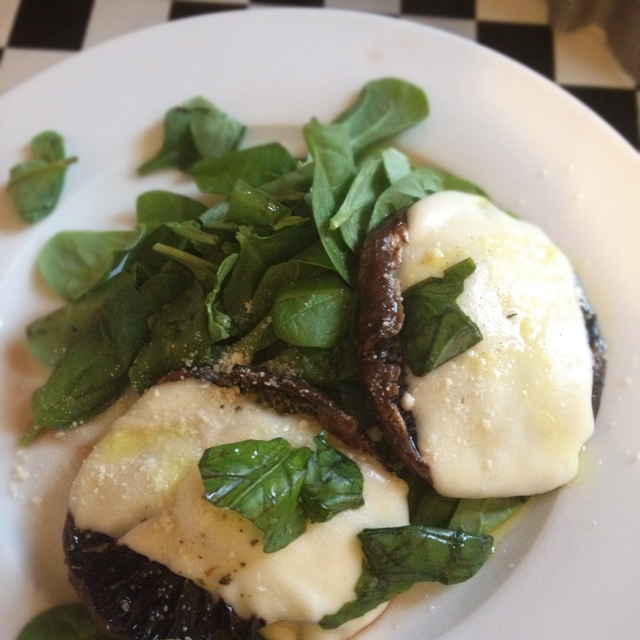 Two pictured but I actually ate four.
I don't cook with mushrooms much because my husband doesn't like them. I on the other hand enjoy mushrooms in all forms.  I saw some nice portobellas at the Associated Supermarket on Dekalb and Seneca – I had to pick them up. The Food Bazaar on Gates obviously has an awesome produce section but it's a bit further from my place and It's often crowded. While having a smaller selection at Associated, the produce is quality and the prices are good.
I wasn't sure what to make with the mushrooms but I knew I could whip something up with whatever  was in the fridge.  I didn't expect this dish to turn out as good as it did. I decided it was worthy of a recipe post. In addition to being super tasty and healthy, it only takes 10 minutes to cook up.
* Vegetarian friendly
Ingredients:
2 large portobella mushrooms
2 slices mozzarella cheese
Pecorino Romano
Basil to taste
Handful of spinach
Olive oil (Colavita  is my go to)
Salt, pepper, garlic and onion powder to taste.
Directions:
1. Clean the mushrooms  and coat them in olive oil. Also lightly coat the bottom of the frying pan
2. Place mushrooms in the pan, sprinkle spices on top and turn the heat on low
3. Place the mozzarella on top, cover the pan leaving some space for steam to escape. Cook for 6-8 minutes – until the cheese melts
4. Place spinach on a plate, no need to cook it
5. Place mushrooms over the bed of spinach, sprinkle with chopped basil and add on the romano  liberally, drizzle a little more olive oil over the whole dish.