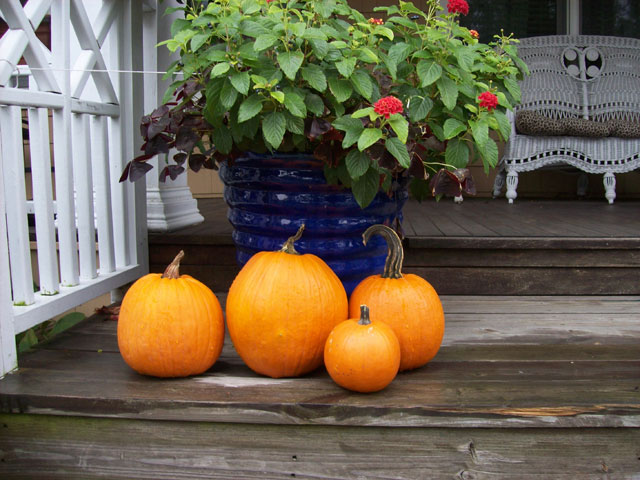 What to do with pumpkins once the frost has fallen… make pumpkin bread!
Every year I refuse to buy real pumpkins because they usually get funky with all the warm weather. I wait until my very nice neighbor, Kristin, is tossing out all the pumpkins she bought and I recycle them. However, this year I received a gift of three pumpkins and for purposes of this blog, I purchased a small one. You didn't actually think I was going to peel one of those big ones, did you?
First, try to get a dense pumpkin because this is labor intensive and you want to get the most from your effort. By dense I mean a pumpkin with thick pulp. It's easy peeling the pumpkin so there's no sense in doing all that work for 1/4 inch of pulp. You can usually tell by the weight and feel.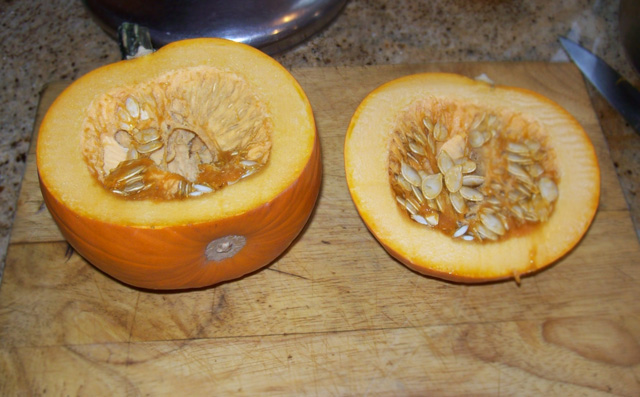 Next, cut the pumpkin in half and then into eighths. Scoop out the seeds and stringy part. Taking each piece, peel off the outer skin and cut up into small one inch pieces.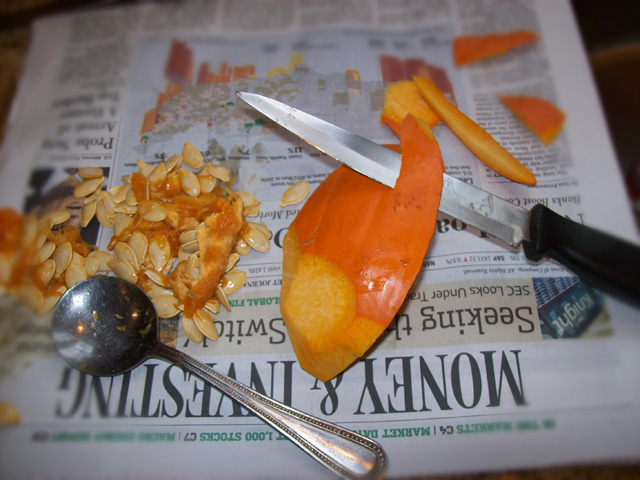 When all the pumpkin is peeled and cut, place in a pot with enough water to cover all the pieces –  cook as you would potatoes.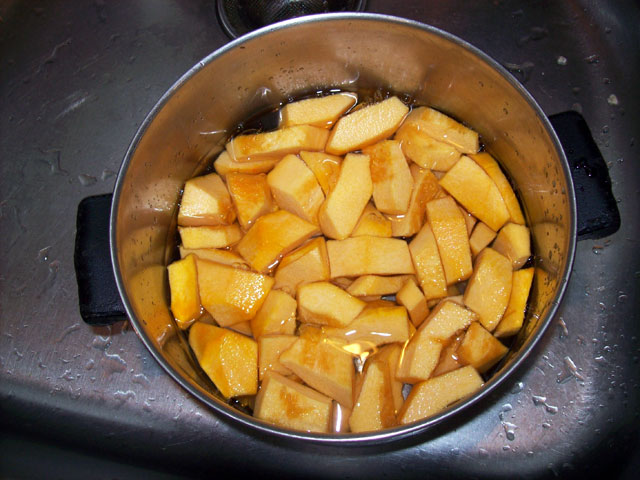 When the pumpkin is soft, drain in a colander and let it sit over the pot for an hour or so making sure all excess water drains off.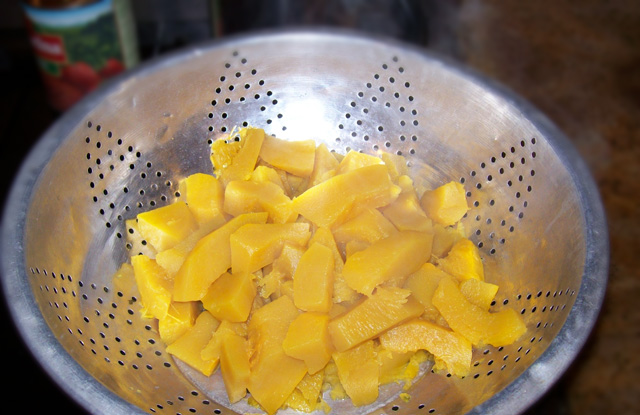 Take a masher and mash the pumpkin.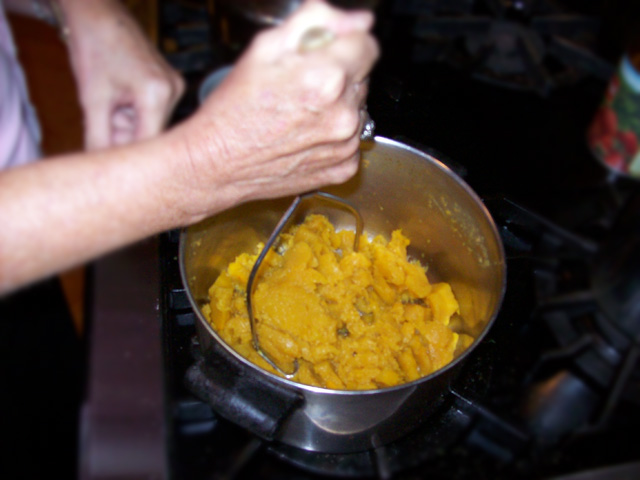 Now you can use this in any of your pumpkin recipes. Following is an easy, very delicious recipe for pumpkin bread. It freezes nicely so you can make it ahead of time for holiday gifts.
PUMPKIN PECAN BREAD
1 c. fresh or canned pumpkin
2 c. flour
3/4 c. sugar
1/2 tsp salt
1/2 c. orange juice
1/2 tsp baking soda
1/4 c. (1/2 stick) butter softened
1 tsp cinnamon
1 c. raisins
2 tsp pumpkin pie spice (or
1c. chopped pecans
1/4 tsp nutmeg & 1/4 tsp ground cloves
2 eggs
Beat together pumpkin, sugar, orange juice, eggs and butter until blended. Add dry ingredients all at once, stirring until moistened. Stir by hand and do not over mix. Add raisins and pecans. Place in large greased and floured loaf pan. Bake at 350 degrees until fork comes out clean, about 45 minutes.
—————————————————————————————————————-
PAM'S PUMPKIN BREAD
3 1/2 c. flour
1 tsp. baking powder
2 tsp. ground ginger
1 tsp EACH: baking soda, salt and cinnamon
1/2 tsp ground cloves
4 large eggs, beaten
1 1/2 c. sugar
1 c. light brown sugar
2 sticks (1 c.) butter, melted
1 can (16 oz) pure pumpkin
You can substitute 1/2 c. applesauce for 1/2 c. (1 stick) of butter if you like.
Grease and flour two 9×5 inch loaf pans. Adjust oven rack to lower middle position and heat oven to 350 degrees.  Mix flour, baking powder, ginger, baking soda, salt, cinnamon and cloves in a large bowl.
Meanwhile, whisk eggs and sugars in a medium bowl. Whisk in butter until fully incorporated and then pumpkin.  Beat wet ingredients into dry ingredients, until smooth;  divide evenly between pans.  Bake until golden brown and a fork comes out clean, about 50 minutes.
Cool a few minutes. Run a knife around the pan to loosen bread. Turn onto a wire rack to cool completely.
Makes two 9 inch loaves.