I don't leave New York City very often, which is fine because this place seems to have nearly everything I need (food, dive bars, my mom's kitchen.) But I had some unused vacation time, and I figured I could use a good road trip somewhere. So last month, dad and I made last-minute plans to visit Baltimore and Washington D.C with really one goal in mind: Eat lots of delicious food.
We left early, a reminder of our old family trips down to Disney World when we'd head south in cool darkness. We drove through New Jersey and a bit of Delaware, listening to the CDs I picked out (you always have to come prepared when leaving 1010 WINS service area.)
When I spotted my first sign for Waffle House, I demanded he pull over.
Passing a Waffle House always makes me feel like I'm REALLY out of the city, and reminds me of the 8-hour drive I took with Jumbo (of the Jumbo Burger fame) from New Orleans to Austin, a drive that sounded great sitting at my computer in New York City but wasn't perhaps the best idea once implemented. What I remember of the trip were the Waffle House signs jutting over unremarkable highway every 100 feet (or so it felt like.)
In addition to their delicious breakfast, Waffle House has been commended for their remarkable response during hurricane. You gotta love a place that stood up to Irene.
Dad and I arrived in Baltimore before 10, parking in historic Fells Point.  We walked around a bit, admiring beautiful, old houses and tiny streets. We ran into a former location for one of the greatest shows ever, Homicide: Life on the Street.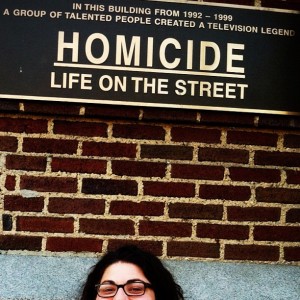 The ferry wasn't running yet, so we stopped into an Irish pub across from the landing for a drink and conversation. Dad and I are natural bartenders (although he's worked behind the stick more than me); we love, love, LOVE talking to strangers. So a bar at 10 a.m was the perfect place.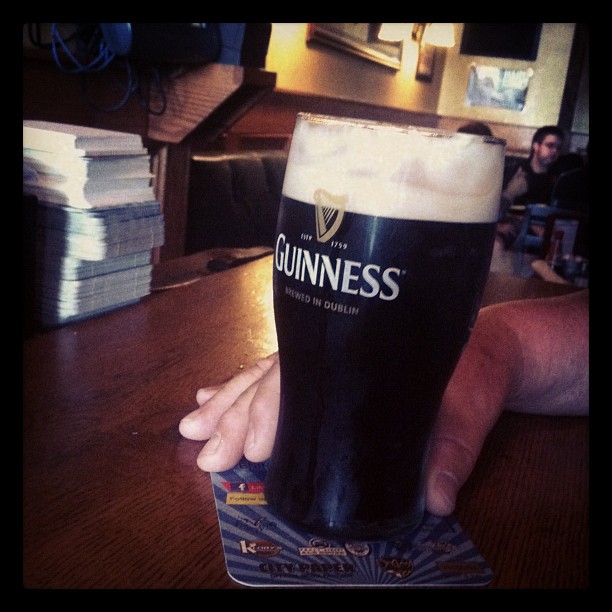 We weren't staying overnight in Baltimore, but we didn't want to leave before eating lots of delicious crabs. Co-workers recommended Obryckis, but we soon found out that the iconic restaurant had closed months before. Over a Guinness, the bartender recommended we try a place called Canton Dockside, right off the ferry.
"Best crabs I've ever eaten," he said. Done.
After the early-morning drink we set off to explore the city by boat, stopping at Fort McHenry (dad's idea) and the American Visionary Art Museum (my idea.)
A friend recommended a placed called Pickles Pub across from Camden Yards, a large dive known for their fried pickles. We stopped here for a mid-day snack after walking through the ballpark, ordering more beers, fried pickles and fried cheese balls. It was perfect; I even spied a "Tommy Carcetti for Mayor" sign in the corner!
As fried pickles go, I prefer a fried chip (like at Swingbelly's in Long Beach) but who can really not enjoy anything fried?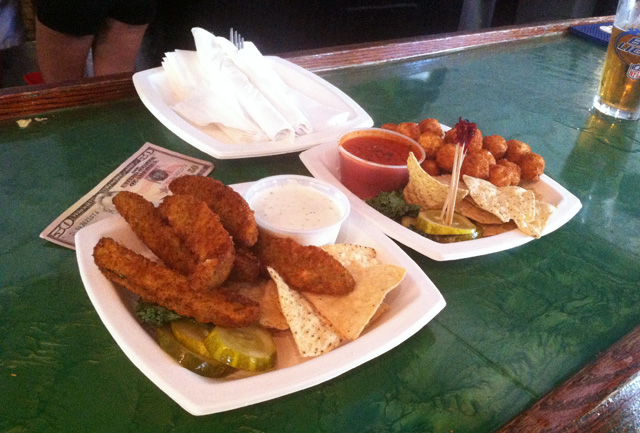 All fried everything. And the high-rolling $50 on the bar — holler dad!
We continued our walk around the city, hopping on ferries when we felt like it. By mid-afternoon we'd gotten hungry again so we made our way, by water, to Canton.
Canton Dockside is a fairly new restaurant, opened up by a family and close friends. Dad and I don't mind eating an early dinner (or late lunch, depending on how you look at it) and we were seated immediately inside the large place. Right next to our table, NBC Sports happened to be filming a cut-in for that week's Ravens game, and waiters and waitresses posed around steaming piles of crabs dumped from buckets on their tables (again and again, for the camera.)
The crabs were one of the reasons dad and I came to this city in the first place, and Dockside didn't disappoint. Our waitress laid it all our for us — how often they get the crabs, how they prepare them, how even if you get a tiny one they'll replace it with a bigger crab.
We started off with a crab pretzel which was essentially a delicious, cheesy crab dip laid on top of what tasted like a hot bagel.
When the crabs arrived, we were not really hungry anymore. But still, a dozen GIANT crabs covered in Old Spice arrived at our table. It was about five crabs too many, but my dad and I have never turned down a challenge.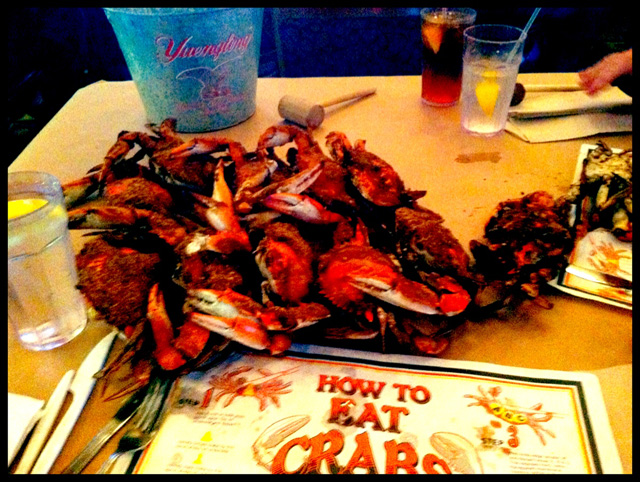 Holy crap it was a lot of crabs. But we powered through. They were soft and white and tender, by far the best crabs we've ever eaten. We left no crab behind. And, with Old Bay still stuck beneath our fingernails, Dad and I left Baltimore and headed down to DC.