by Clare
on
September 30, 2012 11:00 am
in
Drinks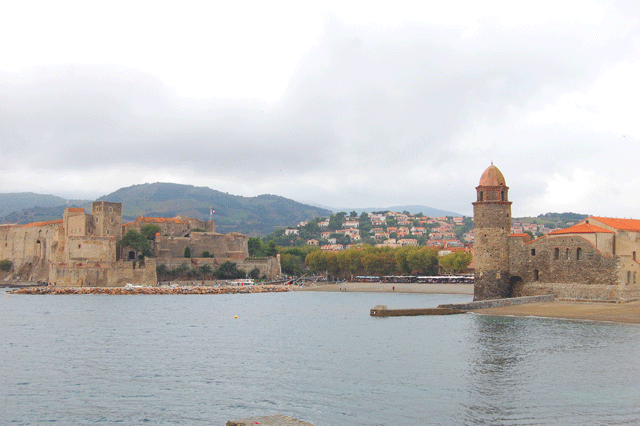 I just returned from the South of France with the Gehrhardt crew. We stayed in a little town named Cerbère. The town of Cerbère didn't have much to it but the neighboring towns of Banyuls and Colliouere were quaint and what you would expect for a town in South France. Besides the quaintness of these towns, they also boast another great feature, both towns produced wine.
Ahh music to my wino ears. From my brief wine education, I knew that I liked French wines. Not that I drink French wines regularly (my wine budget usually taps out at about $13 a bottle), but I loved the Long Island reds that I had drank with Bill in May. There are two typical ways of the second fermentation process, nowadays, people sometimes ferment in a stainless steel vat, or the good old fashioned way, in an oak barrel. The first step of fermentation always takes place in the stainless steel vats and then can move on to the oak.
Long Island reds are fermented in French Oak, this can be very expensive due to shipping as well as usage (you can only use a barrel a few times to ferment wine in). If you are drinking a Californian red, those barrels are fermented in American Oak. The oak found here in America is more porous than French Oak, this tends to create a more "oaky" flavor in wines. If you're with a real snob, they may remark that the wine "has walked the plank". (ooh, stop being friends with that person by the way).
I was excited to try the wines in France, I knew that the expense of shipping French Oak was part of the reason that Long Island reds are expensive ( typically about $25-$35). So I anticipated some good reds for a reasonable price. There were wine shops in Banyuls and Colliouere, but another great feature, was that you could get local wines at the grocery stores there. They were pretty reasonably priced, we picked up some good local wines ranging from 5-8 Euros ( about $7-$10). The full list of our wine acquisitions are listed below.
While in Barlcelona, Bill had ordered the house red. When the waitress came over with a pink wine, everyone was sure she had gotten the order wrong. Prepare yourself for my next amazing fact, rose wines and red wines come from the same grapes and the difference most times is how the wine is fermented. Below is the bottle we received.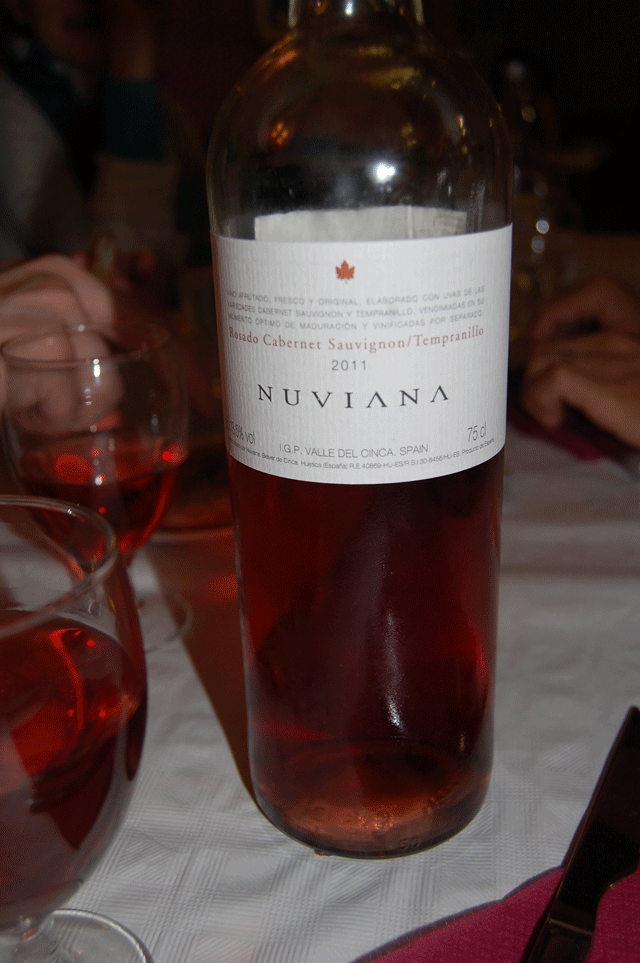 If you look at the label, you will probably recognize at least one of the grapes, a Cabernet Sauvignon, which is usually a red wine, the second grape, a temparnillo is also a red grape (I had to google that one!). So, from two red grapes, how is it that we get a rose? It all has to do with the fermenting process. When a red wine is produced, it is left "on the skins", this means that the skins are kept in the grape juice for the entire fermentation process. When producing a rose, the must (the grape juice, stems and skins mixture that eventually becomes wine) is pressed and the skins are removed after a day or so, this results in the pigmentation of the pink as opposed to the deep red color. Some people think that a rose is a blending of a white and red wine, while that is a process, its isnt typical of the process used for most rose's. (Its actually illegal to do it in France everywhere except Champagne). If you leave the skins on a white grape it will produce a red colored wine, the opposite is true as well, if you take the skins out of the fermentation process of a red grape, it will produce a white wine. ( I have a white merlot from Long Island that I can discuss in another post)
Outside of the above rose processes is the a process called Saignee, I wasnt aware of this process but Wikipedia had this to say about it:
Rosé wine can be produced as a by-product of red wine fermentation using a technique known as Saignée (from French bleeding). When a winemaker desires to impart more tannin and color to a red wine, some of the pink juice from the must can be removed at an early stage. The red wine remaining in the vats is intensified as a result of the bleeding, because the volume of juice in the must is reduced, and the must involved in the maceration is concentrated. The pink juice that is removed can be fermented separately to produce rosé.
Here is the list of wines we drank while in France. For some of the better wines, I hope there is an economical way to ship them!
Baste de Vignac, Bordeaux, 2010
L'Etoile, Banyuls, desert wine 2010
Manya Puig, Domaine, Colliouere, 2009
Grand Vin De Bordeaux, Bordeaux, 2011
Wanted Gang, No. 7
Maison Trintignant, Chatearneuf au Pape, 2008
Chateau de Castelnou, Cotes du Roussillon, 2009
Cheateau de Caladroy, Cotes du Roussillion Villages, 2009, Reserve (Reserve typically means a better wine, this was priced at about 7 euros, but was really good, I wonder how much the regular would have been)
Domaine St Sebastien, Inspiration Celeste, Colliouere, 2011 (a recommendation from a French waiter in Banyuls, this was great, have a bottle left at home)
La Francette, Cabrenet Savignon, Vin de France (a bargain of a wine at 1.50 Euro,  a Bill pick obviously, it tasted like 2 buck chuck as you can imagine)