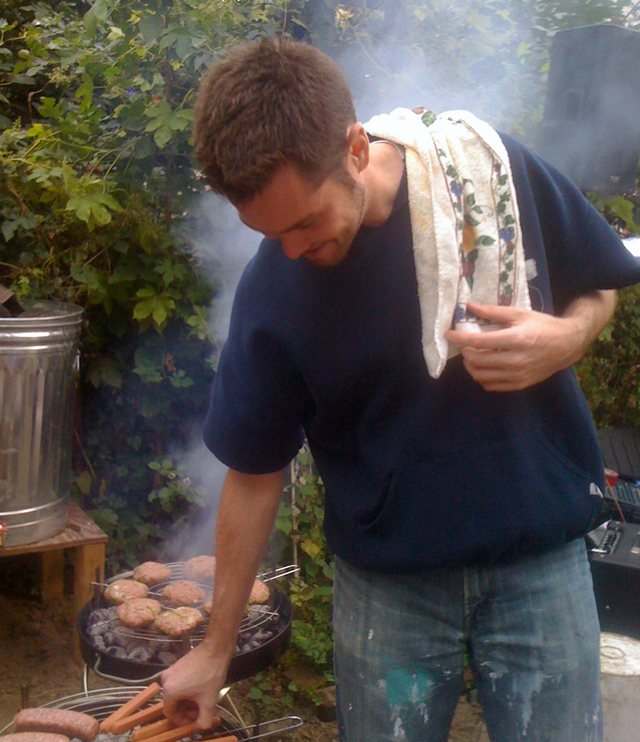 This is big: my brother-in-law James "JUMBO" Walsh has agreed to share his JUMburger recipe with the Glorified Tomato under an undisclosed Exclusive Licensing Agreement. (James is a lawyer when he's not slinging delicious burgers, after all.)
Last Saturday, James hosted his Awesome Annual Backyard BBQ, where he delighted 40 of his dearest friends and family members with his famous burgers, beer and rock n' roll bands. This recipe is a must try if you're having a summer party or if you just love BBQ. Take note of  James's directions – the procedure for the burgers is just as important as the ingredients. Rated 5 tomatoes without a doubt.   [rating:5]
INGREDIENTS:
Burgers
– 3lbs Chopped meat
– 4 sausages
– 1 med onion
– 1 med bell pepper
– 1 med red pepper
– 2 tbsps olive oil (optional)
– pepper
Horseradish Mayo with Bacon Sauce
– 4 tbsp horseradish
– 1/2 cup mayo
– 4 tbsp sour cream
– half pkg bacon
– 1/2 red onion
DIRECTIONS: Depending on whether you want to make full-sized burgers or sliders the preparation can differ. When making a few full-sized burgers, you're OK just chopping the peppers and onions. However, when making a lot of burgers it saves time throwing them in the food processor. This time out, since I was making sliders, I used the food processor. This has the added benefit of finely mincing the peppers and onions. With sliders, if I had simply chopped the veggies the meat may not have held together as well with the larger pieces.
So, after you've chopped/minced/food processed the veggies, throw them in a large mixing bowl. Add  the chopped meat. Remove the sausages from their casings and dump into the bowl. Using your hands, work the meats and veggies together so everything is mixed. Add the olive oil and pepper and continue mixing.
Place plastic wrap directly on the surface of the mixture and place in the refrigerator anywhere from 3 hours to overnight.
When getting ready to grill, mix the meat again by hand. Take a small amount of the mixture and ball it in your hand. Once the surface is smooth, press it into a patty. Repeat as many times as necessary.
Makes approximately 25 sliders, 10-15 regular sized burgers.
The grilling is just as important as the preparation. Make sure the coals are very hot, place the burgers on the grill for 7-10 minutes on one side, flip once, and cook for another 4 minutes. You dont want to press the burgers with the spatula or flip more than once. We want to keep them JUMburgers juicy!
For the horseradish mayo, combine the horseradish, mayo and sour cream in a bowl. Cook the bacon. Chop the 1/2 onion. Put the onion and cooked bacon in the food processor and blend. Add the mixture to the bowl and mix with a spoon. cover and place in the fridge overnight.