This is an awesome cornbread recipe! My sister-in-law Clare, kindly gave me a huge stack of Food Network magazines. I love having my coffee in the morning on the RD and flipping through. In the Sept 2011 issue I came across Alexandra Guarnaschelli's Skillet Cornbread with Strawberry Jam recipe. I have a 9 inch cast iron skillet (which the recipe requires) so I thought this would be a great one to try out. I've made this cornbread three times now and all were delicious. This strawberry dripped cornbread clinched my victory in a recent cook-off  competition.  It's an impressive dish!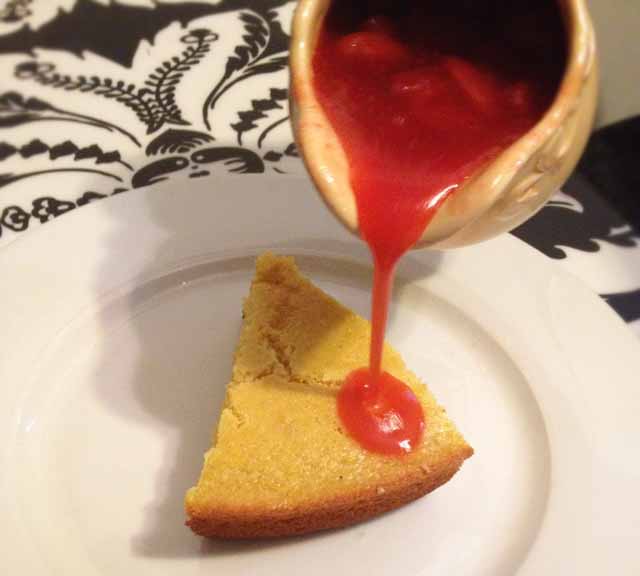 For the Cornbread:
1 1/4 cups coarsely ground cornmeal
3/4 cup all-purpose flour
1/4 cup sugar, plus more for sprinkling
1 teaspoon salt
2 teaspoons baking powder
1/2 teaspoon baking soda
1/3 cup whole milk
1 cup buttermilk
2 large eggs, lightly beaten
1 stick unsalted butter, melted
For the Jam:
1 pound strawberries, hulled and halved
1 lemon
Juice of 1/2 orange
Pinch of salt
1/2 cup sugar
1 tablespoon unsalted butter (I use a half stick!)
Directions:
Make the cornbread: Place a 9-inch cast-iron skillet in the oven and preheat to 400 degrees F. Whisk the cornmeal, flour, sugar, salt, baking powder and baking soda in a large bowl. Whisk in the milk, buttermilk, eggs and almost all of the melted butter, reserving about 1 tablespoon for brushing the skillet.
Carefully remove the hot skillet from the oven and brush the bottom and sides with the reserved melted butter. Pour the batter into the skillet, return to the oven and bake until a toothpick inserted into the center of the cornbread comes out clean, 20 to 25 minutes. Let cool 10 to 15 minutes, then sprinkle lightly with sugar for texture. (Note: I don't sprinkle with sugar. For a darker coloring I rub egg whites on the top of the cornbread immediately after I take it out of the oven. It's steaming hot, no need to put it back in after the egg wash.)
Meanwhile, make the jam: Cut the strawberries width-wise into 1/4-inch-thick slices (the slices should be thin enough to bend slightly). Using a vegetable peeler, remove the zest from 1/3 of the lemon with a light touch, leaving the pith behind; transfer to a large bowl. Squeeze the lemon juice into the bowl. Add the orange juice, salt, sugar and strawberries and toss. Cover and refrigerate until the cornbread is out of the oven.
Melt the butter in a large skillet over medium-high heat. Add the strawberry mixture and cook, stirring, until the juices reduce and thicken slightly, about 10 minutes. Slice the cornbread and serve with the strawberry jam.