Growing up, my mom was a housewife. Well, part time housewife, and not by choice. She was the wife of a diplomat, from a country that doesn't allow spouses to be employed – she was a housewife. My mother wasn't resentful of this by any means. Her role afforded her to browse shops on the Champs Elysee, with us in tow, spend time with her kids, and to take aesthetic classes, to learn how to make other women look as fabulous as she always did.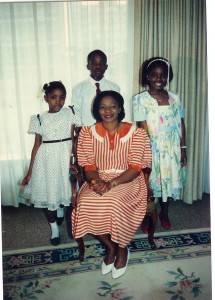 Everything my mother did, she did it well, no matter how menial it was. Her food was amazing, she kept the place immaculate, and she always took time to take care of us, and went out of her way to be the best mom possible – even if there was a little bit of spoilage involved. Thanks for keeping us fresh, mom! I'm not sure if I realized how lucky I was to have a mom like her, but one story sticks out in my head, albeit at the expense of some poor kid, but the greater lesson was how far my mom went for us to have the best.
At my elementary school (probably like most of yours) whenever it was someone's birthday, they were allowed to bring in a cake and other treats to share in the class. My mom had recently developed a new interest in baking. She would bake all day long, using us as her guinea pigs. Cake for breakfast? Yes please!  So as my birthday approached, she treated it like the superbowl of baking. She researched recipes, made little samples to taste, until she came up with the perfect mix. She decided to go with a decadent double layer vanilla and chocolate marble cake, with chocolate frosting on the inside, and vanilla frosting on the outside. As if that wasn't enough she intricately placed those silver sugar balls, all over the swirled icing. It was beautiful, it resembled a delicate lace with pearls sown into it. I remember her smiling at her accomplishment as she put the cake into the fridge to chill overnight.
I had the jitters as I got ready to go to school – I was turning six and had the best cake in the world. I  couldn't wait to show it off.  The day dragged on as we had to wait until lunch before we could proceed with the unveiling of my most awesome cake. Tick tock, Tick tock – lunch time comes around. To give you more context, another kid had his birthday the same day, which was usually great since it meant double snacks! Well, not for the other child who was celebrating his birthday this time. It was finally time for my cake to be presented (!!!) and it came out on a frosted glass stand, to complement the silvery frosting. Ooohs and ahhhs filled the room.  You could see the sparkle in the eyes of the children and the drool escaping their lips. Then came time for birthday boy to present his cake. Sigh. His cake was a pound cake that came from the grocery store, not even out of the plastic packaging it came in. It Literally felt like someone should have said "womp womp".
That day I went home with an empty glass cake stand. He went back with his cake still in the plastic packaging. Sadness. Moral of the story, I had a fabulous mom, and this is my ode to her in this tale, which is representative of the extra mile she always went for her kids. Here is the recipe for her cake – in case your wondering how to boost your kid's popularity at school, or even yours at the office. Enjoy!
Ingredients:
2 cups all-purpose flour
2 teaspoons baking powder
1/2 teaspoon salt
1 cup white sugar
1/2 cup butter, softened
2 eggs
1 teaspoon vanilla extract
1 cup milk
2 tablespoons Nesquik cocoa powder
Directions:
Preheat oven to 350 degrees F (175 degrees C). Grease and flour a 9 inch round pan.
Place flour, baking powder, salt, sugar, butter or margarine, eggs, vanilla, and milk into mixing bowl. Beat slowly to moisten, then beat with an electric mixer at medium speed for about 2 minutes until smooth. Reserve 3/4 cup batter; pour the remainder into pan.
Stir cocoa into the 3/4 cup reserved batter. Drop by spoonfuls over top of white batter. Using a knife, swirl the cocoa batter into the white batter to incorporate it in a marble effect.
Bake in preheated oven for 30 to 35 minutes, until an inserted wooden pick comes out clean.