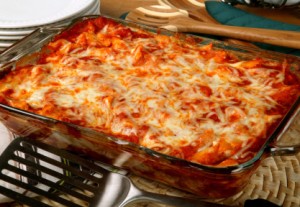 We have all seen the movies when a character dies and people come to pay their respects with plates of food. This week, I am reminded of how that fit into my life 25 years ago when my father died. I had spoken to him early in the morning, like always. By afternoon he was gone. When I heard the news, first I cried. Then I set out to work.  I was home with my two little girls, too young to understand why mommy rushed to the store with them and shopped.  It was not our usual supermarket, and all I bought were containers of Polly-o ricotta and mozzarella.
Once we were home I prepared the sauce while I waited for my husband Mike to come home from work to take me to my mother.  While I waited I frantically chopped the onions and garlic, blended the tomatoes, seasoned and simmered the sauce.  Then I prepared two trays of baked ziti, covered them with foil and packed them in the car when my husband Mike arrived home. I sent the girls to our friends Mike & Judy`s house and set out across the bridge.
Once in Brooklyn, my sister and I tried to comfort our mother. But her attention was turned to the trays I made and she was pleased. She knew the routine after all the years. The relatives, her sisters, brother and others would be around for the wake the next day. And regardless of what had happened, they had to be fed. That was expected. How can one reminisce about the person who died without a plate of food or a glass of wine? My mother knew two things for sure –once the arrangements were made and paid for, iron the black dress, and get the food ready.
She sent my sister and me out to get loaves of Italian bread and trays of biscotti, salad, soda and wine. The next three days were filled with stories of funny times, especially when the uncles from Florida arrived. On the second day we had platters of cold cuts and side salads with pots of espresso. On the last day, after the funeral, there was a reservation at a local Italian restaurant. There we celebrated my father`s life and sent his spirit on its way home.
But this was all done with food in front of us. We passed the parmigiano as often as we passed the tissue box to wipe away the tears. Food was the sustaining element in this ritual of saying goodbye and I was truly my mother`s daughter in knowing exactly what to do. The customs we learn and continue throughout our lives help to keep us together in times of great joy or sadness.  So in this week as I remember yesterday, I share with you my quick ziti recipe that I hope you enjoy in all the times — good or bad, happy or sad — of your life.
FRAN'S FEED YOUR FEELINGS ZITI
3   24-32 ounce cans of Italian crushed tomatoes
1    3 ounce can of tomato paste
1 large or 2 small yellow onions, finely chopped
1 lb. lean chopped beef
4 cloves of chopped garlic
1 lb. medium ziti pasta  – cooked in salted water and drained
bunch of basil leaves, whole, not chopped
2 lbs of whole milk ricotta
2 lbs of mozzarella
1 cup Locatelli Romano or Parmagiano cheese grated (please, not the green box of Kraft. Stop embarrassing yourselves, your baskets in Waldbaums are no secret.)
olive oil
dash of sugar
dash of oregano
salt, pepper to taste
large pan  (roaster size pan)
Saute the onions first in  olive oil until is starts to get soft.   Then add the garlic.  Saute briefly then add chopped meat mixing it well incorporated into the onions and garlic.
When the meat begins to brown, add the cans of crushed tomatoes and paste.  Stir, adding the salt, oregano, pepper and sugar. Stir often,add the basil, bring to a boil, then simmer for one hour.  Put some of the sauce on the bottom of the the baking pan.  Mix in the ricotta with some pepper.  Add sauce to the cooked pasta and mix thoroughly.
Put some of the grated cheese over the pasta and mix all with the ricotta.  The mozzarella should be sliced or cubed and add it to the pasta as well.  Add sauce to keep it all moist.
Finally put the rest of the grated cheese, and all the cheeses in and top the whole dish with mozzarella, sliced.  Cover with aluminum foil and bake in 350 degree oven for about 40 minutes.
Uncover the dish for 5 minutes more in the oven.  Let it settle for 15-20 minutes before serving.
Mangia! Mangia! Talk! Laugh! Reminisce!