That's right. Not unlike Jesus Christ, all garlic has lay dormant underground and later become alive… with taste!! (Ouch.) Seriously though, after going to the Hudson Valley Garlic Festival, my thoughts on garlic have become religious. (Previously, they were only quasi-religious.) Apparently, I'm not the only one: 21 years ago the Goddess of Garlic (Pat Reppert) founded the festival, and today nearly 60,000 visitors come to taste and celebrate the pungent pleasures every year. Here's a few words from the Goddess herself:

This is "the" event in Saugerties. It's such a big deal that the local police department has to publish alternate traffic maps for the weekend so locals and visitors can get around without too much inconvenience. With 56 garlic growers and 76 garlic vendors of all sorts, its food lovin' mania. Along with the vendors, there are bands such as Annie and the Hedonists and lectors including Ted Maczka the "Johnny Appleseed of Garlic".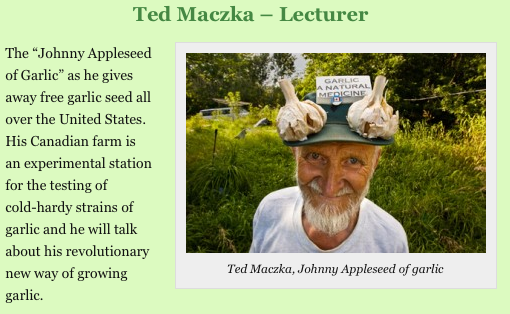 AND THEN there are us, the seekers of garlic.
Garlic is part of the onion family. I'm part of a Sicilian family myself, and the bold-tasting bulb has been a staple in my people's diet for over 6,000 years. In the spirit of my ancestors, my family and my non-Italian-but-food-enthusiastic friend Susanne started our walk down the pathways. They were crowded and muddy, as it had rained heavily the night before, but we didn't care. There were so many varieties of raw garlic – too many to choose from. I also sampled several pestos, sauces, oils, dressings and….
I took the garlic shot. You can't go to Garlic Fest without taking a garlic shot. Raw garlic is healthy for you – it clears acne, manages high cholesterol levels, its a natural mosquito repellent and it was said to cure the plague.
After my invigorating garlic shot we found Grandpa Pete's Sunday Sauces.
All of the Serro family sauces were just delicious. I make my own sauce – never buy jarred! – but this was something special and as they say, made with love. My friend Susanne bought 4 jars of the Penne a la Vodka. It wasn't heavy, just enough cream and very fresh. I got the marinara. Their description is pretty spot-on: "Our delicious marinara sauce is prepared with juicy vine ripened tomatoes, fresh garlic, sweet onions, our special herb seasonings and extra virgin olive oil." All the folks at Grandpa Pete's stand were charismatic, friendly and helpful – a great group, selling great sauces.
Other afternoon purchases included garlic varieties: Music and Roja from Hope Valley Farm, Garple – a tart apple maple vinegar with garlic from Mountaindale Farm of Minisink Hills. Luigi's garlic olive oil, and of course a garlic necklace. The necklace can be used as a fashionable accessory or it can be hung in your car (over the mirror next to your Rosary beads) for protection while driving. What a tasty day!
Pictures of the festival are below, take at look!