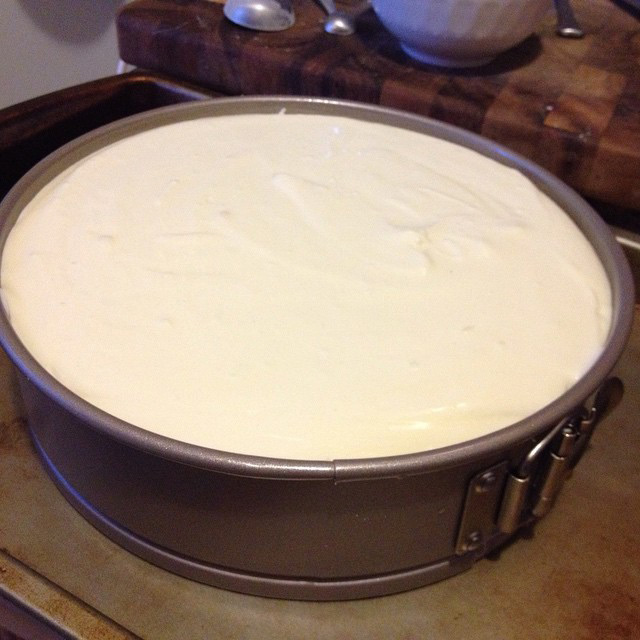 [rating: 5]
IN QUEENS.
My family doesn't have many holiday traditions besides stuffing our faces and taking naps, but what we do for all the big ones – Thanksgiving, Christmas, Rockaway St. Paddy's Day – is head over to the Walsh Household for dessert. The schedule always works out perfectly. My family eats early, including dessert and coffee, and then usually relax a bit. At around 6pm the Walshes sit down for their big dinner, so by 7, after we've fully digested, we walk over and scam some of their goodies, too.  And Maureen's Cheesecake is usually the first thing I reach for, and here's the best part: I don't even like cheesecake. Pay attention to these details and whip it up for your next holiday. Make sure you make double for the neighbors eventual grubbing. – KH
MAUREEN'S CHEESECAKE
CRUST
1 1/2 CUPS GRAHAM CRACKER CRUMBS
1 C. SUGAR
4-5 TABLESPOONS BUTTER/MARGARINE MELTED
FILLING
3-8 OZ. PACKAGES CREAM CHEESE SOFTENED
1 C. SUGAR
4 EGGS
1 PT. SOUR CREAM
2 TBSPS. FLOUR
2 TSPS. LEMON JUICE
1 TSP. VANILLA
1 C. HEAVY CREAM
Grease bottom and sides of 10″ springform pan. Combine crust ingredients and pat down firmly on the bottom of the pan. Place in freezer while making filling. Beat filling ingredients in order listed, one by one, thoroughly mixing after each one. Pour into pan. Bake in pre-heated 325 degree oven for 20 minutes. Lower to 300 degrees and bake 40 more minutes. Turn off heat and let cake cool in closed oven for one hour. Cool on a rack to room temperature in springform pan, then refrigerate. DO NOT TAKE THE SPRING OFF THE PAN UNTIL CAKE HAS BEEN IN THE REFRIGERATOR FOR AT LEAST ONE DAY. OTHERWISE YOU'LL HAVE MUSH.
The cake has a tendency to get a crack in it even when you think there is none. To prevent this, before baking, I put the pan in a larger pan and put hot water in the outside pan about halfway up the springform and pop it in the oven. The smart thing to do is place the smaller pan inside the larger pan in the oven and then add the water to prevent spillage. This seems to help but it's not 100% foolproof.  I don't use a full cup of sugar for the crust, just a half cup. If you use the box of graham crackers, I use one bag of crackers for the crust. The cake tastes better a few days after you make it. In fact you can make it a week or so in advance.This recipe is from the A&S cheesecake contest from before you were born! Enjoy!
If you don't have a 10″ springform pan, and use a 9″ or 9 1/2″ pan bake about 10 minutes longer. If you forget to turn down the oven to 300 degrees, it's no big deal. If you don't have a springform pan and want to use a regular pan, line the pan so it covers the bottom of the pan and sides. Place a piece of cardboard (you can buy them or use a clean piece from a box. If it's not so clean, put aluminum foil around it) at the bottom and follow the directions. When the cake has been refrigerated for a day or more, lift it out of the pan by the foil.