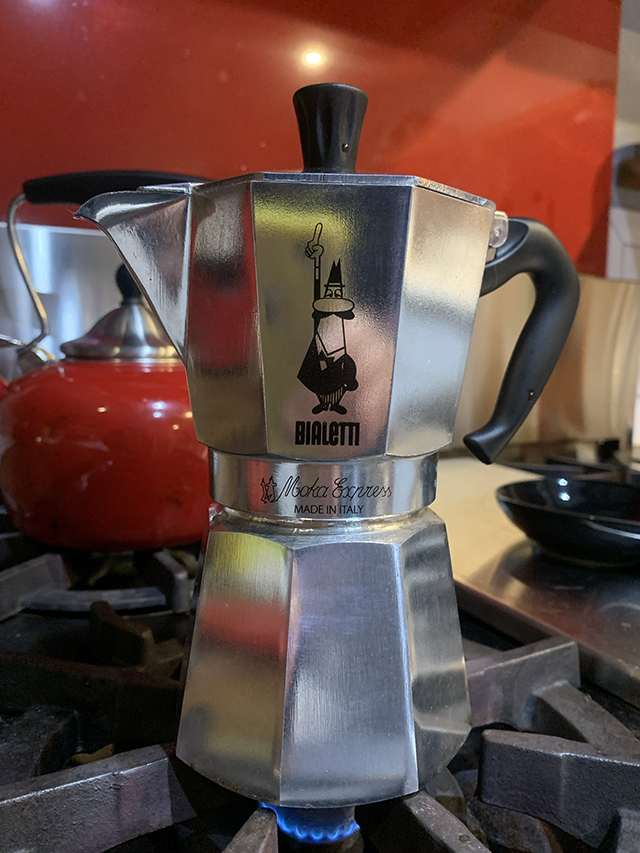 The Bialetti mascot with his index finger held up as if ordering an espresso. In Italian he is called l'omino con i baffi – "the mustachioed little man." The mascot is a caricature of Alfonso's son, Renato Bialetti by Illustrator Paolo "Paul" Campani. Source Wikipedia
A friend broke my red Cuisinart drip coffee pot several months back! I started using a spare pot I had that I don't like… actually I hate it. Yup, it is possible to hate a coffee machine. All this time I was trying to figure out what my next move was. I was thinking a pour over, then I was back to a 12 cup drip. When I took coffee classes at Greenhouse Cafe, I learned about the Aeropress method, maybe that…
Finally about three weeks ago, the internet's alarming, yet smart algorithms put it all together for me – The Bialetti Moka Express. With one click, I knew this beautiful Italian vessel was my new coffee dream come true. The Moka is an iconic, Italian brewing pot/method developed in 1933 by Alfonso Bialetti, an engineer of the time. He wanted to bring the caffè of the bar into the home. Caffè bars were for men only. Bialetti's invention revolutionized coffee culture in Italy, especially for women. They could now gather with friends in their homes, enjoy coffee and socialize. Still today the Moka is widely used in homes throughout Italy and Europe. They say,  "No Italian kitchen is complete without a Moka."
This is so interesting…  Bialetti was inspired by washwoman (lavandaie) he'd seen doing laundry. In the 1900's the lisciveuse was used. The wash tub is filled with water, soap and soiled clothes. The bucket has a central steel tube. It is placed over a fire. When the water boils, it enters through the tube and distributes the soap and hot water. This function uses vapor pressure and that is how the Bialetti Moka also works.
Italians value aesthetics. And we are hopeless romantics. So learning Alfonso's vision for the Moka design was inspired by the robust figure of his wife, does not surprise me. The 8-sided shape mimics the silhouette of his love – her broad shoulders, narrow waist, her arm on her hip (handle) and her pleated skirt. 
It's simple to use. Unscrew the top, place the water in the bottom chamber, pack the coffee in the filter, close and place the pot on the stove at low heat. Open the top and you can see the coffee coming through the receptacle in a stellar performance. Once you hear the "sizzling" sound end, the coffee is done. 
Moka is named in honor of the city Mokha in Yemen, famously known for its delicious coffee. Coffee brewed in a Moka pot is very strong. It's espresso-like texturally but lacks the foamy quality and richer taste. The Aluminum vessel keeps the coffee steaming hot. If I'm in a hurry in the morning, I add water to cool it down. And so you now have an Americano. But the best for me is when I have time to savor the ritual of making this traditional Italian caffè. It evokes a feeling of simplicity. A conventional way of living sounds right to me these days. To be sure, I'll never again go back to a coffee pot made of plastic.
Since ordering my Moka, I've discovered specialty designs – a red one (to match my kitchen) a cute vintage green pot, a red and green Italian flag version that would be perfect for Christmas time, and good Lord… a Dolce & Gabbana Bialetti, inspired by the carretto siciliano –  the elaborate, colorful donkey-drawn carts native to Sicily. I can't handle this beauty… How many Bialetti's is too many?
Source: bialetti.com, Wikipedia