Gift giving is part of the holiday season – for better or for worse. My intentions are to give meaningful presents but then end up delaying because I haven't thought of that perfect gift idea. Then I'm scrabbling. If this sounds familiar "the gift of food and drink" is a great last minute solution.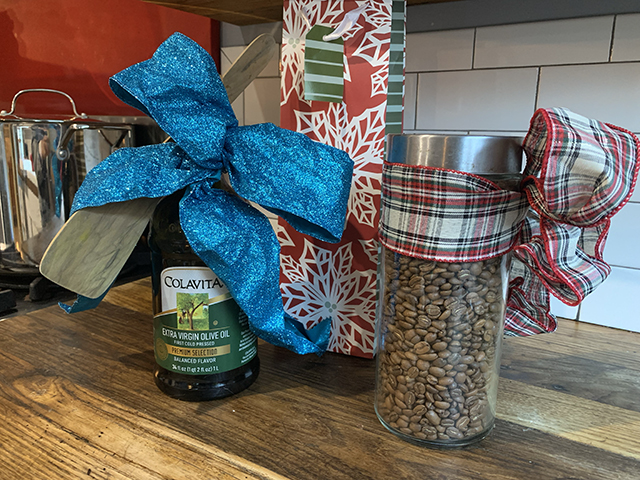 Let's get the juices flowing… fancy coffee, tea, seltzer, kombucha, wine, beer or liquor. I say fancy because I'd suggest buying higher-end. Purchase something the recipient would not often splurge on.
For your friends and family who enjoy that cup of cheer (or many cups of cheer), you can't go wrong with a nice bottle of wine, an IPA, Peroni or that bottle of Johny Walker Blue. Take it up a notch and accessories with a nice bottle opener, wine topper or beer mug. I'd bet Uncle Pat will appreciate the gift of drink more than a matching glove/scarf/hat set.  
For the kitchen…
Olive Oil – High quality olive oil is a staple in all home chef's kitchens but the good stuff gets pricey. My go-to brand is Colavita and you can find it locally in the supermarkets. If you can get to an Italian specialty store, there are many delicious imported options to choose from. Wrap the bottle with a bow. Tie on a wooden spoon for a lovely presentation. You can get a wooden spoon or other cooking accessories from the dollar store – super cheap but adds the extra element of  "care."  
Sweets – Fill a large mason jar with holiday candy or chocolate. Don't bother wrapping it up – the colorful candy is festive enough, just add a cute bow. The mason jar is also part of the gift – we always want and need them.
Homemade gift baskets. Make a personalized gift basket or bag including ingredients to make your loved one's favorite meal – an Italian basket, vegetarian basket, Indian food, a taco basket. To fill the basket on a budget, consider including staples like garlic, onion and potatoes. They will look beautiful in the presentation and they don't need to be refrigerated. 
Spicy – buy spices from the supermarket, remove them from their original container. Put each one in a small mason jar. Label them and you've created a personalized spice set.
The list goes on and on. Get creative and you can find everything you need for your last minute shopping in the supermarket.  Food and drink as gifts are useful, unlike the foot massager, Ouija Board, beer hat, pizza blanket, change collector… you know, the well intended gifts but you're like, what the hell am I going to do with this! 
Happy Holidays!