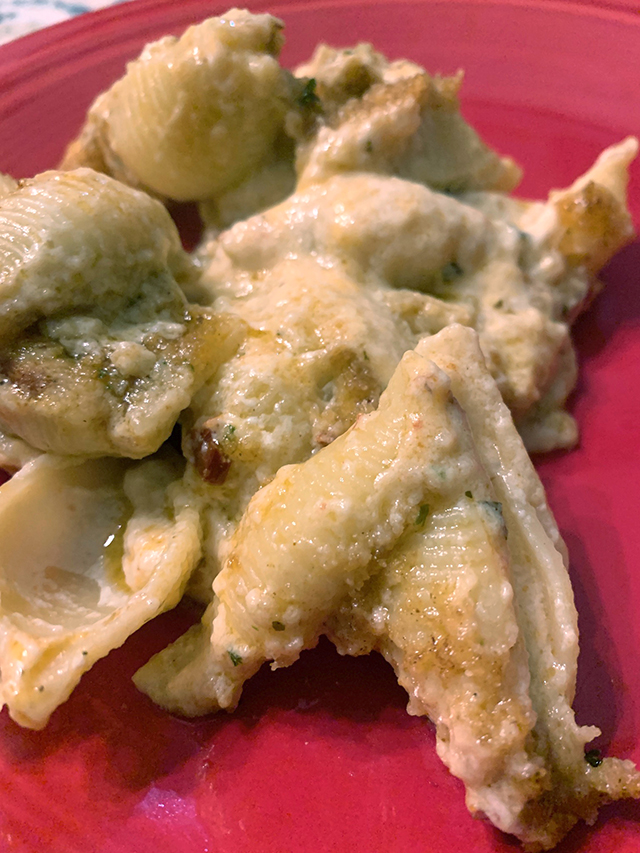 A few weeks ago I made the most decadent, highest calorie macaroni and cheese dinner I could possibly come up with. Why? Because it was my birthday, I had Covid and it's a very cold January. I needed comfort… and food. Cheese normally does the trick, no?
This meal is creamy and delicious. Make sure to use medium shell macaroni. They hold the cheese well, making every bite perfect. Just as if you were preparing baked ziti, don't over cook the pasta because it continues to cook in the oven. If the pasta is not al dente, the outcome is mushy.
I changed the recipe from the original, as I normally do. I added sun dried tomatoes to give the pasta dynamic. It adds a tartness that complements the richness of the three cheeses.
The roux is important for the thick texture. Make sure to follow those directions carefully if you are new to making this mixture. Stir in the flour slowly!
The most labor intensive part of this recipe is grating the cheese but it's worth the effort. I'd recommend not cutting corners. Don't buy shredded cheese. Most of those brands aren't the best quality. I bought the good stuff from the specialty cheese section at the supermarket. Everything you cook is the sum of its parts. The better the ingredients, the better the meal.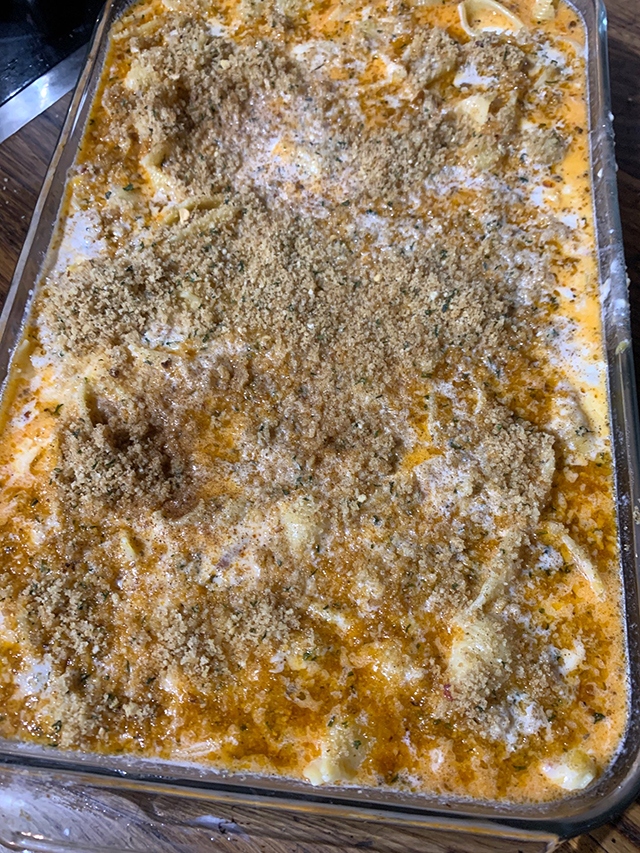 Feel Good Macaroni And Cheese
Ingredients
(serves 3-4 people)
8 ounces shell macaroni
2 cups shredded, sharp cheddar cheese
2 cups shredded provolone
1 cup grated parmesan
6 cups milk
1⁄2 cup butter
2 tablespoons jarred sun dried tomatoes
5 tablespoons all-purpose flour
4 tablespoons butter (for the roux)
1 cup bread crumbs
Salt, fresh ground pepper, paprika to taste
Directions:
Step 1: Boil water and cook the macaroni al dente. Drain.
Step 2: In a saucepan, melt the butter over a medium heat. Stir in the flour to make a roux. Add milk to roux slowly, stirring constantly. Stir in cheeses, and spices. Cook over low heat until the cheese is melted and the sauce is a little thick. Put the macaroni in a large casserole dish and pour the sauce over the macaroni. Stir well.
Step 3: Melt the butter in a skillet over medium heat. Add breadcrumbs and brown. Spread over the macaroni and cheese to cover the top. Sprinkle with a little more paprika.
Step 4: Bake at 350 degrees F for 30 minutes uncovered. Let it cool for 5-10 minutes then serve.
Follow me for the day-to-day on Instagram @theglorifiedtomato