by Paula D.
on
September 3, 2021 10:16 am
in
Community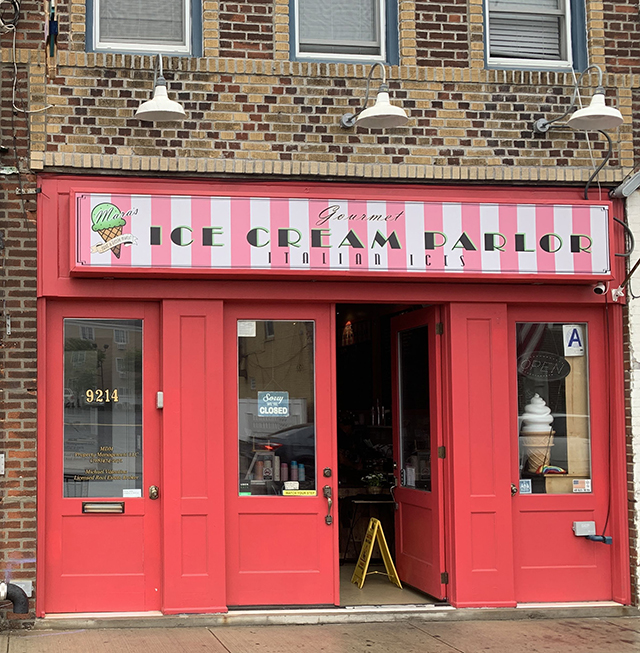 I only eat sweets during the holidays when it's right in front of my face (or rather, my mouth). But the other night, I had a very rare, intense craving for ice cream.  I kept debating internally if I should run out to see if Mara's Ice Cream Parlor was still open. I texted my husband – If he wanted to go, I'd go. I thought about getting a pint at Key Food but if I was going to eat ice cream calories, I wanted the whole shebang.
Matt responded. It was a go. I feared Mara's would close at 9pm. I slipped on my flip flops and hustled out the door without makeup (also very rare).There was no time to check hours online.
Mara's was in fact open and it was hoppin! Seriously, what was I thinking… People love ice cream and it's the dog days of summer.
I got my favorite: chocolate chip cookie dough, rainbow sprinkles and caramel syrup. It was so so good and satisfied my near-insatiable craving.
As I'm spooning the delicious coldness into my mouth, a memory popped in my head about the classic banana split. I'm sitting in a faux brown wooden booth at Friendly's. The table is too high for me. My arms are awkwardly stretching over to reach for my banana split. I'm sitting opposite my Grandmother Pauline. She'd take my sisters and I to Friendly's as a special treat! Most of the time we'd share the sundae, but this time it was all for me. And Grandma allowed me to have the whole thing myself. That's probably why I remember this moment so vividly.
What's the story behind the banana split anyway? It's almost as American as apple pie. I did a little digging and found out the origin is controversial. Several individuals claim to have invented the sundae – David "Doc" Strickler an optometrist in Latrobe, Pennsylvania (1904) and Ernest "Doc" Hazard of Wilmington, Ohio, (1907) are most notable to mention. In 2004, The National Ice Cream Retailers Association certified Latrobe, Pennsylvania as the birthplace.
What's the connection between doctors, pharmacies and ice cream anyway… one stop shop?
Strickler, after a trip to Atlantic City, where he saw and ate sundaes with fruit atop, was inspired to create his own with bananas. Then, the transport of bananas came through Pennsylvania from New Orleans. Strickler's business was located near Saint Vincent College. Word of his sundae spread to students' families back home and quickly gained popularity. Shortly after, the first Walgreens in Chicago adopted the dessert and so began the national craze. To note, this coincided  with the novel ice cream soda fountain sensation.
There are many versions of the banana split today. The classic is: one banana split long ways with three scoops of ice cream – vanilla, strawberry and chocolate. Chocolate, strawberry, and pineapple syrup are the traditional syrup choices. Topping – whip cream, maraschino cherries and walnuts. It's served in an oblong "boat" dish.
The original from 1904 was topped with fruits such as strawberries, raspberries, crushed pineapple and pitted black cherry. And Strickler used marshmallow syrup!
I haven't had the classic sundae in probably 25 years and I'm on the hunt to find the decadent dessert. I went back to Mara's this past week and asked if they sold banana splits. They do not, as their selection is more avant-garde. Nevertheless, get your sweet fix at Mara's Ice Cream Parlor located at  92-14 Rockaway Beach Blvd., Rockaway Beach, NY 11693. They're open until 10pm! (718) 474-2268 / @marasicecreamparlor. I'd also like to mention that on Sundays Mara's has live music in the yard!