by Paula D.
on
March 12, 2021 9:12 am
in
Recipes
Several months back I treated myself to a weekend subscription to the New York Times. It's taking over my physical world. I want to read and look through every page so I've been saving the sections I don't get to every week. It's piling up. The paper has effectively taken over my dining room table and now has expanded to the living room coffee table. And it sort of feels good.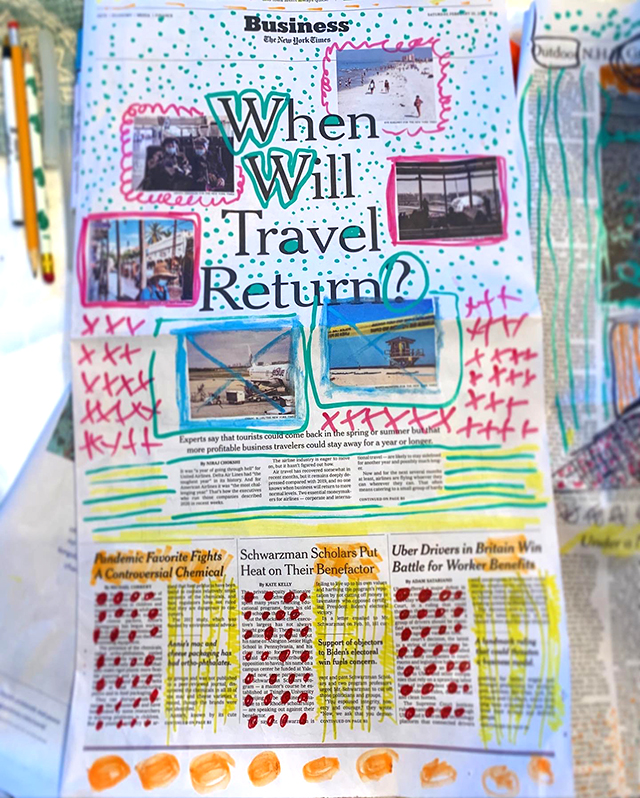 Besides enjoying the articles, I get really excited looking at the illustrations, layouts and typographic design. It's been inspiring my own graphic design work, which I hadn't expected.
Even more surprising: last Friday night I was having wine at the table (not the surprising part), and I started to doodle on the newspaper. That transformed into somewhat legitimate art work. It's been too long since I've put the pen to paper. This impromptu art night now has become a regular thing and I'm so happy to be drawing again.
Artists know staring at that blank white piece of paper can be overwhelming. That's not an issue when you work on newsprint. The text and images on the page inform what and where I decide to draw. It's a great exercise for those of you who are interested in getting back into creating artwork but may feel hesitation. Also, I like the idea of upcycling the newspaper.
I almost started drawing on a page in the Home section but I caught myself — there was a very interesting recipe. Salmon and Tomatoes in Foil? It looked so simple and delicious. The article mentions you can make it in advance. The fish can be steamed, grilled, roasted or pan-grilled. If you're not a fan of salmon, use the same technique with tuna steak or white fish, etc.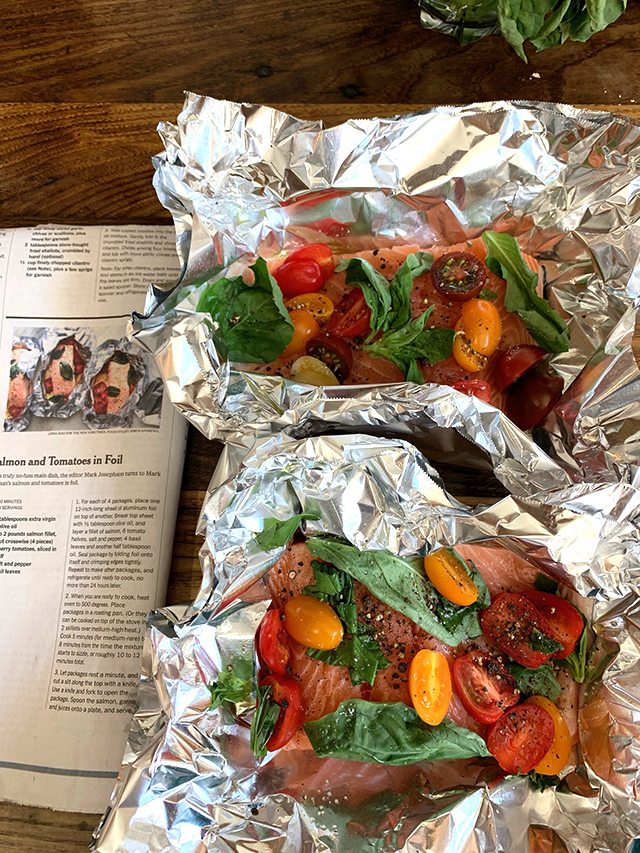 Salmon and Tomatoes in Foil
Ingredients:
4 tablespoons extra virgin olive oil
1 ½ to 2 pounds salmon fillet, cut crosswise (4 pieces)
12 cherry tomatoes, sliced in half
Salt and fresh ground pepper
16 basil leaves
Directions:
For each of 4 packages, place one 12-inch-long sheet of aluminum foil on top of another. Smear top sheet with 1/2 tablespoon olive oil, and layer a fillet of salmon, 6 tomato halves, salt and pepper,  basil leaves and another half tablespoon oil. Seal package by folding foil onto itself and crimping edges. Repeat to make other packages. Refrigerate until ready to cook, no more than 24 hours later.
When you're ready to cook, heat the oven to 500 degrees. Place packages in a roasting pan. (Or they can be cooked on top of the stove in 2 skillets over medium-high heat.) Cook for 8-12 minutes or cook for 6 minutes with the packets open in the broiler for more crisp.
Let packages rest a minute, and cut a slit along the top with a knife. Use a knife and fork to open the package. Spoon the salmon, garnish and juices onto a plate, and serve.
I was tempted to add diced garlic and spinach along with the tomatoes but held back in an effort to try the recipe in its pure form. The outcome: light, flavorful and fulfilling.  I used a lot of freshly ground pepper which added a nice texture over the smooth fish and a pop of boldness it needed with the limited ingredients. I kept some whole basil leaves for the effect of beauty but I'd recommend dicing more so you taste the basil in every bite.
This is a fast, healthy appetizing dish for fish lovers. Additionally, it's a great weeknight dinner only taking 20 minutes to prepare. Keep this in mind for summer as it's perfect for a  grill-out as you can make the packets in advance. Enjoy!
Recipe from cooking.nytimes.com