by Paula D.
on
March 12, 2021 8:53 am
in
Food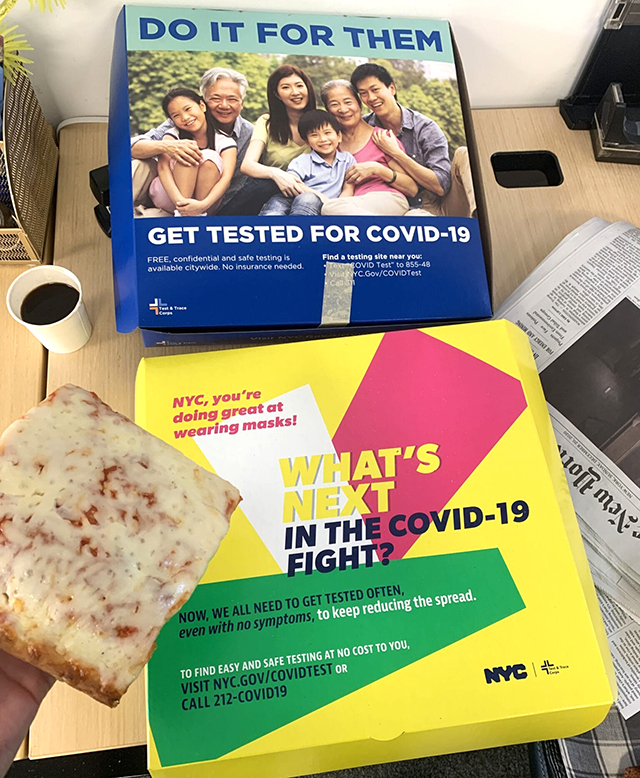 When I received my first COVID-19 pizza box it was unsettling. I tried to enjoy my delicious slices but kept thinking about "THE VIRUS." Now for some reason, I'm oddly obsessed with the boxes. I suppose my interest is due to my profession – I'm a graphic designer with a background in marketing. The concept of using a pizza box as a vehicle to promote health safety and Covid-19 testing throughout NYC – a city obsessed with pizza – is clever to say the least.
There are currently two editions of the NYC Covid-19 pizza box and the word at La Sorrentina (420 Beach 129th St, Queens, NY 11694) is that NYC.gov / NYC Test & Trace Corp. will have a third edition available in the upcoming weeks. The city is calling Pizzeria's all around NYC with an offering of these free pizza boxes.
Edition one features a family photo with the words  "Do it for them. Get tested for Covid-19." It's pretty straight forward. The second edition is bold, bright and graphic. It seems the color and concept/tagline is meant to boost morale and invigorate New Yorkers at a time where we're all mentally exhausted of pandemic life, "NYC, you're doing great at mask wearing!" And the secondary text urges us to continually get tested even if we don't present with symptoms. What will edition three look like?! I am eagerly anticipating it.
You've seen the second bold design everywhere around NYC –  on buses, in the subway, direct mailers, etc. I did some digging but It's unclear whether the city is outsourcing their Covid-19 marketing campaign or it is done in-house. If anyone has a lead on this query please contact me, I'm so curious because this is top-notch marketing.
On the back of the NYC Covid-19 Pizza boxes, Encompass Media Group's website is printed.  It seems they are the producers of these boxes. The site says, "pizza box advertising campaigns are a hot way to reach consumers of all ages and demographics! Your ad is sure to be seen with 94% of Americans eating pizza regularly."
I thought for sure there must be articles about these unique pizza boxes all over the internet but shockingly all I found was one Reddit thread and a handful of tweets with no significant sharing.  I can't get over it – a pandemic pizza box in NYC and it's not getting major buzz? This has Gothamist.com and Vice.com written all over it. Perhaps after my article these big-timers will pick up the story (credit please).
If you've received a pandemic pizza box send me a pic and I'll add it to my photo collection on theglorifiedtomato.com. Please also email the name and contact info of the pizzeria your received it from – pdigioia@rockawave.com
And one last thing … I've been saving the boxes because in 10 years these iconic pizza boxes, marking an unprecedented period of time in our history are going to be worth big bucks on Ebay. Although I could have just lowered the value by sharing this information with you …