You've seen Anthony Medina's byline in the paper. He's one of The Wave's beat reporters. But he's also an expert Coquito-maker, and this is the second year his family has been selling their version of the holiday beverage.
In Spanish, Coquito means little coconut. It's a traditional Christmas and New Year's drink that originated in Puerto Rico. It's made with Puerto Rican rum, coconut milk, cream of coconut, and sweetened condensed milk. Other spices and flavoring can be added like ginger, anise, nutmeg, cinnamon, or egg yolk.
A few weeks back Anthony came into the office with a few bottles that Ray Vann, The Wave's Community Editor ordered. It was deadline day, and once the paper was sent to the printer, Ray opened a bottle for us to celebrate with.
After our taste-test, I had to order some for myself. I bought some for my family as gifts and one bottle for myself. Anthony delivered the coquito beautifully wrapped and it came with shot glasses. This drink is meant to be sipped slowly.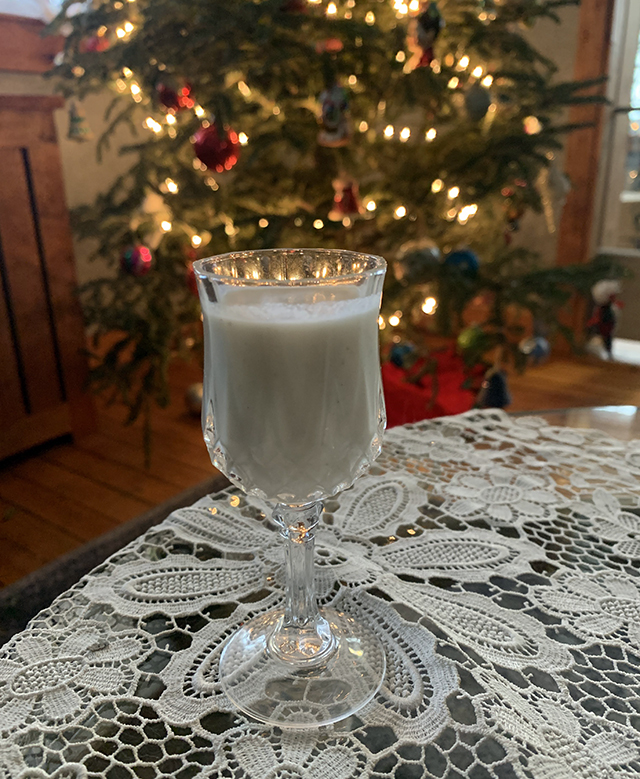 I opened mine on Christmas day and enjoyed it in front of the Christmas tree with my new Mariah Carey Christmas record spinning. The Medina coquito is strong but not overbearing. It is rich and creamy with coconut overtones. There's a kick and spice but I couldn't' exactly place those flavors … delicious. I'm only bothered that I didn't order several more bottles!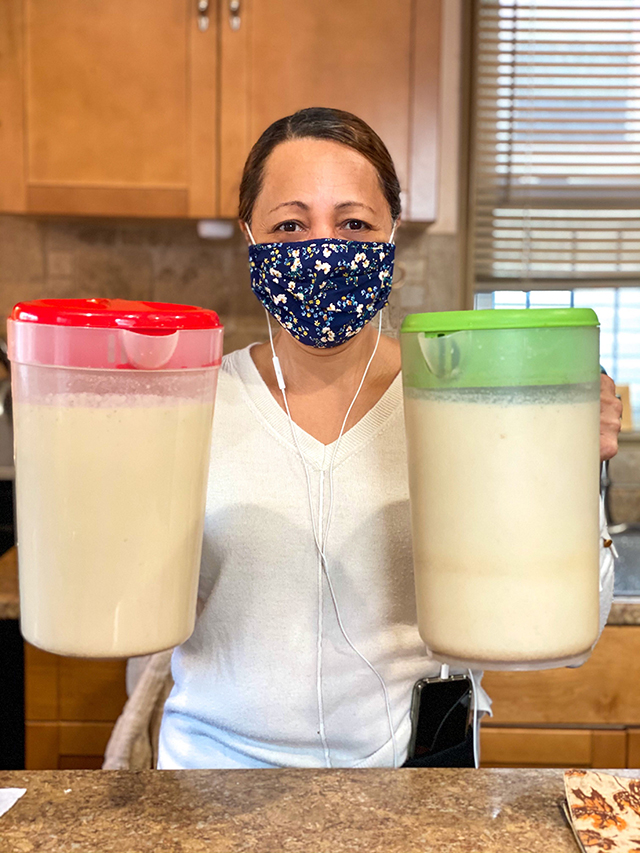 Elizabeth Medina whipping up two batches. Photo courtesy of Anthony Medina
The Medinas are 100% Puerto Rican and Anthony's mother Elizabeth Medina has been making coquito for over 30 years. The family prides itself on using the best, most authentic procedures, and ingredients.
"Our Coquito recipe is a combination of Puerto Rican minds, my mother says. It comes from my great grandmother who had a passion for coquito and taught my mother," Anthony told me.  "It's gone through some changes in terms of where the ingredients come from, but the basics stay the same. She also doesn't use eggs. That's what really makes it stand out from eggnog."
No corners are cut, and that's why the Medina family recipe tastes so great!
I was curious about the name of their product, "Coquito Coño", Anthony said,  "The name Coquito Coño was something that came together in a playful way. The second word there is somewhat of a profanity. We wanted to establish how people would react when they took a sip. The translation is something close to "damn." People would say "Coño this Coquito is good."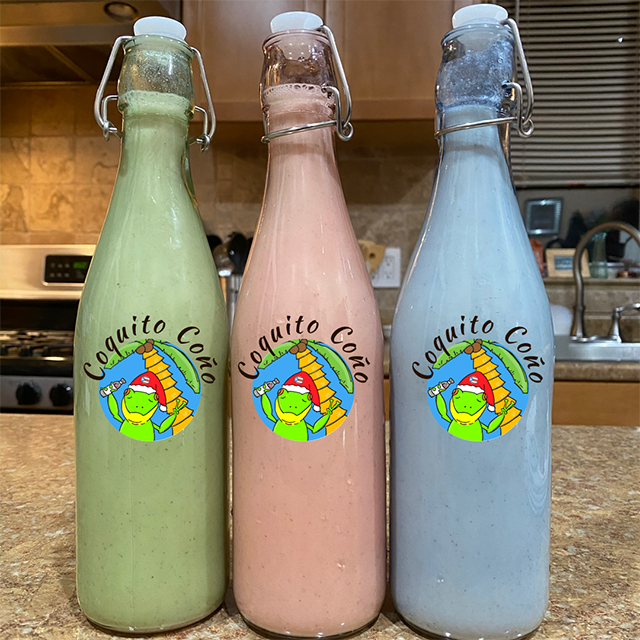 As for many small businesses, this year was a tremendous challenge for the Medina coquito enterprise. Despite this, the family wanted to continue their coquito tradition regardless of the cost benefit. "We still wanted to sell, knowing everyone was going through hardships and needed a little distraction from our grim reality. Coquito is really a comfort drink and something to humble the soul, so anytime we're making it, we're just trying to make people enjoy the most of their lives."
While orders are finished for this holiday season, check out Medina's new website coquitocono.wordpress.com for more background on this special family recipe.