by Paula D.
on
December 31, 2020 1:08 pm
in
Food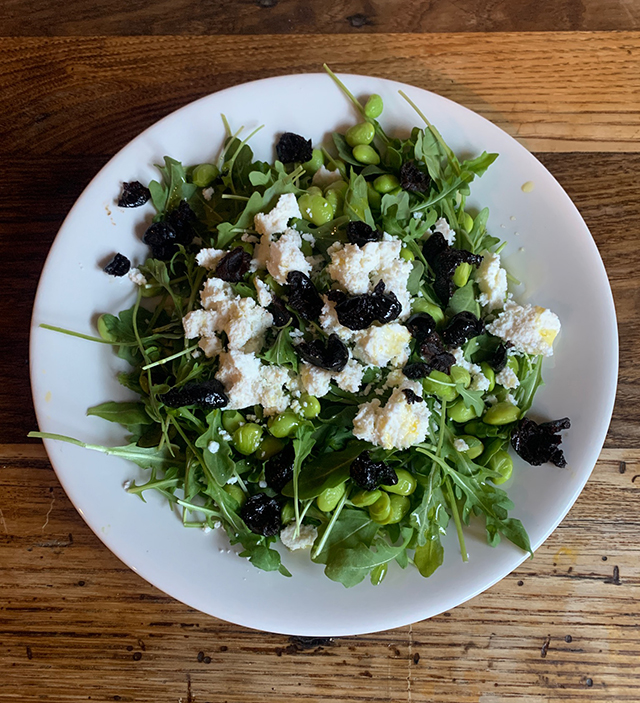 I'm hungry and I open the fridge but I know it's empty. I'm too cold and lazy to drag my starved body out the door to Key Food. My eyes scan the shelves and I pull out what I can find. Baby arugula, slightly wilted, edamame unopened, queso fresco (white cheese) – it's been in there for a while but seems to smell fine. On the side of the fridge door I find black oil-cured olives (my favorite olive).
"This will do!"
I add all the ingredients into a bowl with salt, pepper, garlic powder, extra virgin olive oil and a splash of white vinegar.
Out of necessity, I invented a fantastic, unorthodox salad. It's simple with minimal ingredients and that's what makes it so tasty and easy to whip up.
The edamame gives the salad a hardiness. The flavor is basic which works well with the bold flavor of the cured olives. I've been really into edamame lately. The name translates to "stem beans." Edamame are immature soybeans. Soy is naturally rich in protein and contains amino acids. It's also rich in plant fats which is why you feel full after eating soy and that's perfect for salads and dieting.
I've been using black oil-cured olives for at least a decade as my secret ingredient in many dishes. The olives are rich, salty and full bodied in flavor. This is why they're ideal as a meat substitute in sauces and soups or for a pop of flavor in a salad. The Moroccan variety is  the best by far, if you can find them. I buy mine around town (mostly not labeled as Moroccan ) but still good. Sorrentino's Market ( 99-20 Rockaway Beach Blvd.) sells oil-cured olives regularly as does Bon Appétit (418 Beach 129th St.). Sometimes I see them in Key Food on 87th and the Blvd. but not always.
I've only started buying queso fresco. I picked it up for a layered bean dip I was making recently. The price is right, it's only XX for XX oz. Since then I've been using it on everything –  eggs, salads, over grilled vegetables. The creamy texture and mild flavor works for many dishes. There are several varieties of this Latin American cheese based on the region. The soft cheese with the rich punch of the black oil-cured olives is what makes this salad fantastic.
Try my newly invented salad and let me know what you think…
Paula's Edamame Olive Salad
Ingredients (All equal parts):
Baby arugula
Edamame
Queso fresco
Extra virgin olive oil
White vinegar
Salt, pepper, garlic powder to taste
Directions: Pit the cured black olives. Combine all the ingredients. Use your discretion as far as the measurements. If you're making in advance, wait to dress the salad before you serve it. After adding the oil and vinegar, give it a good mix so the cheese breaks down and becomes part of the dressing.
As an aside, I love the idea that this salad includes, Asian soy beans, Spanish white cheese and Morrocan cured olives, a cultural mix!