Last weekend, my sister and two of her children came to visit for a family fun escape to Rockaway. Normally they visit in the summer, but between Covid-19 and the renovation work we're doing at the house, the timing didn't work out.
In the summer, keeping a 9 and 10 year old occupied is easy breezy – you take them to the beach all day, get burgers and fries at Rippers, and in the evening you walk them up to Low Tide Bar and they dance until exhausted. Done.
This go-around I had to come up with an itinerary. I thought I had a solid plan until we arrived at the park on 108th. "This was the big surprise Aunt Paula," My niece said. "Didn't you see the huge cement whale?!!" I responded. They ran around for all of 15 minutes. I said to my sister, "I'm surprised the kids don't want to stay longer." "Yeah, it's really a beautiful park, but the girls are a little old for this." Natalie said. I had no clue and then I felt so out of touch. I guess at 10 they're more interested in boys than concrete whales. But I didn't know that. I personally love the concrete whale! I guess I'm officially that weird aunt.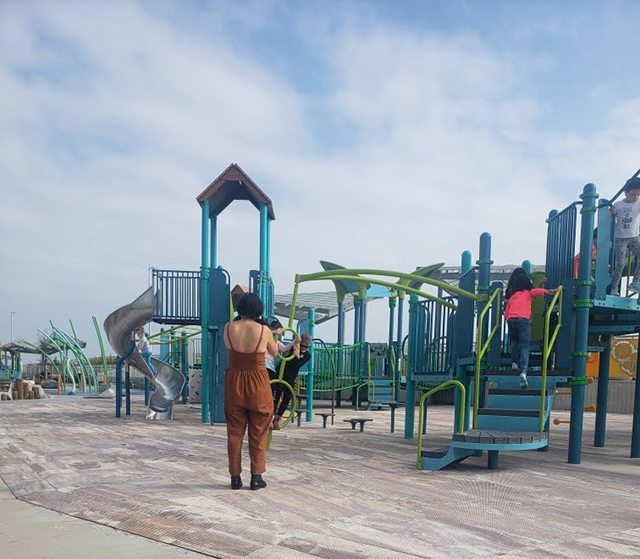 Teachable moment – 10 yr olds are too old for the park
After the park I was on high alert to make sure they had fun. I immediately thought: ice cream can not fail. We visited Mara's Ice Cream Parlor (92-14 Rockaway Beach Blvd.). All the pink and beautiful decorations caught the childrens' eyes. They ordered blueberry ices with gummy worms on top. We sat in the beach backyard and enjoyed the fun vibe. There are many photo ops which my sister was excited about. We took pictures in front of the colorful Whalemina mural painted by Geoff Rawling.
More pink caught the kids attention. We went into The Swellife next. It was great to see my friend Katie Long, owner of the boutique. She helped the kids pick out a toy each. The girls wanted to continue shopping and they suggested the dollar store. Great idea I thought. But when we arrived, they quickly realized this is not what they had in mind. I believe when they said dollar store, they were referring to Five Below. That's like the suburban Long Island version of a dollar store, where they have cutesy made in China crap. They had no interest in the plastic dishes, screwdrivers, bongs, incense, and shaving cream that lined the shelves of the Rockaway-style dollar store. Weird aunt fail.
We headed back to the house for dinner. Everyone was hungry. I put on Connie Francis to set the mood for a beautiful Italian feast. They had many questions about the record player. Is that real? Are those CD's? Where's the remote control? Does it have Alexa? Still, they had fun digging through Matt's vinyl and looking at the artwork. I let them pick out records and put them on. I think that at least was a hit.
And of course, I had to take my sister to the new swanky rooftop bar at The Rockaway Hotel for some much-needed after-dinner drinks. We had cocktails while the kids ate raw clams for the first time. After our "adult time" we headed back to the house for a special craft I had planned. My sister was very impressed I was allowing the girls to sparkle pine cones in the house. I didn't get it at first, but slowly it became apparent this was a terrible idea. The sink ended up getting clogged with sparkles, glue and some ravioli bits left on the plates from dinner. The cats had sparkles in their fur and I`m still cleaning up the glitter that's now encrusted on the wood floors in the dining room.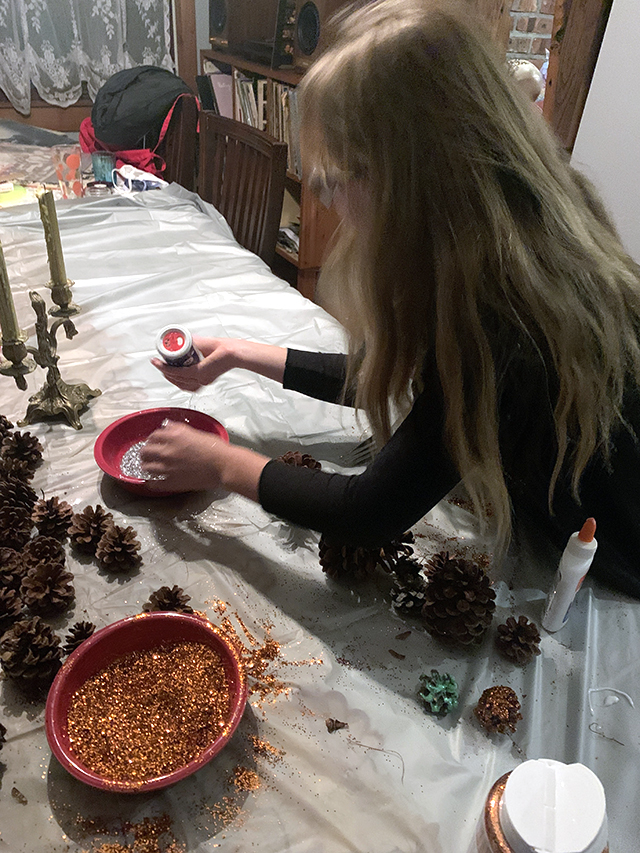 All of that said, we had an awesome time and I love those little humans. And I've learned a bit. The takeaway: kids have an insatiable appetite for entertainment. Don't let children wash the dishes. Hopefully, this will help other weird aunts navigate the waters of adolescent nieces and nephews.