In August I wrote about Sweetie, a "teenage" cat mom who appeared in my backyard with a batch of kittens. I wanted to follow up and share the rest of Sweetie's journey with you.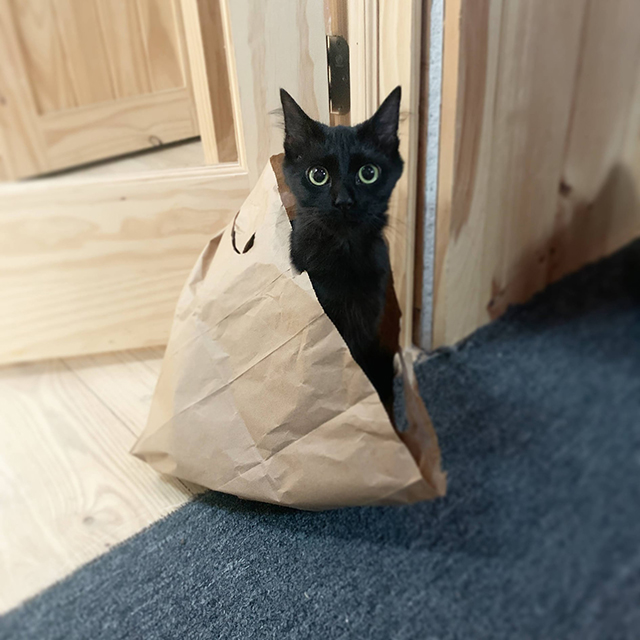 It's been a long road. We rescued Sweetie and her three kittens July 6. It was difficult to get appointments for spay/neuter and vaccines due to Covid-19 delays. And it took some time to get the kittens adopted into good homes. Meanwhile, I grew very much attached to Sweetie. She's a special cat – very friendly, cheery and mild-mannered. In the four months since her rescue, she learned how to love people, to cuddle and play. Milestones like her discovery of going inside paper bags and the first time she kneeded on my lap were truly "proud mom" moments for me.
We considered keeping Sweetie in our backhouse bungalow but after much back and forth – me wanting to keep her, my husband being pragmatic – we felt it wasn't fair to her. Sweetie was alone a lot. And it wasn't ideal to have a cat in Matt's place of work. Sweetie deserved a real forever home where someone could give her all the love, attention and cat treats she deserved.
Finally, I worked up the courage to write the Facebook post explaining Sweetie's situation. I typed and cried.
Two days later we hear from our good friends Maggie and Or. Maggie's parents were seriously interested! This was my ideal dream for Sweetie. I wanted a family that would give her an abundance of care. As Mr. and Mrs. Carson are retired, they have the time to dote over her. And I believe with Covid-19, being more confined than normal, the company and comfort of a cat was something the Carsons were searching for! Also selfishly, I wanted Sweetie to live with someone I could keep in touch with – to get updates, pictures and videos. This was the purrfect match!
As I thought, with Sweetie's easy-going demeanor, it only took one night for her to settle in. This is quite rare for cats, as they're territorial. Normally it takes a minimum of a week for a cat to feel comfortable in a new environment.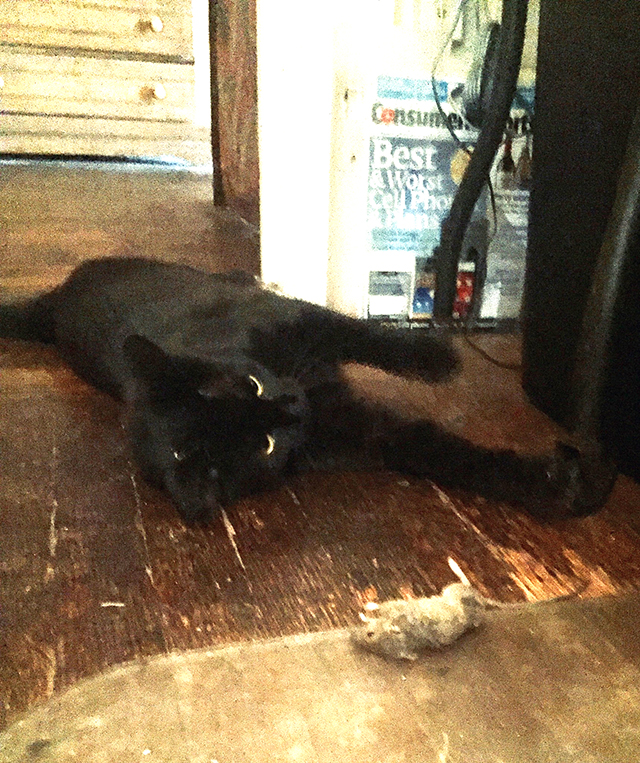 Something really big happened on her first morning in her new home: Sweetie caught a mouse and presented it to Mary as a gift!! Mary was surprised and delighted! She took photos of Sweetie with her kill and sent them to us!! I responded, "Now my heart is healing." That was the moment I knew Sweetie was happy with her new life! I cried again, but this time, they were tears of joy… mostly.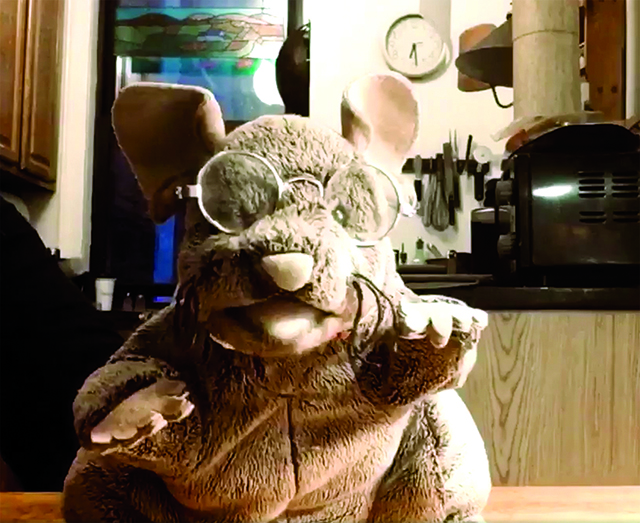 The mouse kill has a quirky connection. Mary Carson has a Youtube channel where she performs puppeteering. Her puppet is a mouse! Mouse performs skits, other times he sings. In one recent video "Shine On Harvest Moon" (great song), Sweetie makes a cameo in the background! I have high hopes Sweetie will become a famous Youtube cat influencer! Check out Mary Carson's lovely videos here. If you can help out a furry feral before the cold of winter, please do!  Here are some helpful resources on TNR: animalalliancenyc.org and  faithfulfriendsny.com. Note: If you see cats with their left ear tipped, that means they have already been fixed.